Anorexia. The Real Causes: Blood Types and Trauma

Thursday, April 9, 2015 from 6:00 PM to 8:00 PM (CDT)
Event Details
Anorexia. The Real Causes:
Blood Types and Trauma
Author Lorenzo Bracco, MD in conversation with
author and journalist Dario Voltolini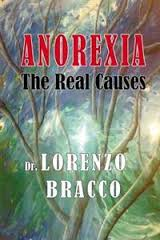 Thursday, April 9th at 6pm
Italian Cultural Institute
Dr. Bracco will speak about his book, "Anorexia. The Real Causes," which presents leading-edge innovative solutions for the understanding and cure of a pathology that is steadily growing in today's world.  Dario Voltolini will speak about the inspiring story of his daughter, who suffered from anorexia and went on to enjoy a healthy life.
"ANOREXIA The Real Causes: Blood Types and Trauma", by Lorenzo Bracco.
The book received in Italy the Cesare Pavese Award 2013 for nonfiction medical writing.
"Dr. Lorenzo Bracco's ANOREXIA The Real Causes: Blood Types and Trauma presents leading-edge innovative solutions for the understanding and cure of a pathology that is steadily growing in today's world." Anorexia integrates Dr. Peter Levine's Somatic Experiencing® a naturalistic approach to the resolution of shock trauma, Dr. Laurence Heller's NeuroAffective Relational Model™ a model for the resolution of developmental trauma, Peter D'Adamo's Blood Type Diet, and the Ecological Niche Diet®, Dr. Bracco's diet based on the evolutionary ecological nature of nutrition and life style.
In addition, Dr. Bracco offers a new hypothesis: anorexics consistently show an unacknowledged disparity between the daughter's blood group and that of her mother. Anorexia proposes an original solution for the prevention and treatment of female adolescent anorexia.
Dr. Bracco's unified theory and practical solutions frame known causes of anorexia within a pioneering perspective that brings forth new ways to solve this complex and dramatic problem.   
Lorenzo Bracco MD, is an Italian physician living in Turin.  He is a specialist in physical medicine and he holds a Diploma in Orthopedic Medicine and Manual Therapy from the University of Paris VI. He is also a psychotherapist, member of FF2P, France, and of the European Register for Psychotherapist (ERP, Vienna). He holds a Certificate of European Psychotherapy (ECP, Vienna), an International Diploma of Gestalt-Therapy (EPG, Paris), and a two-year Master in Brief Strategic Therapy (Arezzo). He is a Somatic Experiencing® Practitioner and NeuroAffective Relational Model™ Practitioner. He is also a graduate in philosophy (University of Turin, IT).
Dario Voltolini is a writer, freelance journalist, songwriter, and creator of radio programs for RAI Radio. He lives in Turin and has a degree in Philosophy. He is the former Director, with Alessandro Baricco, of  the school, "Scuola Holden - Storytelling and Performing Arts". Both as a patient and a co-author, Dario has enjoyed a long and fruitful relationship with Dr. Bracco.  Their books, "DA COSTA A COSTA. Cronistoria di un viaggio per mare", (2012) and "OLTRE LE COLONNE D'ERCOLE. Viaggio per mare e per terra nel tempo e nella conoscenza" were submitted for the prestigious Premio Strega in 2013 and 2014.
Free and open to the public. In Italian with English translation.

When & Where

Italian Cultural Institute
500 N Michigan Avenue
Suite 1450
Chicago, IL


Thursday, April 9, 2015 from 6:00 PM to 8:00 PM (CDT)
Add to my calendar
Organizer
Italian Cultural Institute of Chicago
500 N Michigan Ave., Suite 1450
Chicago, IL 60611
Currently active in all the major cities of the five continents, the ninety Italian Cultural Institutes serve as an ideal meeting place for intellectuals, artists, and cultural operatives, as well as for ordinary citizens, both Italian and foreign, who wish to establish or maintain a relationship with our country. By acting not only as a showcase and source of current information on Italy, but also as a driving force behind initiatives and projects of cultural cooperation, the Italian Cultural Institute has become a focal point for both the Italian communities abroad and the growing demand for Italian culture throughout the world.

By extending the role of Embassies and Consulates, the Italian Cultural Institutes offer the most effective tools for promoting a worldwide image of Italy as a center of production, preservation, and dissemination of culture from the Classical Age until today. Along with organizing cultural events in a vast array of areas, including art, music, cinema, theatre, dance, fashion, design, and photography, the Italian Cultural Institutes:


Offer the opportunity to learn Italian language and culture through the organization of courses, the management of libraries and the preparation of educational and editorial materials;
Provide the networks and the premises to facilitate the integration of Italian operators in the process of cultural exchange and production at an international level;
Provide information and logistic support to public and private cultural operators, both Italian and foreign;
Continuously support initiatives aimed at promoting an intercultural dialogue based on the principles of democracy and international solidarity.