ANNUITIES ON TRIAL - Lunch and Learn - Retirement Advocates
Description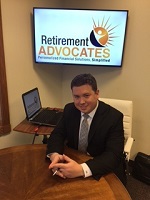 Joseph M. LoCoco, JD, Independent Fiduciary at Retirement Advocates, has experience working with and protecting annuities and annuity income both as an attorney and in his capacity as a financial advisor in helping his clients to prepare for retirement. As the "baby-boomer" generation begins to enter retirement, a lot of resources have gone into advertisement and information campaigns on most types of investments in an effort to persuade potential customers to avoid one financial product or to commit to another. Perhaps no financial instrument is as heavily scrutinized as the Insurance Annuity. During this lunch hour, Joe will put annuities on trial and determine whether the criticism is warranted. Joe will cover the following topics:

● A crash course in the different types of annuities and how they work (and why each type has a very specific purpose)
● The one type of annuity you may never want to own.
● Why many of the annuities currently owned by retirees charge far too much in fees and what those fees are.
● Joe addresses the question: "Doesn't having an annuity mean I can't go get my money without a big penalty?"

Joe will also provide time for your questions. If you own an annuity and you are not sure how it works, what type you have, what fees you are paying, etc... this is the event you won't want to miss OR if you just want to gain a better understanding of annuities and sort through all the conflicting information you will be happy you attended this event. Lunch to be provided by Retirement Advocates. REGISTRATION REQUIRED.