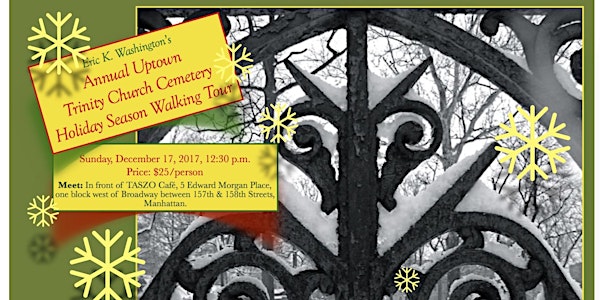 Annual Uptown Trinity Church Cemetery Holiday Tour
When and where
Location
Taszo Espresso Bar 5 Edward M Morgan Place New York, NY 10032
Description
New York City's oldest ongoing holiday tradition isn't at Rockefeller Center, but up in Washington Heights.
Prior to enjoying the 107th annual recitation of Clement Clarke Moore's "A Visit from St. Nicholas" at the Church of the Intercession, discover the fascinating and historic grounds that surrounds it: Trinity Church Cemetery & Mausoleum. Here you will meet, in addition to Moore, another bearer of Christmas tidings: David C. Colden, the trusted American friend of Charles Dickens, who was likely the very first New Yorker to hold a copy of the British author's classic novella, "A Christmas Carol."
Established in 1842, Trinity Church Cemetery—originally laid out by James Renwick, Jr., and later improved by Calvert Vaux—is Manhattan's only still-admitting burial ground. Listed on the National Register of Historic Places, its grounds represent Gotham's wide-ranging contributions to American history. Beside the timely poet Moore, other notable permanent residents along our route may include John James Audubon, naturalist; New York City Mayors Cadwallader D. Colden, Fernando Wood, A. Oakey Hall and Edward I. Koch; Madame Eliza Jumel, adventuress; David Hosack, Alexander Hamilton's last doctor; John Jacob Astor, merchant; Philip Ernst, original New York Philharmonic flutist; Mrs. Dita H. Kinney, military officer; Caroline Astor, doyenne of Gilded Age society; Rita de Acosta Lydig, legendary American beauty; Mercedes de Acosta, sapphic paramour of the Roaring '20s; and Captain Michael Hogan, high seas adventurer and diplomat.
The tour culminates at the Church of the Intercession on Broadway at 155th Street, where this year's reading of Clement Clarke Moore's famous poem falls to Joy Reid, political analyst at MSNBC and host of AM Joy. and will be followed by a procession to the author's grave.
Tour is rain or shine. Please wear sturdy shoes that are suitable for rustic country paths.