Description
The 42nd Annual Tucson Pride Festival returns to Reid Park September 28th!

Time & Location
September 28th 2019
Parade 11:00 AM (Country Club & Broadway to Reid Park)
Festival 12:00 PM to 9:00 PM
Reid Park, Demeester Outdoor Performance Center, 900 S Randolph Way Tucson, AZ 85716

This year's annual Pride festival is set for Saturday, September 28, 2019 at Reid Park. This year's Parade is set to begin at 11am and will lead into Reid Park where the parade has historically opened the Annual Festival.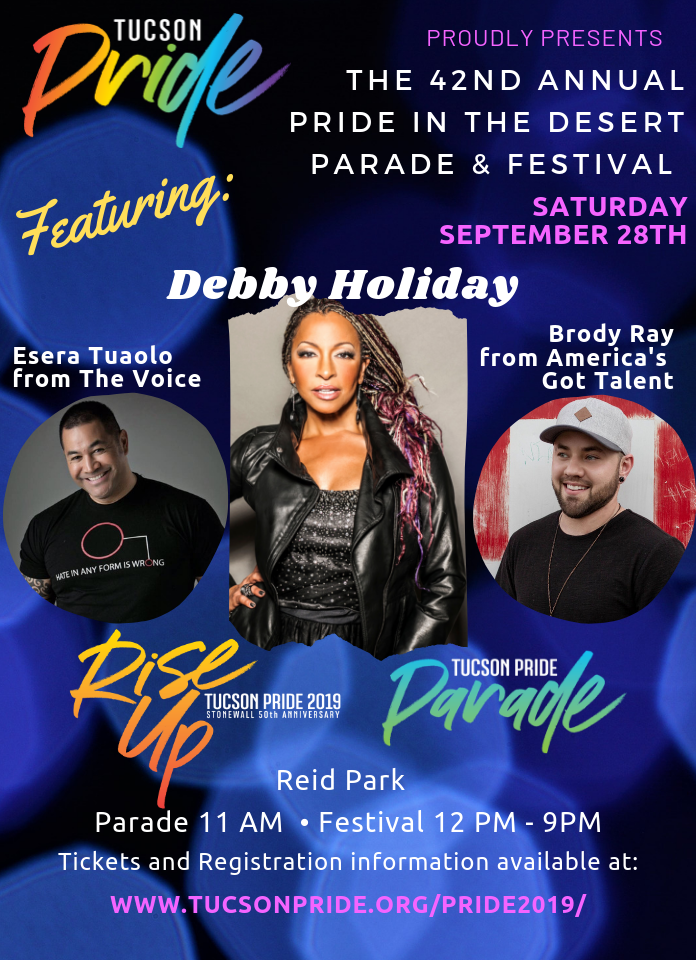 This year's theme, ""Rise Up" will heavily emphasize the 50th anniversary of the Stonewall Riots and subsequent five decades of progress for the LGBTQ community. A theme which will look to our past for inspiration to continue the movement towards true and enduring equality.
The annual festival in Tucson began 42 years ago and consisted of a picnic in Himmel Park with 6 courageous members of our community in attendance. Since then, the festival has grown to over 4000 attendees and features over 100 community resources and vendors, a diverse range of local entertainment, cultural groups and performers, with Debby Holiday returning to the Demeester Outdoor Performance Center stage! The goal of this community event is to offer a fun and safe space for all facets of the LGBTQIA+ family to celebrate our community together.
TICKET DETAILS:
Early Bird Specials Available now through September 1st:
Early Bird General Admission $15

Early Bird Military, Senior, First Responder & College Student Discount

(must present ID at Festival)

$10

Children Ages 13 -18 $5

Children 12 & Under FREE
Regular Rates after September 2nd:
General Admission: $20

Military, Senior, First Responder & College Student Discount (

must present ID at Festival

) $15

Children Ages 13-18 $5

Children 12 & Under are FREE
DONATE A TICKET PROGRAM:
We are pleased to implement a new option this year to support inclusion of all of our community in the festival. We recognize ticket prices can be a barrier to some members wishing to attend, and have opened up an option to buy a ticket to donate to someone who may face a financial burden. Please consider purchasing a ticket to donate when you purchase your own. To request a donated ticket, please email festival@tucsonpride.org.
PARKING:
PARKING IS LIMITED – we highly encourage folks to utilize ride share services!
LODGING:
Coming from out of town and looking for lodging? Book with our official hotel sponsor, La Quinta at Reid Park (conveniently located on Alvernon across from Reid Park) and receive a 15% discount! Just use this link for booking.

VOLUNTEERS:
It takes a village! We are seeking 150 volunteers to assist the day before, day of, and day after the festival. If you are interested in volunteering please email our Volunteer Coordinator at volunteers@tucsonpride.org.
VENDORS:
Vendor Registration is open now, for more details download the vendor information packet here. When you are ready to register visit https://www.eventbrite.com/e/pride-in-the-desert-2019-vendors-registration-62122720730

SPONSORS:
Sponsorship packets are also available at https://tucsonpride.org/wp-content/uploads/2019/04/Tucson-Pride-2019-Sponsorship-Opportunities.pdf



For updates, please visit https://www.tucsonpride.org/pride2019 or follow us on Facebook