Grilled Steak Dinner, Beer, Wine, and all the extras, $40 Free Hot Dogs for the Kids.
About this event
Come picnic with us! The New Lenox Republicans offer good food, good conversation and fun at our Annual Steak Fry! This family friendly event takes place at the VFW Pavilion, 323 Old Hickory Rd, New Lenox; in a beautiful setting along Hickory Creek.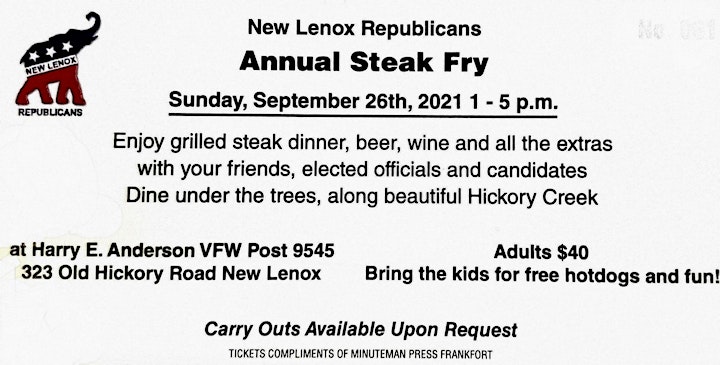 Paid for by New Lenox Township Republicans. A copy of our report filed with the IL State Board of Elections (or will be) available on the board's official web site www.elections.il.gov or for purchase from the IL State Board Of Elections, Springfield, IL
Organizer of Annual Steak Fry
To purchase Tickets offline or for more information please contact chairman@newlenoxrepublicans.com
Paid for by the New Lenox Republicans. newlenoxrepublicans.com Contributions or gifts to the New Lenox Republicans are not tax deductible. A copy of our report is or will be on file with the Illinois State Board ofElections and available on the Board's official website (www.elections.state.il.us) or for purchase from the State Board of Elections, Springfield,Illinois.. Not authorized by any candidate or candidate's committee.