Skating, Bake Sale & Crafts! All proceeds Benefit our 5th Grade Field Trips & Graduation Activities.
About this event
The FSK 5th Grade class cordially invites you to attend an evening of Ice Skating!
Tickets include admission & skate rental, skating or not.
- Tickets online available till January 17th, sale ends @ 11PM.
- Day-of tickets (Jan 18th) available at the venue only.
- Pre-Sale: in person, come by to purchase tickets on January 10th and 15th, 1:50p and 4:00pm at the front lobby at school.
- Advance tickets are at $17+fee/single ticket, $60+fee/family pack of 4, FREE ticket for toddlers ages 3 and under. NO REFUNDS
- You may also purchase tickets at the door of the Ice Skating Center on Jan 18th; tickets will be $20 without any discounts.
- We will be taking baked good donations for the Skate Night Bake Sale. Please visit: https://docs.google.com/document/d/1RAnbJKfmiC6KgOjVjNj59Gelu0bVBaDeokvXpCfPudY
Hope to see you all on the rink!!! Thank you for your support of our 5G class fundraiser!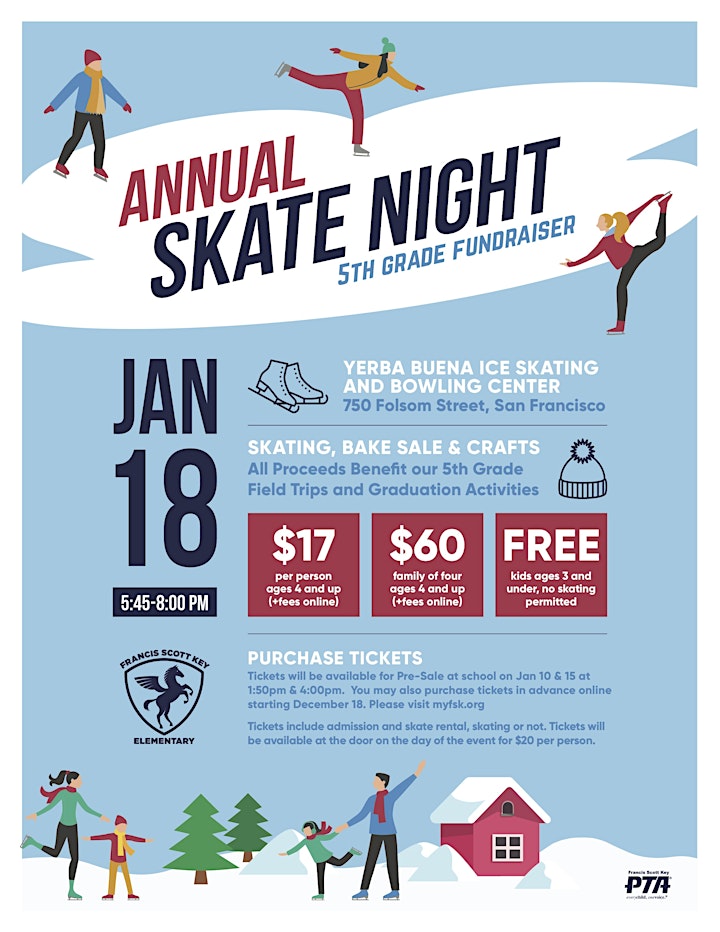 Organizer of Annual Skate Night 5th Grade Fundraiser