Annual Scholarship & Awards Banquet
Come join us at our chapter's largest fundraiser!
About this event
CHAPTER MEMBERS IN GOOD STANDING: Please refer to instruction below to access your discounted ticket.
EVENT OVERVIEW
The National Society of Black Engineers Greater Philadelphia Professionals Chapter cordially invites you to the 3rd Annual Scholarship & Awards Banquet - our chapter's largest fundraiser! Join some of Greater Philadelphia's notable professionals in the Renaissance Ballroom for a wonderful celebration of STEM (science, technology, engineering, mathematics). While enjoying a breakfast buffet and cash bar, we will:
Award a $1,000 scholarship to a graduating high school senior pursuing a STEM major,
Recognize an individual promoting STEM in the Greater Philadelphia community,
Honor a chapter member of the year, and
Acknowledge those who enabled our chapter's success in 2020-2021.
Attendees will also be able purchase raffle tickets for some amazing prizes! Prizes are still being finalized; however, last year's prizes included gift baskets and gift certificates to restaurants in the Greater Philadelphia area. Stay tuned!
We hope to see you there! And if you cannot attend, a donation is a great way to still offer your support; we graciously accept financial contributions to our scholarship efforts. Thank you for your consideration!
Please direct all inquiries to
Scholarship Committee Chairperson, Nomble Lee (scholarship@nsbephilly.org)
Chapter President, Onte McClendon (president@nsbephilly.org)
KEYNOTE SPEAKER: JAMES BRYANT
Mr. Bryant combined his Bachelor's in electrical engineering with an MBA - both from Drexel University - and currently works as a business continuity manager at Tokio Marine North America. He's been quite involved with NSBE through his time as our Chapter President from 2003-2006 and as Region 2 Finance Chair from 2006-2007. He's been a pillar in the Greater Philadelphia community - additionally serving in leadership positions for the School District of Philadelphia, National Black MBA Association, and the Drexel University Alumni Board.
EARLY BIRD TICKETS
An early bird rate is available for tickets purchased through February 28, 2021. Take advantage of the discount and purchase your ticket ASAP!
A REDUCED RATE IS AVAILABLE FOR CHAPTER MEMBERS IN GOOD STANDING
For those that are chapter members in good standing (paid chapter and national dues), please enter your promo code to save $10 on your ticket purchase.
Directions:
Click "Enter promo code" in the Tickets portal.
Enter your individual promo code to purchase your one (1) ticket. If you do not know your individual promo code, contact Stephen Mitnaul (emeritus@nsbephilly.org). NOTE: Your promo code can only be used once.
Purchase your early bird ticket for $39.99 or your general admission ticket for $49.99.
PARKING
Attendees will be able to self-park at the hotel at a discounted rate of $7.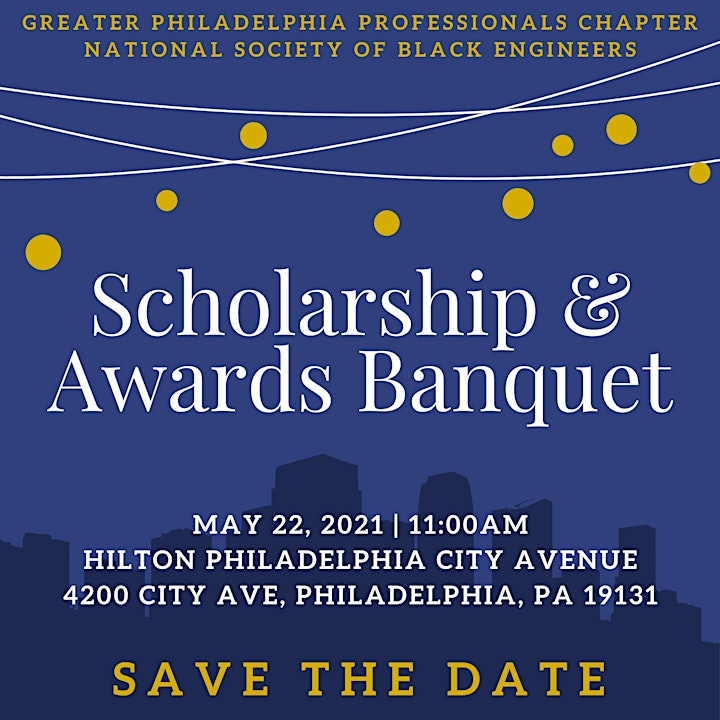 Organizer of Annual Scholarship & Awards Banquet
The National Society of Black Engineers (NSBE) is a non-profit 501(c)(3) association owned and managed by its members. NSBE offers its members professional development, leadership training, mentoring opportunities, and community service and outreach programs. The organization is dedicated to the success of African American engineering students and professionals. The organization's mission is to increase the number of culturally responsible Black engineers who excel academically, succeed professionally, and positively impact the community.
The Greater Philadelphia Professionals Chapter (GPC) was chartered in February 1989. Since its inception, GPC has developed annual programs, which support the minority and professional communities in the Philadelphia area. The GPC operates in Region 2 and has close ties to Region 1. The chapter also provides a variety of technical and professional seminars; tutoring programs for Philadelphia area schools, food and clothing to homeless families, and scholarships to college students pursuing engineering and science related degrees. Currently, the chapter has an outreach network of over 250 engineers, scientists and technical professionals in the area. GPC supports and works closely with the 10 collegiate chapters of the Danger Zone and two NSBE Jr. chapters in the Greater Philadelphia Area.