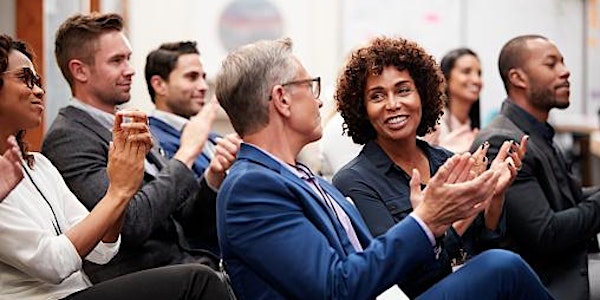 Annual RON Retreat
Gather with your fellow colleagues for a time of connection, learning and collaboration.
When and where
Location
Denver Marriott Tech Center 4900 South Syracuse Street Denver, CO 80237
About this event
High Level Agenda
Wednesday, November 20
2:00 - 4:00pm: Optional site visits (see descriptions below)
5:30pm: Welcome Reception
Thursday, November 21
Friday, November 22
Hotel Information
We are pleased to host this event at the Marriott Denver Tech Center and have secured a rooming block for discounted rates. Please use this link to book your hotel room: https://book.passkey.com/go/RetailOpportunityNetwork2019
The deadline to guarantee the discounted rate is Friday, November 1.
Marriott Denver Tech Center
4900 South Syracuse
Denver, CO 80237, US
November 20 Site Visits
Each site visit will run from 2:00-4:00pm and transportation will be provided.
1. Apprenticeship Model with the Colorado Hotel and Lodging Association
Apprenticeship expansion is a critical talent development strategy in Colorado. In 2015, the Governor created the Business Experiential Learning Commission to guide the development of a statewide system that integrates opportunities for earning while learning and expands that model to youth, aging workers and into industries that don't usually offer apprenticeships like hospitality, healthcare, business operations and more. This site visit allows people to see an apprenticeship developed by the Colorado Hospitality and Lodging Association and being offered in partnership with Stonebridge, one of MDRP's member businesses. The apprenticeship training provides exposure to a number of occupations within the hospitality industry through a job shadow element and allows apprentices to earn money while developing skills to advance their careers.
2. Work-based Learning for Small Businesses
Fire on the Mountain is a sustainable restaurant offering upskilling opportunities that result in food and beverage certifications. The training undertaken is happening as a result of recent changes to Colorado law requiring additional certification for food and beverage workers. The training offered to employees of this location is a good example of the ways MDRP is being responsive to the needs of business and coming up with solutions that help to ensure working learners are prepared for the needs of the changing economy.
3. Walmart Academy
The Walmart Academy is a dedicated location, in or near a Walmart Supercenter, where frontline hourly supervisors, department managers and assistant managers receive two to six weeks of training, with a particular focus on technology in the store. But it's more than just training, it helps Walmart Associates see a clear path for advancement. Already more than 52,000 associates have graduated since the first academy opened in 2016.