ANNUAL REAL ESTATE BUSINESS CONFERENCE & EXPO

Sunday, July 13, 2014 from 9:00 AM to 4:00 PM (PDT)
Event Details
On behalf of Chinese American Real Estate Professionals Association (CAREPA), we would like to invite you to join us at our "Annual Real Estate Business Conference & Expo".  Sponsorship and Booth are available are a first come first serve bases.  Speaking opportunities are also available. 
The event will be held at the San Gabriel Hilton on July 13 from 9am to 4pm.  The public is invited along with Realtors.  We usually have between 400-800 people attending. 
Sponsor reserved before May 30th will join us for Press Conference held in June.  Limited sponsorship and exhibitor booth available.   Hurry, will sell out!!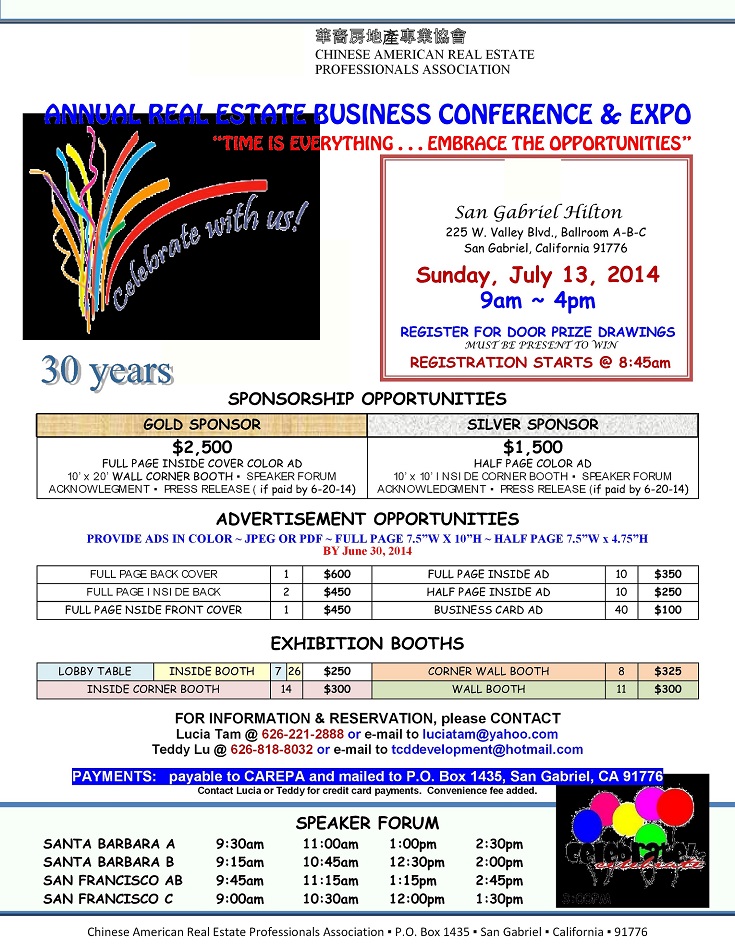 When & Where

SAN GABRIEL HILTON
225 W Valley Blvd
San Gabriel, CA 91776


Sunday, July 13, 2014 from 9:00 AM to 4:00 PM (PDT)
Add to my calendar
Organizer
CAREPA - 華裔房地產專業協會
About Us
www.CAREPA.org
The Chinese American Real Estate Professionals Association may best be described as an ongoing group of enthusiastic leaders who have volunteered countless hours, year by year, towards a mission that Chinese speaking real estate professionals may conduct themselves with the highest ethical and professional standards, that we may achieve professional and personal success, and with our accomplishments further prosper the well being of our Chinese speaking community and our proud integration as Americans. 
CAREPA Mission
CAREPA is a non-profit trade association devoted to enhance members' competitiveness and success in the real estate industry, facilitate business and professional networking opportunities and promote ethics and professionalism in real estate practice.


To accomplish the mission, CAREPA has the following objectives:
Unite the Chinese real estate professionals to exert beneficial influence upon the profession and promote higher standards of conduct.
Provide educational opportunities to members for professional and self improvement.
Organize networking functions to create business opportunities for members.
Outreach to mainstream trade associations such as NAR, CAR and local Associations of REALTORS® and participate in their programs.
Further the interest of property ownership by providing real estate related seminars.
Involve in meaningful community services and charitable events.
 CAREPA History
The formation of this association was the outgrowth of regular get-togethers by several Chinese-speaking real estate licensees at the Sir George Restaurant in Alhambra. Their small talks shared commonality and the difficulties facing Chinese Americans in the real estate fields. A formal association known as Chinese American Real Estate Professionals Association of Southern California (CAREPASC) was born on February 5, 1983. The objectives for the Association were to unite the Chinese real estate professionals to exert beneficial influence upon the profession, to promote and maintain higher standards of conduct, to provide educational opportunities for members' professional and self improvement, and to further the interest of home ownership by providing real estate related seminars. CAREPASC was now introduced to the real estate community.

The Association formally incorporated in 1994 began to share many joint activities in Chinese with other Asian organizations. It also opened relationships with other REALTORS® associations. A monthly Chinese language newsletter was published from translations of articles on real estate practices, trends and news so that real estate practitioners who may have a language barrier in reading industry magazines may better understand the information. In1999, it was changed to an English only format along with all Association activities. Social mixers into the mainstream were ever popular.

In 2001, the Association became a founding Partner along with CAREB, CREAA, NAHREP, NAR and NAREB in the creation of the National HOPE Awards to honor those individuals and corporations across our greater nation who toil to make the dream of minority homeownership a reality.

In 2002, now known as Chinese American Real Estate Professionals Association (CAREPA) also addresses real estate issues. CAREPA actively participates in Leadership Summits, Diversity panels, Expos and state and national Business Conferences. CAREPA currently hosts monthly dinner mixers with speakers and many other networking events. Today CAREPA plays a significant and important role in leadership and representation of Asian American in the real estate and related industries. 

The landscape facing Asian real estate professionals is now significantly more sophisticated and complicated than before. After more than 20 years, the Association continues to honor the legacy of our Founders while poised to face new challenges. With continued support from local, state and national associations and our generous supporters and sponsors, CAREPA will continue to grow in membership and maintain its high standards of professionalism and spirit.
Contact Us
Chinese American Real Estate Professionals Association
P.O. Box 1435
San Gabriel, California 91776
Cindy Wu Freedman: 2016 President-Elect
Phone: (626) 203-2904, E-mail: carepa.org@gmail.com

ANNUAL REAL ESTATE BUSINESS CONFERENCE & EXPO