Description
Annual North County Business Breakfast
Hosted by: San Diego North Economic Development Council
Purpose: To provide an engaging, relevant, and informative forum that will focus on the innovation and opportunities throughout this growing and dynamic region of North San Diego, as well as the challenges facing us into 2020 and beyond.
Details: The event will feature a distinguished panel of the Mayors of North County San Diego's five I-78 Corridor cities that have collaborated to create Innovate78, which focuses on attracting and growing area businesses, while enhancing and furthering the quality of life throughout the region – and the Mayors of the City of Encinitas and the City of Poway, who have also been intricately involved in their cities' innovation and growth, as well.
Panelists:
City of Carlsbad Mayor Matt Hall
City of Encinitas Deputy Mayor Lisa Shaffer
City of Escondido Mayor Sam Abed
City of Oceanside Mayor Jim Wood
City of Poway Mayor Steve Vaus
City of San Marcos Mayor Jim Desmond
City of Vista Mayor Judy Ritter
Moderator:
Dr. Sunita Cooke, Superintendent & President of MiraCosta College
Welcome by: Dr. Graham Oberem, Provost & Vice President for Academic Affairs, CSUSM
In addition, three (3) awards will be presented: Innovation to Market, Excellence in Economic Development, and the Fran Aleshire Leadership Award.
REGISTER TODAY!
For table sponsorships, contact KAREN PEARSON at kpearson@sdnedc.org by Tuesday, 11/23/16.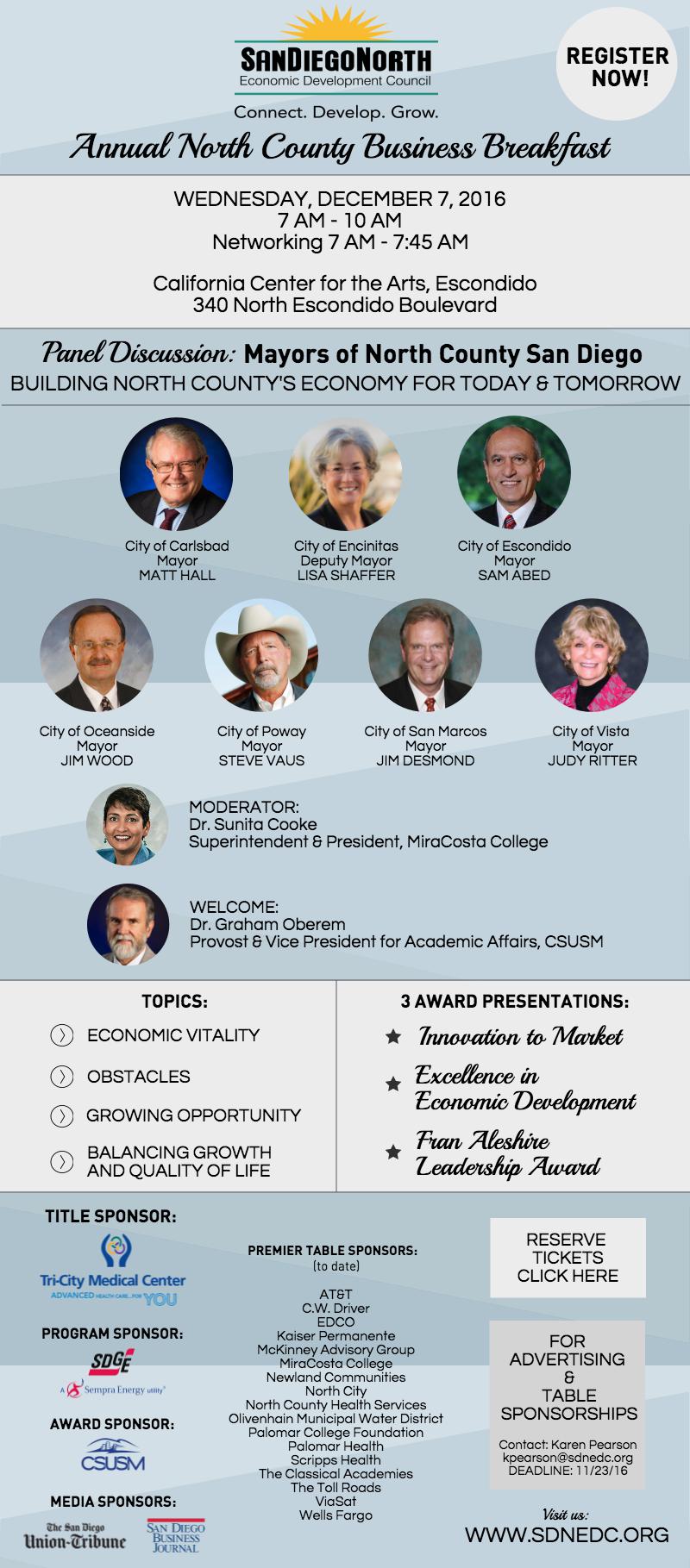 Date and Time
Location
California Center for the Arts, Escondido
340 North Escondido Boulevard
Escondido, CA 92025