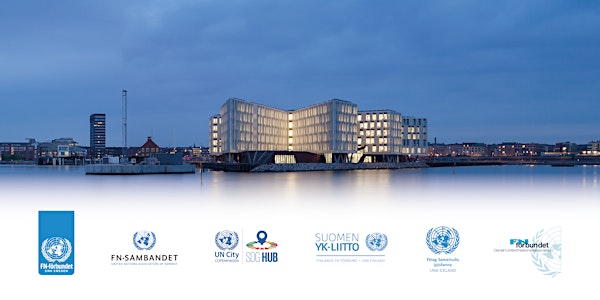 Annual Nordic United Nations Assembly
Join Nordic UN associations, UN agencies, and Nordic parliamentarians for a discussion on multilateral development cooperation.
Date and time
Thu, 9 Feb 2023 09:00 - 14:30 CET
Location
UN City 51 Marmorvej 2100 København Denmark
About this event
Join us this February, when Nordic UN associations, UN agencies resident in UN City Copenhagen, and Nordic parliamentarians assemble in the Danish capital to discuss the role of the United Nations and multilateral development cooperation in a world effectively in a state of permacrisis – denoting "an extended period of instability and insecurity".
The assembly delivers a discussion – through a global and Nordic lens – of compounding crises like COVID-19, climate change, and conflict that have wiped away years of progress. Experts will take stock of the Sustainable Development Goals at the halfway mark of their implementation and discuss the implications of prevailing trends in multilateral development financing on the overall capacity to deliver on the 2030 Agenda.
Finally, a roundtable discussion provides an opportunity for parliamentarians to share experiences, delineate information gaps, and explore potential for Nordic cooperation in the multilateral space.
Explorative questions for the roundtable discussion will be shared with participants in advance of the assembly.
Final programme will be shared ahead of the event.
About the organiser
UN City (Danish: FN Byen) is situated in Nordhavn, Copenhagen. UN City houses 11 UN-organizations and is the biggest UN hub in Scandinavia.