Annual Middle Eastern Troupe Competition for 2011, Austin TX

Friday, August 5, 2011 at 6:00 PM

-

Sunday, August 7, 2011 at 6:00 PM (CDT)
Event Details
Early Bird specials have ended.
Competition registration has ended (if you are still interested in competing, call Z-Helene at 512-927-2580).

Congratulations to 2010's Overall Winner, Danmar!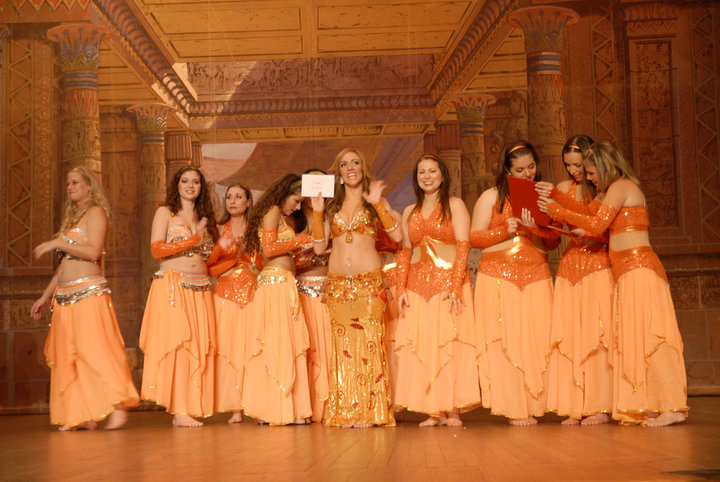 Information & workshops have been updated as of Feb.15, 2011!! Scroll down for the added information!

"Our special guest artist is internationally renowned instructor and performer Kaeshi from NYC." Check out her website for more bio info. http://www.bellyqueen.com/kaeshi_bio.html

Date: August 5-7, 2011

5 workshops and the big Competition

Place: Austin, TX

Competition is August 6th at the Scottish Rite Temple Theatre

Email or call Z-Helene or Rick for more info:
zhelene@grandecom.net
512-927-2580
____________________________________________________________________________________

Competition Entrant Information
(Note that the following information has changed from previous years - please read everything carefully.)
Entrant Fees
NO TROUPE Entry Fees for the competition!!
All participants must pay for at least two workshops instead! Also, all troupe members do not need to purchase a show ticket for themselves.
Categories
 All categories are based on size alone. There is the Duet class with two dancers, Small troupe with 3 to 4 dancers, Medium troupe with 5 to 7 dancers and Large troupe with 8 and above. Along with the 1st, 2nd and 3rd prize in each category there is also the Innovator Award given to the most creative troupe, and the Grand Prize winners who have the highest scores overall.
The judges base their scores on three different criteria:
Choreographic concepts

:

troupe movement, sequencing, intricacy of designs

Technical execution

:

precision of movements, posture, troupe consistency

Overall stage presence

:

usage of stage, kinesthetic communication, troupe personality, costume coherency
Grand Prizes
1st place:  $750
2nd place: $350
3rd place: $200
Choreographies
All choregraphies must be original - that is to say created by someone in the troupe or connected to the troupe. Don't use one you learned at a workshop or off of a video or DVD. Also, it does not have to be a never-before seen choreography just a choreography designed specifically by a troupe member or someone connected to the troupe.
Dance Styles
Middle Eastern Dance is what we are looking for. Fusion styles are welcome but have to be primarily Middle Eastern based (for example, what we don't want to see mostly Jazz with one belly roll). If you aren't sure if your choreography would be acceptable, please contact us.
Time Limits
Note that time limits have changed for the 2011 Competition!  Duets and small troupes have 4-6 minutes, medium and large troupes have 5-7 minutes. However these are simply guidelines so if you need more time let us know and we will see if we can accommodate you (no guarantees though).
Workshop Packages:
 Any (2) Workshops     -     $110 (up through July 1) / $130 (after July 1)

Any (3) Workshops     -     $160 (up through July 1) / $200 (after July 1)

Any (4) Workshops     -     $210 (up through July 1) / $260 (after July 1)

All (5) Workshops       -     $260 (up through July 1) / $320 (after July 1)
____________________________________________________________________________________

Email or call Z-Helene or Rick for more info:
zhelene@grandecom.net
512-927-2580
When & Where

Austin


Friday, August 5, 2011 at 6:00 PM

-

Sunday, August 7, 2011 at 6:00 PM (CDT)
Add to my calendar