Annual Membership Drive

Friday, October 4, 2019 at 1:15 PM

-

Wednesday, December 4, 2019 at 11:00 AM (EDT)
Event Details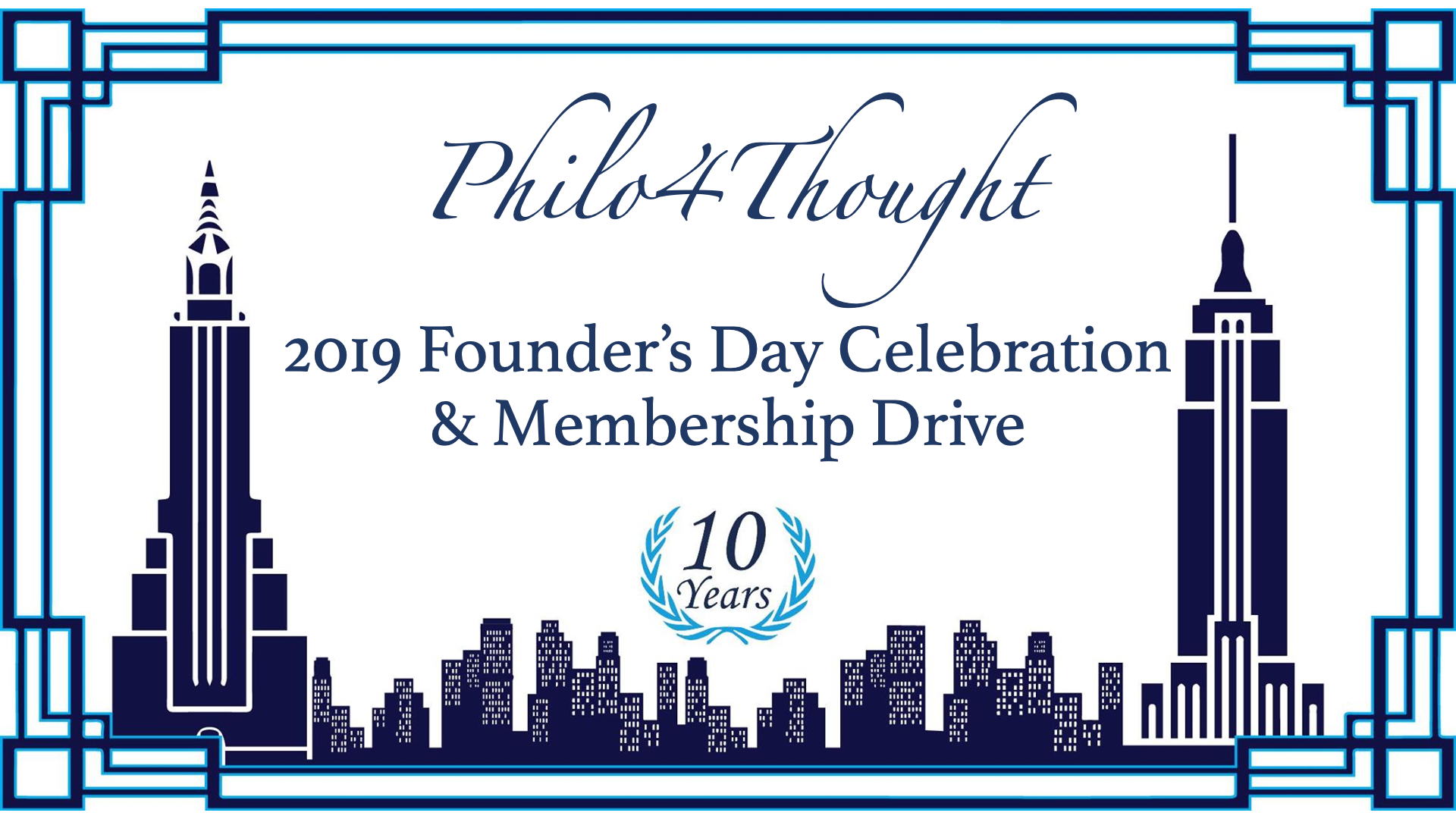 The Philo4Thought Hellenic Mentoring Initiative connects young professional members with the opportunity to connect with peer and senior mentors for educational and professional advisement. Since its inception in 2009, Philo4Thought has provided educational and professional support to over 230,000 Hellenes and Philhellenes in its local, regional and global network. ​
PASSPORT MEMBER BENEFITS: Click below for a list of membership benefits....
FOUNDERS DAY CELEBRATION: Our Fall membership drive is hosted as part of Philo4Thought's annual Founder's Day Celebrations. All those who sign up between October 1st and October 31st do so at a lower rate and are also entered into our special Fall raffle! This year's raffle prizes are offered by our long-time sponsors at Kellari NY and Elysian Fields Cafe NYC :
a $150 Kellari Gift Certificate 

a $100 Elysian Fields Gift Certificate

 
SPONSORS: Additionally, we encourage new and returning sponsors to help us reach our annual fundraising coal of $10,000 to lend much-needed support for the maintenance and improvement of Philo4Thought's programming, publications and community outreach. Your support goes a long way to making our ongoing initiative move forward!
For more details about available sponsorship and membership rates, please visit www.philo4thought.org.
We thank you in advance for your generosity!
Ευχαριστώ πάρα πολύ!  

CONFIDENTIALITY AGREEMENT: Personal information shared during workshops or in emails is strictly confidential. Positive commentaries and testimonials are welcome and can be posted by individual clients and members on our facebook page (www.facebook.com/Philo4Thought).
PHOTO/VIDEO DISCLAIMER: Registration to our major networking activities and annual conferences includes permission to be included in event photos/videos, which will be used for press release on our webpage.
When
Friday, October 4, 2019 at 1:15 PM

-

Wednesday, December 4, 2019 at 11:00 AM (EDT)
Add to my calendar
Organizer
Philo4Thought is a 501(c)3 philanthropic educational nonprofit foundation that fosters positive, constructive career coaching and work-life mentoring for young professionals and new entrepreneurs. Services include our interactive webpage, one-on-one consultations, small group workshops, networking opportunities with seasoned professionals and an annual spring conference.

Annual and monthly activities are held both live and online to cater to our expanding network of 350,000+ clients served since 2009. Check out our webpage to see how we can help you! www.philo4thought.org.