Annual Meeting of German-Chinese Association of Artificial Intelligence®
Description
Updates!
08:30 - 09:00 Registration, wake-up coffee and snacks
The meeting will start at 09:00. Please find the full agenda below.
---


What is it
German-Chinese Association of Artificial Intelligence (GCAAI) will host the Annual Meeting of 2019 on June 15th 9:30-19:00 CEST in Berlin, Germany.
The purpose of the GCAAI annual meeting is to promote the exchange of research and application in artificial intelligence among practitioners, entrepreneurs, scientists and engineers. This year we are expecting more than 100 participants working at top AI companies and institutes from Germany, China and Europe.
---
Theme: building borderless AI
The theme of the year is building borderless artificial intelligence. Our speakers will present their insights and experiences from the following perspectives:
advancing state-of-the-art AI techniques

increasing awareness of AI techniques in traditional industries

enabling AI collaboration across domains and countries

driving open source AI projects or communities

advocating AI efforts in ethics and fairness

initiating AI national strategy, standard setting and regulations, thought leadership and policy implications
We are looking forward to your participation
See you in Berlin!
---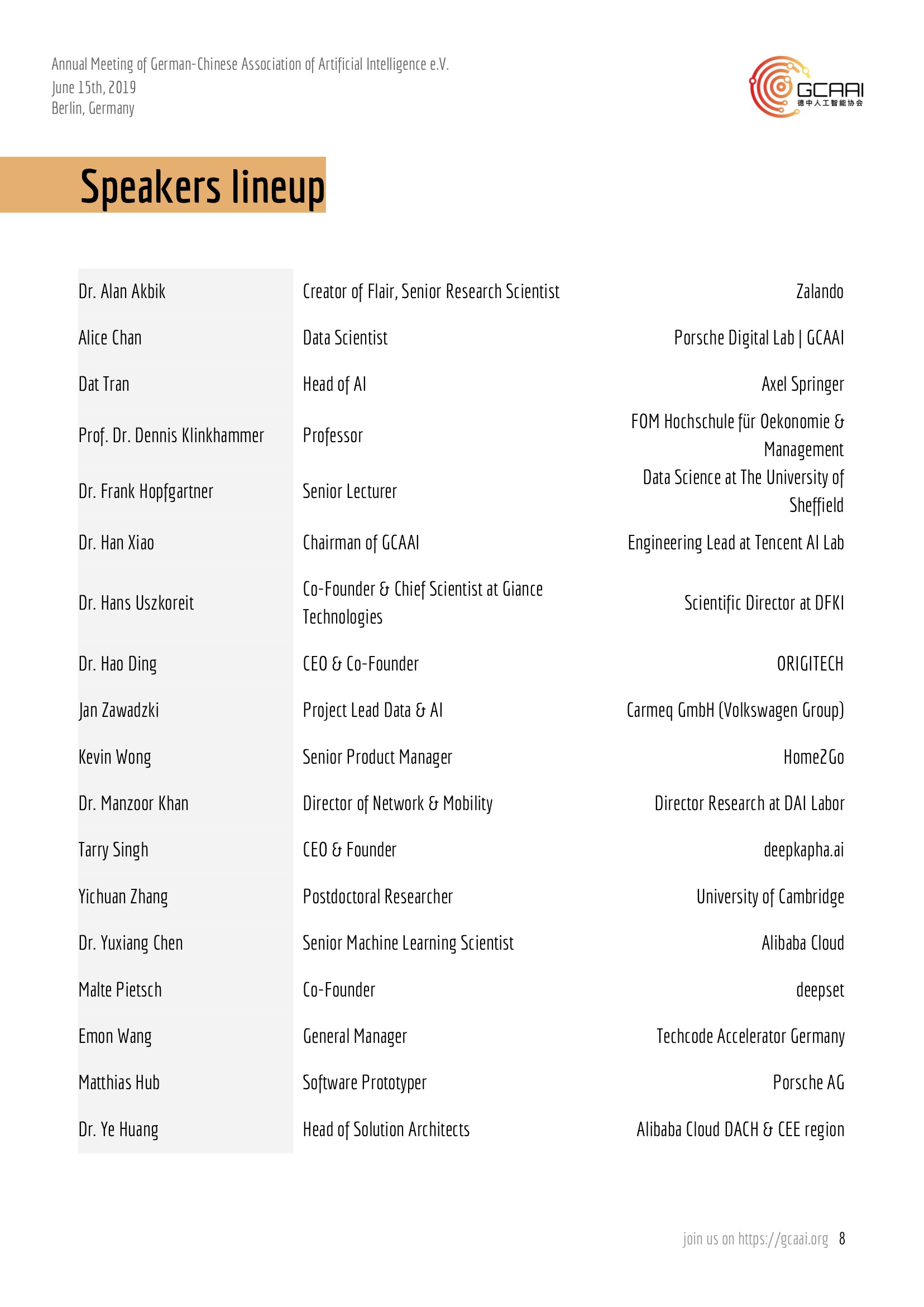 ---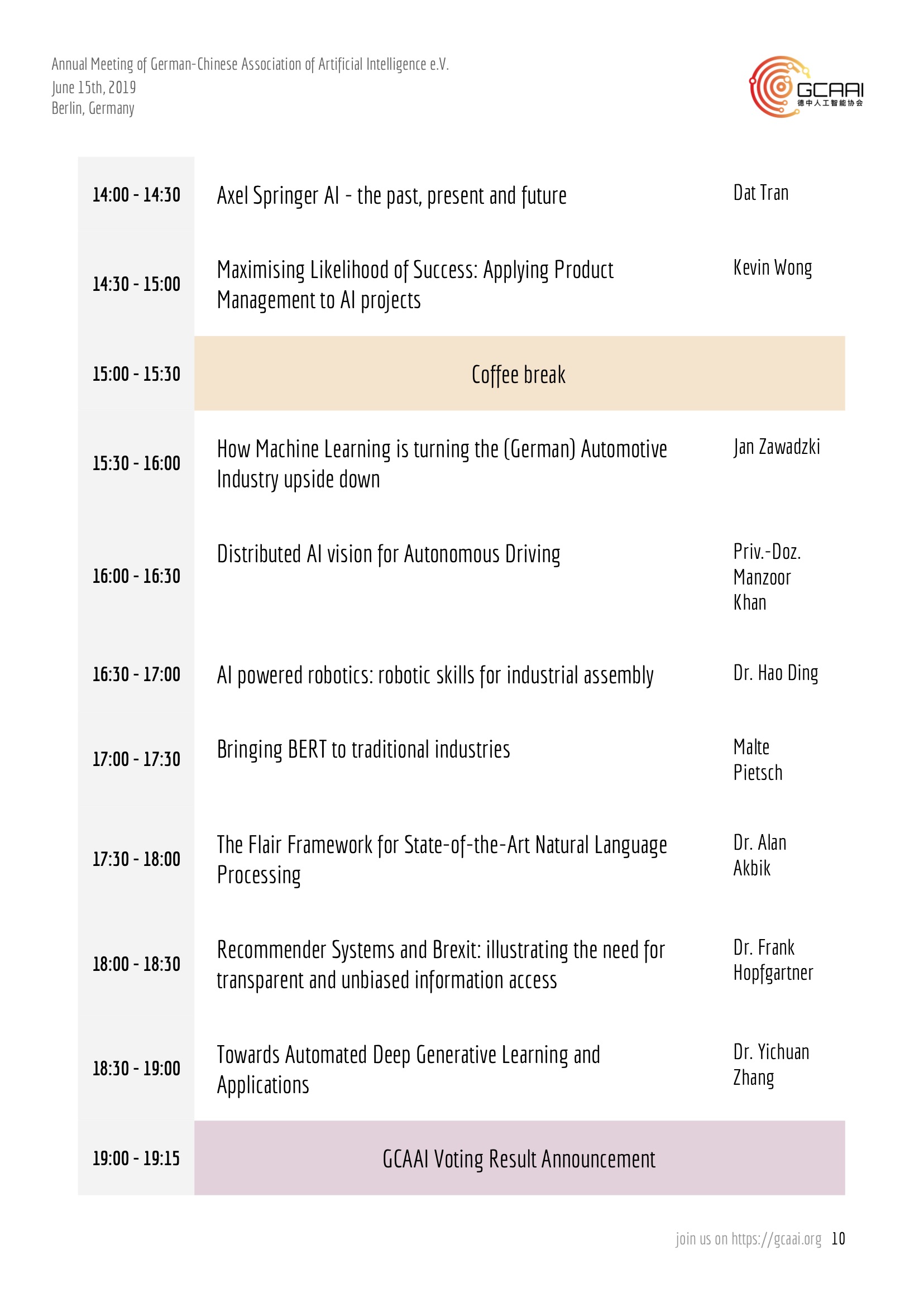 ---
Panel: Building borderless business and technology
Our Panelists
Alice Chan
Data Scientist at Porsche Digital Lab
Head of Industry Relations at GCAAI
Alice is a Data Scientist at Porsche Digital Lab Berlin. She assists Porsche for digitalisation strategies and innovative concepts with Artificial Intelligence. Before her journey to Europe, she was an IoT Researcher at Intel, Business Analyst at Texas Instruments. She spent three years researching Artificial Intelligence, Predictive Analytics and technical business development at Taiwan's leading technical university, National Taiwan University of Science and Technology. She founded a startup and developed an intelligent motorcycle helmet which automatically makes an emergency call. The innovation is patented and received several awards. This life-saving innovation is a good example of what motivates her work – using technologies to make a better world.

Dr. Ye HUANG
Head of Solution Architects at Alibaba Cloud DACH & CEE region
Dr. Ye HUANG received his PhD in Grid Computing from University of Fribourg, Switzerland. After very active publication and academic community services during his research work in Fribourg, Dr. Ye Huang switched to industry in 2011 and worked in a variety of enterprises in Germany as full-stack DevOps engineer and Cloud architect. Now, Dr. Ye HUANG is the head of solution architect of Alibaba Cloud DACH and CEE region, and is responsible for Alibaba Cloud's products and solutions oriented designing and implementation in DACH and CEE region, including but not limited to topics like infrastructure, multi-Cloud, BigData, Artificial Intelligence, Alibaba ET Brain solutions, and so on.
Emon Wang
General Manager at Techcode Accelerator Germany
Emon Wang is General Manager at TechCode Germany that aims to build a global ecosystem for startups with China focus. With co-working spaces and offices in Berlin and worldwide, TechCode offers global tech startups a platform for entering the Chinese market. With China Fortune Land Development Co., Ltd (CFLD), a leading Chinese new industry city operator, as strategic partner, TechCode maintains a wide network in China. Prior to TechCode, Emon has overseen international projects for various financial institutions and VC funds and always actively working in strengthening Sino-German relations.
Matthias Hub
Software Prototyper at Porsche AG
Matthias is currently working in the Smart Mobility department of Porsche, evaluating new technologies, like e.g. edge computing, and prototyping ideas for new services, like e.g. parking solutions. Whether these ideas are directly car related or an additional mobility service for the user, the goal is to validate if the idea could be of sustainable value for Porsche on its way of being the most successful provide of exclusive and sporty mobility.

He got his diploma in Computer Science (Software Engineering) from the University of Stuttgart. During his studies he stayed one year as exchange student in Wuhan, China, learned Chinese and participated in a joint research project. After graduation he started a position within IBM R&D in Germany, working as researcher on virtual worlds, smart home, collaboration tools and later as a teamlead for the data analytics team of the IBM cloud platform-as-a-service offering. Following the 8 years at IBM, he went to Shenzhen, China, to initiate, together with a former fellow student, an Industrial Internet-of-Things and Artificial Intelligence startup targeting small and mid-sized manufacturers in China. As CTO overseeing the technical strategy and the solution development he managed to deploy scalable solutions for customers and also to secure a pre-A founding round to enable further development.
---
FAQs
How much is a ticket?
30 Euro + 2.34 Euro fee (charged by EventBrite). This ticket is a bundle of a one-year membership of GCAAI e.V. (annual fee €20) and a €10 donation. The donation will flow into the association's funds, helping us to cover the operation cost of this event and future activities of GCAAI. In this way you are making a long-term contribution to support the GCAAI.
There is a special offer 10 Euro + 1.44 Euro fee (charged by EventBrite) for GCAAI members.
So after I bought the ticket I become a member of GCAAI?
Yes! Because your ticket includes one-year membership of GCAAI. You are now officially a member of German-Chinese Association of Artificial Intelligence e.V.
What if I'm already a paid GCAAI member, do I get a discount?
Yes! GCAAI member has the access to the discount price of the event. In this case, you just need to send a mail to contact@gcaai.org and ask for a voucher code. The voucher code will count for 20 Euro, results a final ticket price of 10 Euro + 1.44 Euro (fee charged by EventBrite)

Is the lunch included?
Yes, the lunch is included and is free for participants.
Are there coffee breaks?
There are at least two coffee breaks in the morning and afternoon. Beverage and snacks are free for participants.
You are a non-profit organization, so why do you charge people for the ticket?
NPO status suggests the goal of GCAAI is never business-oriented. However, we do need to cover the cost of this event and the operation cost of GCAAI, just like every other organization or business. We always do our best to cut the spending and give you the optimal offer.
I just want to register as a GCAAI member, I don't want to attend this event, what should I do?
We strongly recommend you to join this event as the annual meeting is the biggest event of the year for GCAAI. In the annual meeting, you will get to know the look-back and plan of GCAAI as well as network with other GCAAI members. That said, you can do member-registration alone on https://gcaai.org Click that orange "Join" button on the top-right corner, fill in the form and transfer the membership fee.
I just want to attend this event but I don't want to be a member of GCAAI, what should I do?
As a speaker of this event, you can join as a non-member of GCAAI. Otherwise, it's difficult because we must follow the German laws on the non-profit organization (i.e. Gemeinnützige Vereine).
How can I contact the organizer with any questions?
For any question, please send an email to contact@gcaai.org
I have to stay in Berlin for a night, is there a discount on hotels nearby you can provide?
We are terribly sorry but we don't have discount on the hotels.