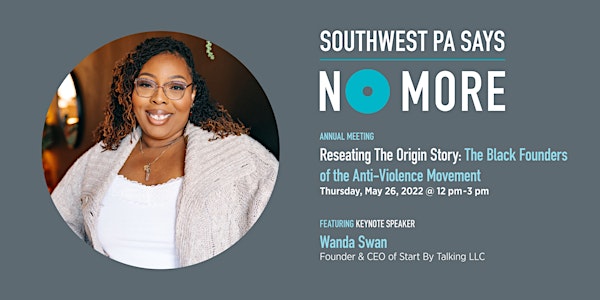 Annual Meeting & Keynote: The Black Founders of the Anti-Violence Movement
SWPA Says NO MORE Annual Meeting featuring keynote RESEATING THE ORIGIN STORY: THE BLACK FOUNDERS OF THE ANTI-VIOLENCE MOVEMENT
About this event
Join us for the
Southwest PA Says NO MORE Annual Meeting
Thursday, May 26, 2022
12:00-3:00pm ET
NOTE: This is a live, interactive zoom meeting. It is not a webinar. You'll be invited and encouraged to participate actively in the chat and in breakout rooms. The event will NOT be recorded, so you must be available at the scheduled time in order to participate!
Schedule:
Noon-1:00pm ET Updates on Southwest PA Says No More, lessons learned during the pandemic , highlights of new local resources you can use in your work, and how you can be involved in the NO MORE pledge
1:00-3:00pm ET Keynote interactive workshop:
Reseating The Origin Story: The Black Founders of the Anti-Violence Movement
This keynote address amplifies the role of Black feminist abolitionists whose strategies, experiences and activism laid the foundation to the anti-violence movement and field. We will also highlight Black women, early survivors of violence whose experiences are recorded in history and all but forgotten, who mapped out a path to liberation several centuries before the first wave of feminism.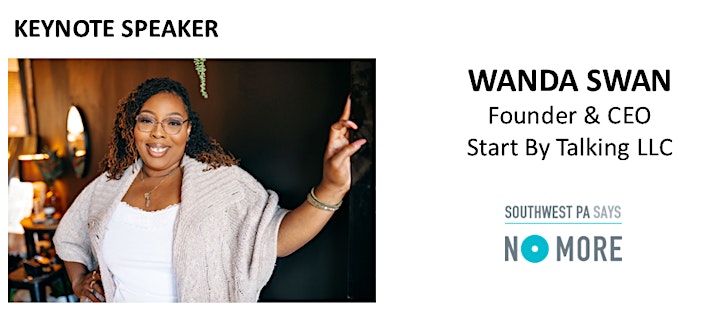 (Image description of Wanda Swan, a smiling Black woman wearing glasses, a white blouse and a sand colored sweater with one hand on her hip and another on a doorframe, as if welcoming you in. Text reads: Keynote speaker Wanda Swan, Founder and CEO Start by Talking LLC.)
WANDA SWAN is a nationally-recognized thought leader in survivor advocacy, anti-oppression work, restorative justice, and violence prevention. A speaker, scholar-practitioner, anti-oppression coach, and Research Fellow for the University of New Hampshire's Prevention Innovations Research Center, she has been deeply embedded within the anti-violence movement for over 15 years.
Wanda's work has spanned across higher education, local and state agencies, and nonprofits dedicated to survivor resiliency and sustaining anti-oppressive environments. As both a curator and co-conspirator of systems disruption and research that informs her field of practice, she is co-founder of, and currently holding co-leadership roles in, professional organizations like Campus Advocacy and Prevention Professionals Association (CAPPA) and NASPA's Sexual and Relationship Violence Prevention Education and Response Knowledge Community (NASPA SRVPER KC).
As founder and CEO of Start By Talking, Wanda supports clients through individual and group coaching, organizational assessment, and virtual learning on the strategy of Whiteness and how those messages reverberate across policy, procedure, and practice.
Her research project, now nine years old, on identifying and reseating the Black founders of the anti-violence movement serves as the vehicle that first allowed her to birth a company with the audacious goal of liberation for all through 1:1 conversation. Today, Wanda's vision has expanded beyond her ancestor's wildest dreams.