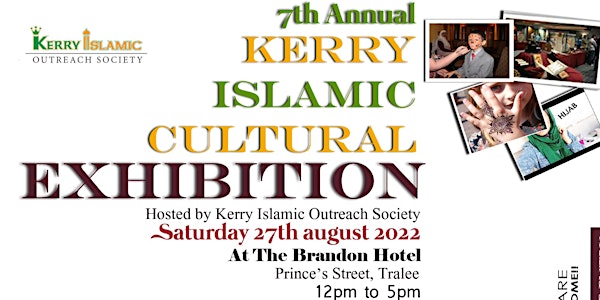 Annual Kerry Islamic Cultural Exhibition
Attend to gain an insight into the Islamic faith and rituals. Great way to better integrate and break misconceptions in the community.
When and where
Location
Brandon Hotel Conference and Leisure Centre Prince's Street V92 PVK6 Tralee Ireland
About this event
Kerry Islamic Outreach Society are currently gearing up to host their 'Seventh Annual Islamic Cultural Exhibition' in Tralee. It will be held on August the 27th - Saturday at the Brandon hotel from 12 pm till 5pm.
There will be several segments on the day for everyone to enjoy including free refreshments, gift bags, free henna painting, face painting, having your name written in Arabic calligraphy along with information on Islamic faith and culture.
Those who had attended past events had appreciated the audio visual session that was held on topics regarding various aspects of Islam.
In the last six exhibitions, thousands of the local community friends have attended the exhibition in order to learn about the faith and rituals of their friends, neighbours, doctors, colleagues and fellow students living alonside in this beautiful town of Trale
This event always made impressive new inroads for integration , breaking barriers and awareness among the community.
All proceeds of the day will go to RECOVER HAVEN KERRY , Tralee.
Last six years proceedings of the event went to; Enable Ireland ( 2013&2014) , Kerry and Adapt centre for women refuge Tralee(2015&2016) , Novas - Arlington Lodge (2017) & Tralee International resource centre TIRC ( 2019).
Looking forward to see ye ALL there