Annual Ion Raţiu Lecture: Transnistria - Quo Vadis?
Description
Annual Ion Raţiu Lecture
Transnistria - Quo Vadis?
with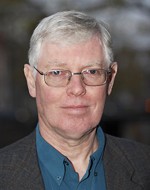 Dennis Deletant, Visiting Ion Raţiu Professor of Romanian Studies at the Center for Eurasian, Russian and East European Studies
Transnistria's upcoming presidential elections on December 11, 2016 offer an opportune moment to assess the political and economic situation in the breakaway autonomous region. The situation in Transnistria must be considered against the background of the increased tension in East Central Europe between Russia and its neighbors Moldova and Ukraine and the implications for relations between Moscow, on the one hand, and Washington and Brussels on the other. The lecture will consider to what degree the financial interests of the economic and political elite in Transnistria converge with the geo-strategic interest of Russia and how far the pursuit of these interests will affect Moldova's aim to restore its territorial integrity.
December 7, 2016
5:30pm
McGhee Library (ICC 301)
Georgetown University
Reception and light refreshments to follow.
Professor Dennis Deletant is currently Visiting Ion Ratiu Professor of Romanian Studies at Georgetown University and Emeritus Professor of Romanian Studies at the School of Slavonic and East European Studies, University College, London. He is the author of several monographs and volumes of studies on the recent history of Romania, among them Ceauşescu and the Securitate: Coercion and Dissent in Romania, 1965-89 (London; New York, 1996), Communist Terror in Romania: Gheorghiu-Dej and the Police State, 1948-1965, (London; New York, 1999), Ion Antonescu. Hitler's Forgotten Ally (London: New York, 2006), and British Clandestine Operations in Romania during the Second World War. In October of this year he was awarded the Order of the Star of Romania, the country's highest civilian honor, by President Klaus Iohannis, for his contribution to Romanian studies.
About Ion Raţiu:

Ion Augustin Nicolae Raţiu was born in Transylvania in 1917 and was the son of Augustin Raţiu, a successful lawyer who became leader of the Romanian National Party. In 1940, Ion Raţiu joined Romania's Foreign Service and went to London as a chancellor at the Romanian Legation. Later that year, Romania's decision to align with the Axis powers appalled Raţiu, who resigned his post and obtained political asylum in Britain.
In exile in London after the Communist takeover of Romania in 1946, Raţiu threw himself into the struggle against communism, becoming a regular contributor to the Romanian Service of the BBC, Radio Free Europe, and Voice of America. In 1957, his book Policy for the West radically challenged contemporary western views of the nature of communism. He went into shipping and later into real estate, and continued publishing. He returned to Romania in 1990 where he had a failed bid for the presidency. He did become a member of the Romanian Parliament and served as both deputy speaker of the Chamber of Deputies and as Romania's roving ambassador to NATO. Ion Raţiu died in January 2000. His funeral, in his home town of Turda, was attended by more than 10,000 people.