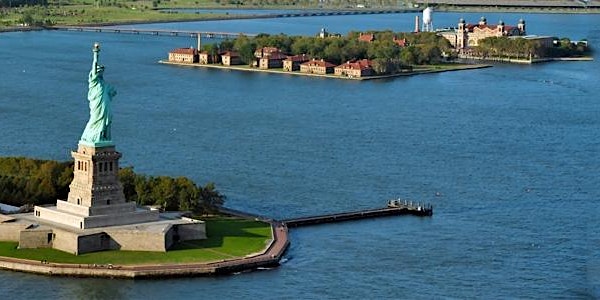 Annual Immigrant Rights Summit 2019
When and where
Location
The College of New Jersey 2000 Pennington Road Education Building, Room 212 Ewing Township, NJ 08628
Refund Policy
Refunds up to 7 days before event
Eventbrite's fee is nonrefundable.
Description
(Español abajo)
Join us for a day of learning and empowering discussions about the state of immigrant rights in New Jersey at the Annual Immigrant Rights Summit 2019. We look forward to hearing from you and working with you on how we will serve our communities going forward. A full program of events will be available at the event. Lunch and refreshments will be served.
NJAIJ Members - please contact us at info@njimmigrantjustice.org for member tickets. If you would like to pay via cash or check, contact us directly for purchase. Tickets are available until December 4, 2019, and space is limited.
WORKSHOPS:
Immigration and Customs Enforcement in New Jersey

Serving Immigrant Communities

Driver's Licenses Campaign

Healthcare

Know Your Rights
NJAIJ Member Organizations:
1199 SEIU, 32BJ SEIU, American Civil Liberties Union of New Jersey, American Friends Service Committee, Beacon - Unitarian Universalist Church in Summit, Faith in New Jersey, The Latin American Legal Defense & Education Fund, Inc., Latino Action Network, Make the Road New Jersey, New Jersey Communities United, New Labor, New Jersey Policy Perspective, New Jersey Working Families, Wind of the Spirit, Immigrant Center, Anti-Poverty Network of New Jersey, Bangladeshi American Women's Development Initiative, Casa Freehold, Catholic Charities Diocese of Metuchen, Catholic Charities Diocese of Trenton, Central Jersey Coalition Against Endless War, Centro Comunitario CEUS, Central Unitarian Church - Social Justice Committee, Community of Friends in Action, Drug Policy Alliance, El Centro Hispanoamericano, Ethical Culture Society of Bergen County, First Friends NJ & NY, Haiti Solidarity Network of the North East, Hispanic Family Center of Southern New Jersey, Hudson Civic Action, Ironbound Community Corporation, Kids In Need of Defense (KIND), National Association of Social Workers - New Jersey Chapter, New Jersey Citizen Action, New Jersey Institute for Social Justice, OASIS, Statewide Parent Advocacy Network, Inc., The Social Responsibilities Council of The Unitarian Society of Ridgewood, Unitarian Universalist FaithAction NJ, Unitarian Universalist Congregation of Princeton
Sponsors: TCNJ - Center for Community Engaged Learning and Research
~~~~~~~~~~~~~~~~~~~~~~~~~~~~~~~~~~~~~~~~~~~~~~~~~~~~~~~~~~~~~~~~~~~~
Acompáñanos por una día de aprendizaje y conversaciones inspiracionales sobre el estado de los derechos de inmigrantes en la Conferencia Anual de Derechos de Inmigrantes de NJ del 2019. Esperamos poder escuchar de usted y trabajar juntos para servir a nuestras comunidades en el futuro. Un programa completo estará disponible el dia del evento. Almuerzo y refrescos estan incluyidos.
Miembros de la Alianza - por favor contáctenos en info@njimmigrantjustice.org para obtener boletos para miembros. Si prefiere pagar en efectivo o con cheque, contáctenos directamente. Los boletos estarán disponibles hasta el 4 de diciembre y hay espacio limitado.
TALLERES:
Inmigración y Aduanas en Nueva Jersey

Sirviendo a las Comunidades de Inmigrantes

Campaña de Licencias de Conducir

Cuidado de salud

Conozca sus derechos
Miembros de La Alianza:
1199 SEIU, 32BJ SEIU, American Civil Liberties Union of New Jersey, American Friends Service Committee, Beacon - Unitarian Universalist Church in Summit, Faith in New Jersey, The Latin American Legal Defense & Education Fund, Inc., Latino Action Network, Make the Road New Jersey, New Jersey Communities United, New Labor, New Jersey Policy Perspective, New Jersey Working Families, Wind of the Spirit, Immigrant Center, Anti-Poverty Network of New Jersey, Bangladeshi American Women's Development Initiative, Casa Freehold, Catholic Charities Diocese of Metuchen, Catholic Charities Diocese of Trenton, Central Jersey Coalition Against Endless War, Centro Comunitario CEUS, Central Unitarian Church - Social Justice Committee, Community of Friends in Action, Drug Policy Alliance, El Centro Hispanoamericano, Ethical Culture Society of Bergen County, First Friends NJ & NY, Haiti Solidarity Network of the North East, Hispanic Family Center of Southern New Jersey, Hudson Civic Action, Ironbound Community Corporation, Kids In Need of Defense (KIND), National Association of Social Workers - New Jersey Chapter, New Jersey Citizen Action, New Jersey Institute for Social Justice, OASIS, Statewide Parent Advocacy Network, Inc., The Social Responsibilities Council of The Unitarian Society of Ridgewood, Unitarian Universalist FaithAction NJ, Unitarian Universalist Congregation of Princeton
Patrocinadores: TCNJ - Center for Community Engaged Learning and Research