Description
CFSSLI Presents ...
Howl-O-Ween Throwdown
Benefiting LCAR
CrossFit South Shore LI presents their Annual Howl-O-Ween Throwdown benefiting Last Chance Animal Rescue.

When: Saturday November 2nd 2019 8-9am check in First workout at 9:30am.

Where: CrossFit South Shore LI- 1507 Smithtown Ave, Bohemia NY 11716

Cost: $115.00 per team ONE TICKET PER TEAM ! (plus taxes & fees) (6 Raffle tickets included in your purchase)

Details: Teams will register as Male/Male or Female/Female team either RX or Scaled. 100% of the registration costs will go towards sponsoring the Dog listed for your divison (please see below for photos and information on the sponsored dogs). Workouts will be released two weeks before the event.

Raffle tickets for Baskets will be on sale at the door, 100% of the proceeds will go towards LCAR. 2017 we raised over $5,000 just as an In-house, Last year (2018) we opened up our doors to anyone and everyone in the crossfit community to Throwdown and we raised over $12,000 thanks to everyone, this year with opening our doors again to the the entitre CrossFit community with a goal to raise over $15,000. Please join us to help us reach our goal. If you cannot make it and still want to donate, please click link and donate any amount of your choice.

Standards:
RX - Chest to Bar, Box Jumps 24/20", Double unders, Wall Balls 20/14lbs, Deadlifts 225/155+, Pistols, HSPU, Dumbbell Snatch 50/30lbs, Shoulder to Overhead 115/85lbs, Cleans 155/105lbs, Snatch 115/85lbs.
Scaled - Jumping Pullups, Box Jumps 20/18" (step-ups allowed), Weighted Jump Rope Singles, Wall Balls 14/10lbs, Deadlifts 175/105lbs+. Goblet Squats 53/35lbs, Dumbbell Snatches 35/20lbs, Shoulder to Overhead 75/55lbs, Cleans 115/65lbs, Snatch 95/55lbs.
Thank you.
About Last Chance Animal Rescue: … Last Chance Animal Rescue is a charitable, not-for profit 501(c)(3)organization, created to save the lives of animals. We rescue animals that are locate in "KILL" facilities and underwrite the costs of relocating them to "NO KILL" facilities and foster homes in hopes of finding them a forever family. We work with veterinarians for spay-neuter and provide other medical services until permanent placement is secured into a pre-screened home. We depend on your donations to continue to save these helpless loving animals from being killed, as a faithful friend you can support our ongoing mission to save as many lives as we can. We are grateful for our dedicated community of adopters, fosters, volunteers, sponsors and supporters, without you we could not achieve our life saving mission.
Sponsored Dogs:
- RX Male Team Sponsorship - CoCo:
Coco was originally saved and pulled from a shelter by our parent rescue, Last Chance Animal Rescue. He was adopted out to what seemed like the perfect home for him. He had it made. He was spending endless nights walking along the beach, traveling all over, and playing in the snow. He was happy and content when his whole world turned upside down! His owner made some life decisions that did not include him, which left Coco homeless and needing a place to go - that's where we stepped back in!
Coco came to live on the farm where he had room to run and play and could be free from many of the things that cause him stress. C oco is one of the most loyal, obedient and loving animals that you will ever meet. He is gentle, goofy and remarkably handsome! Coco has found a best friend in a fellow resident named Chloe. They spend every day playing, sleeping, and eating together. Coco will call the farm his forever home.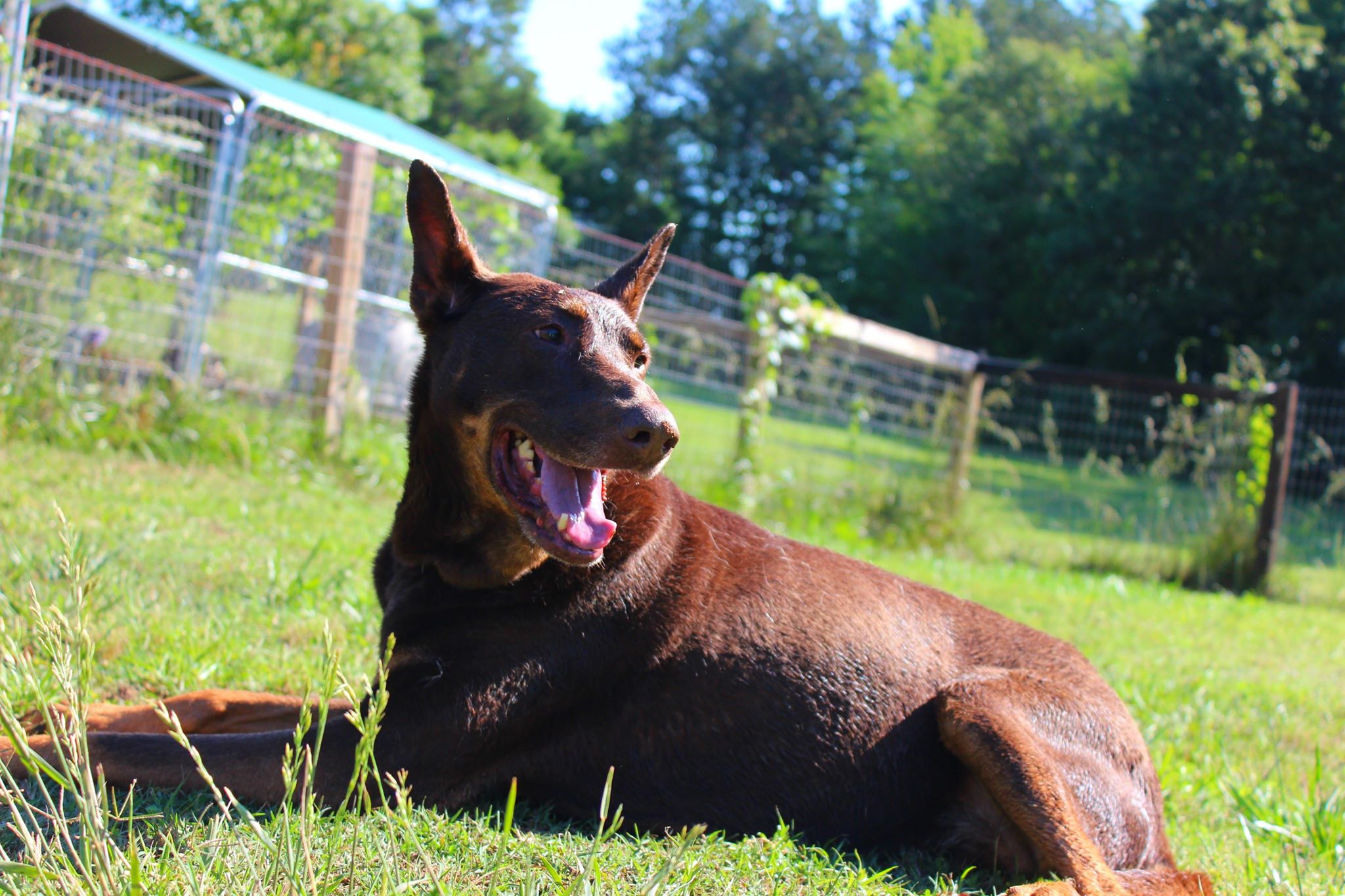 : Female Team Sponsorship: Dexter
Dexter is a beautiful boy, who was found wondering around a camping ground all alone. He seemed scared, making him a little aggressive towards these people that he didn't know. So, visitors called Animal Control to come get him and he was taken directly to a local shelter.
Since he had shown this fearful aggression, no one wanted him and he was moved up to the top of the euthanasia list. Many people don't realize that it is scary for dogs, just like humans, to be thrown into new situations, with new people and that they need time to decompress. Luckily, right before Dexter's time ran out at the shelter, St Francis Farm staff stepped in and offered him a home on the farm!
Dexter loves his life here, and does amazing with our staff, being a playful favorite. He would love to find his perfect forever home, but until that time, he will call the farm his home.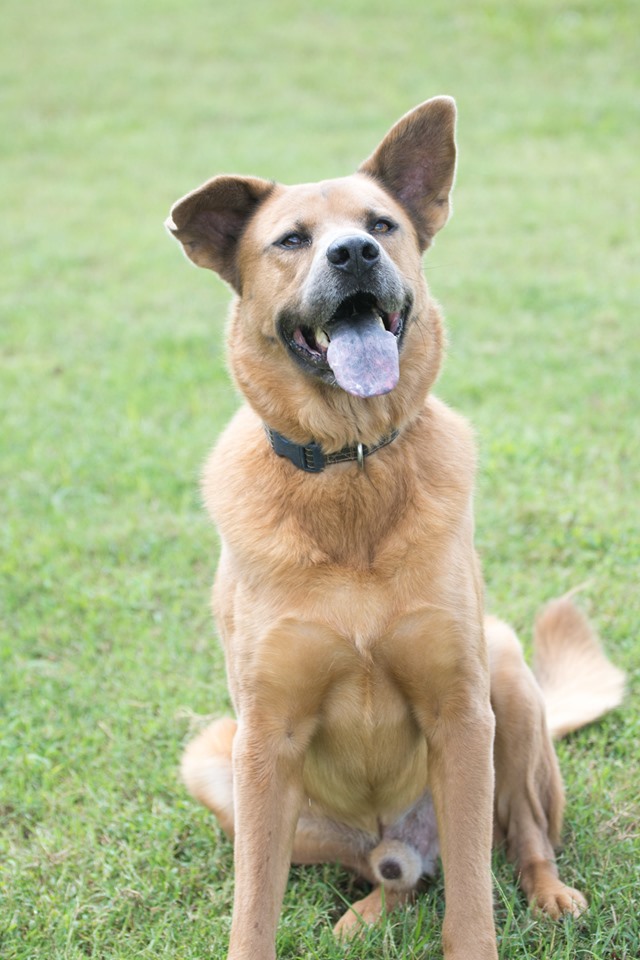 - Scaled Male Team Sponsorship - Laney
St. Fracnis Farm found Laney at a local kill shelter. She had been dumped there after being hit by a car! Laney couldn't use her back legs, had masses all over her body, and was heartworm positive. Somehow after all this, she was still such a happy and loving dog.
Laney under went two surgeries for her hips, treatment for her heartworms and has stolen all of our hearts! She still struggles a little bit with getting around, but her spirit has never been broken. Laney will most likely call the farm her forever home. But she is perfectly fine with that! We love her and she loves life here. Her favorite days are warm days when she gets to go down by the river and run the through water and sand and pick up every stick she can get her mouth around!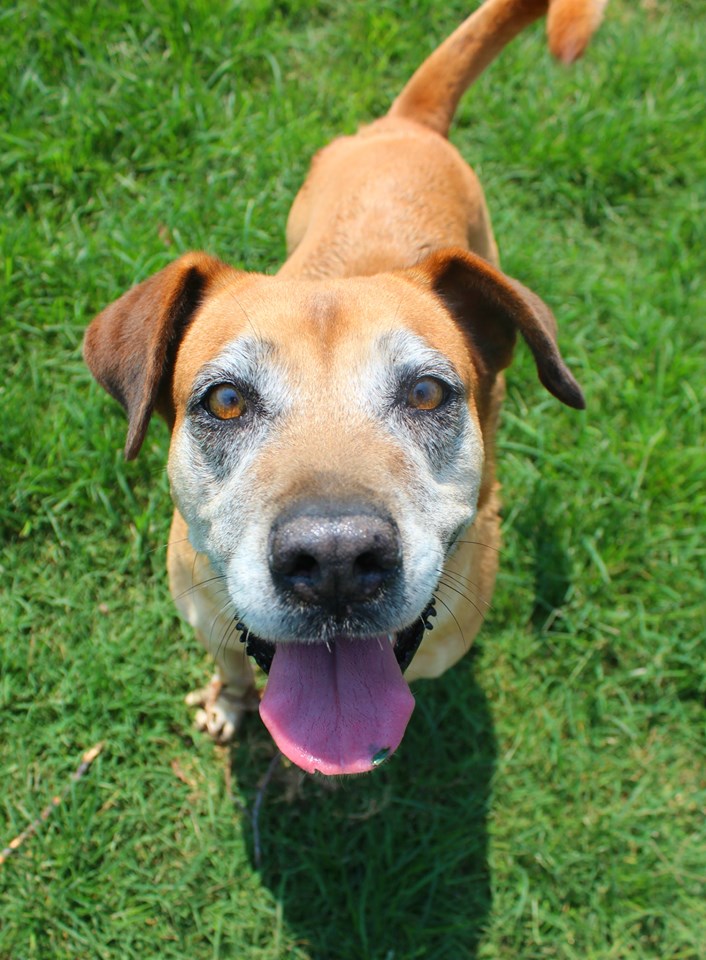 - Scaled Female Team Sponship; Thurber
Thurber was only 10 weeks old when he came to the farm through a local vet. The vet was out on a farm call when he almost ran over the little pup. Wondering why he didn't get out of the way of his vehicle he got out and realized that the puppy was blind. Standing no chance of finding a forever home through the local shelter, the vet called St Francis Farm.
As Thurber grew he also began having seizures and the decision was made to keep Thurber on the farm. Thurber loves his life here. He is spoiled and well loved. He enjoys playing with his little pack of friends and even has his very own tree that he likes to climb inside if any loud noises scare him.