Description
This ½ day complimentary seminar is led by the Employment & Employee Benefits Practice Group of Devine, Millimet & Branch, PA. The presenters will include: Margaret (Peg) O'Brien, Esq., Donald (Lee) Smith, Esq., Patricia McGrath, Esq., Charles Giacopelli, Esq., and Anne Scheer, Esq.
This live seminar will address the following topics:

TIPS FOR THE UPCOMING NEW YEAR IN LIGHT OF RECENT AGENCY AND COURT RULINGS
The goal of this presentation is to provide a practical overview of the pertinent employment laws and a roadmap for helping employers avoid making decisions that might negatively impact their growth and success. Topics that will be covered include hiring, wage and hour issues, discrimination and harassment claims and firing, with a focus on recent case law and agency guidance on each topic.
MEDICAL MARIJUANA IN THE NEW HAMPSHIRE WORKPLACE
A General Overview and Specific Guidance on Its Impact on New Hampshire Workers' Compensation Claims
For more than a year, qualifying patients in New Hampshire have been able to obtain medical marijuana legally. This presentation will review the basics of the medical marijuana statute along with employer rights and responsibilities regarding same, including a discussion of whether zero tolerance drug testing policy drug testing policies still work and related ADA issues. In addition, the impact of medical marijuana on workers' compensation claims will be reviewed. The New Hampshire Department of Labor has already ruled on two workers' compensation cases involving claims for medical marijuana coverage, and those decisions will be discussed along with guidance for employers on these claims going forward.
NEW LOOKS, CORRECTION TOOLS, AND UPDATES FOR EMPLOYER-SPONSORED RETIREMENT AND WELFARE PLANS
Employers who sponsor retirement plans and offer health benefits for their employees must follow a myriad of complex guidelines and regulations. This session will: provide an update on the Affordable Care Act, its replacement or its absence; review of COBRA notification obligations; and review the remedies that the IRS and DOL offer to correct errors in retirement plan administration and reporting.

2017 LAWS AND REGULATIONS THAT IMPACT THE NEW HAMPSHIRE WORKPLACE
Thankfully, with all of the other changes in the employment law landscape, there have only been a few new laws and regulations this year! We will highlight the changes so you can ensure your company stays in compliance.

Q&A PERIOD
The conclusion of this seminar features a question-and-answer session, during which attendees are encouraged to ask questions regarding any labor and employment law topic.

Program Designed For
This seminar is designed for HR professionals, benefits specialists, in-house counsel, adjusters, and business owners.

Schedule
Tuesday, November 7, 2017

8:00am – 8:30am Registration and Breakfast
8:30am – 12:30pm Presentation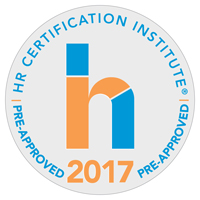 The use of this seal confirms that this activity has met HR Certification Institute's® (HRCI®) criteria for recertification credit pre-approval.