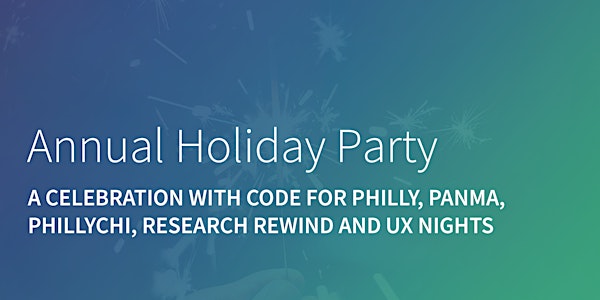 When and where
Date and time
Wednesday, December 4, 2019 · 6 - 8pm EST
Location
Field House 1150 Filbert Street Philadelphia, PA 19107
Description
To wrap up another successful year, your favorite Philly tech and creative groups are joining forces for one big holiday celebration and we invite you to join us for a festive celebration of local UX and creative professionals!
Tickets* are $9 and include your first drink and light refreshments. There will be plenty of time to nosh and network with friends new and old from all of our partner groups.
We can't wait to see you there!
Participating Groups:
Code for Philly uses tech and data as a mode of civic engagement. Founded under Code for America's inaugural Brigade Program in 2012, Code for Philly currently hosts a weekly Meetup, regular hackathons and acts as an incubator for civic apps across the city. Some of us are thinkers, designers, makers, and coders, but we're all engaged citizens ready to make an impact on the place we call home.
Philadelphia Area New Media Association (PANMA) is a community of designers, artists, developers, programmers, content strategists, information architects, marketers, and everything in between.
PhillyCHI is the Philadelphia area chapter of the Association for Computing Machinery's special interest group on human-computer interaction. We are an interdisciplinary group interested in Human-Computer Interaction, User Experience, Usability and Accessibility. We hold monthly events on topics and trends in the industry, providing opportunities for our members to grow, connect, and engage with the local UX community.
Research Rewind is all about reflecting on our experiences as UX and user-centered design researchers so we can refine our craft, iterate on our process, and ultimately create delightful, evidence-based designs that put people first. We host semi-monthly events where we swap stories, share tips and tricks, and grow our research skillsets together. Join us!
UX Nights is a safe place where we talk about user experience and how it affects your life and the work you do. Are you a professional, student, or just interested in design? Are you considering switching careers or looking for your next gig? Are you passionate about learning new things and become better at what you do? Do you just want to hang out and talk about design? Come join us!
*Tickets are nonrefundable
About the organizer
PhillyCHI is the Philadelphia region's chapter of the ACM SIGCHI, an interdisciplinary academic and professional group interested in Human-Computer Interaction, User Experience, Usability, and other related disciplines.
PhillyCHI holds monthly meetings and socials to network and discuss current topics in HCI. Learn more at http://phillychi.org or follow along on Twitter at @PhillyCHI.