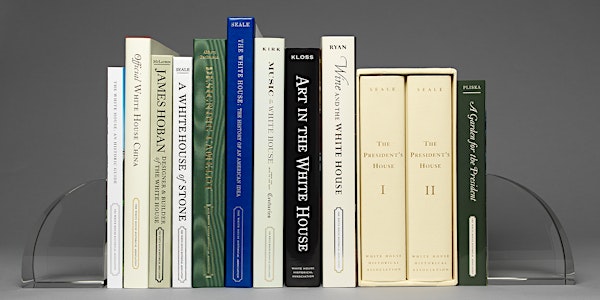 Annual Holiday Book Festival
Join the White House Historical Association for their Annual Holiday Book Festival!
When and where
Location
White House History Shop 1610 H Street Northwest Washington, DC 20006
About this event
Since 1962, the White House Historical Association has produced award-winning books on many subjects related to the history of the President's House—from its architecture, gardens, fine and decorative arts to the presidents and first ladies who lived there over the years. Our titles appeal to history buffs and art lovers, connoisseurs and curious amateurs, scholars and tourists, adults and children. We are pleased to invite you to meet the authors of these award-winning books at our Holiday Book Festival on December 2, 2022
Guests will meet President Thomas Jefferson (as played by Bill Barker)
Artist and illustrator Dr. John Hutton will provide drawing lessons and demonstrate how to draw the presidents.
Authors will be present to sign books in person until 3 p.m. Doors open until 5 p.m.
Highlights of Author Lineup:
Alex Prud'homme will sign his foreword to The White House Family Cookbook by White House Executive Chef Henry Haller and his article "Julia Child Goes Behind the Scenes at the White House" in White House History Quarterly.
Rebecca Youngblood Vaughn will sign her introduction to her father's memoir 20 Years in the Secret Service: My Life with Five Presidents; and, from the White House History Quarterly issue "Protecting the Presidents: The History of the United States Secret Service," she will sign her article "Growing Up a Secret Service Agent's Daughter: Life with My Father Rufus W. Youngblood"
Ken Walsh, former president of the White House Correspondent's Association, will sign his articles from White House History Quarterly on Photography and Television issues as well as his book Ultimate Insiders: White House Photographers and How They Shape History.
Mary Jo Binker will sign her articles from White House History Quarterly on Fashion, Television, and Social Secretaries as well her books If You Ask Me: Essential Advice from Eleanor Roosevelt and What Are We For?: The Words and Ideals of Eleanor Roosevelt.
Chef Mark Ramsdell will sign books he co-authored with the late Chef Roland Mesnier: Creating the Sweet World of White House Desserts: A Pastry Chef's Secrets and The White House in Gingerbread.
Bill Barker will sign his book Becoming Jefferson: My Life as a Founding Father.
Matthew Wendel will sign Recipes from the President's Ranch: Food People Like to Eat.
And more authors, as well as a selection of pre-signed books will be available!
For more information view our book festival flyer