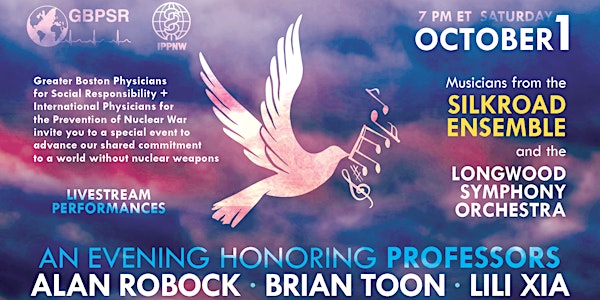 Annual Global Peace and Health Concert
We are honored to invite you to GBPSR and IPPNW's 5th annual peace and health concert to address nuclear war and climate change.
Refund Policy
Contact the organizer to request a refund.
Eventbrite's fee is nonrefundable.
About this event
Greater Boston PSR (GBPSR) and International Physicians for the Prevention of Nuclear War (IPPNW) are pleased to host a very special fifth annual peace and health concert to address the twin existential threats of nuclear war and climate change. The special event will be streamed live on-line, beginning at 7:00pm, on Saturday, October 1st, 2022. This event will feature performances by Longwood Symphony Orchestra musicians and members from the Silkroad Ensemble, an international musical collaborative that was founded by cellist Yo-Yo Ma.
Our Honorees for 2022 are Professors Alan Robock, Brian Toon, and Lili Xia who have pioneered critical research on nuclear winter and the climatic consequences of a limited nuclear conflict. IPPNW and PSR have worked together for decades to further our knowledge of the danger posed by nuclear weapons and to alert the public to this danger. The research from our 2022 Honorees was critical in the creation of our report: Nuclear Famine: Two Billion People at Risk. Over the last decade our work on the global catastrophe that would follow even a "limited" use of nuclear weapons played an important role in building support for the Treaty for the Prohibition of Nuclear Weapons.
Since there will be no reception, we regret we cannot offer our customary food or drink, but we encourage you to sit back in your home, perhaps with a cocktail in hand, and enjoy the online presentations and performance.
Register now to be notified when the online event link is established, or for further details such as repertoire and speaker lineup when those are made available. Participation is free, and all donations, no matter the amount, are considered to be sponsorships and will be posted on our website as such. Please see more detailed information about the event, including sponsorship opportunities, on the event webpage: https://gbpsr.org/events/2022-virtual-concert/