ANNUAL FORUM 2015

Thursday, September 24, 2015 from 8:30 AM to 2:30 PM (EDT)
Event Details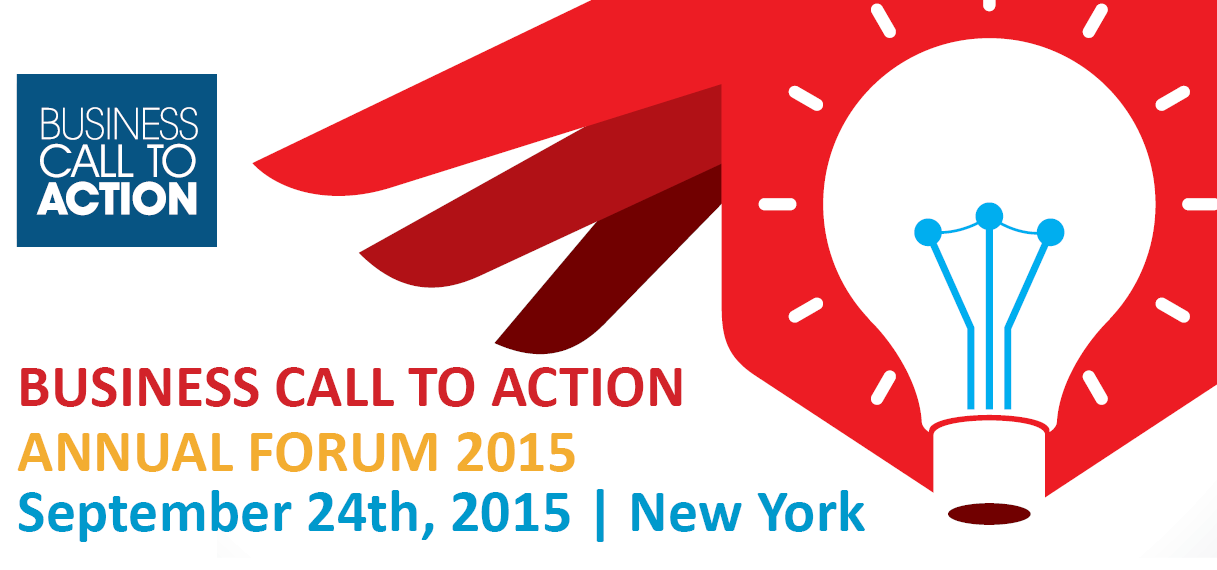 The Business Call to Action's Sixth Annual Forum will take place in conjunction with the 70th Session of the United Nations General Assembly and the adoption of the Sustainable Development Goals (SDGs) framework, when private sector, development institutions and governments will seek to renew and re-define their commitment to the achievement of the new development agenda.
 
At a time of increased awareness in the power of business to drive both growth and development, the Forum will explore how inclusive businesses provide goods, services, and livelihoods on a commercially viable basis to people at the base of the economic pyramid, whose combined purchasing power exceeds US$ 5 trillion, while delivering benefits to all people, communities and markets.
 
Join leaders from innovative BCtA member companies as well as senior representatives from government, bilateral donors, civil society and the United Nations to learn about innovative businesses models, engage in peer-to-peer knowledge exchange, network and establish linkages with other leaders in the field.


THIS EVENT IS BY-INVITE ONLY. SPACE IS LIMITED.
For further information on the Forum, please contact Tatiana Bessarabova, tatiana.bessarabova@undp.org.
8:00 – 8:30AM | BREAKFAST & REGISTRATION

 

8:30 – 8:45AM|KEYNOTE REMARKS:

Magdy Martínez-Solimán, Assistant Administrator and Director of the Bureau for Policy and Programme Support (BPPS), UN Development Programme (UNDP)

 

8:45 – 9:45AM|BREAKFAST SESSION: HARNESSING DOMESTIC INCLUSIVE BUSINESS FOR SOCIAL IMPACT

The new Sustainable Development Goals (SDGs) emphasize working with business to carry out an ambitious agenda for people, prosperity, peace and the planet. Some of the most innovative approaches to harnessing business for social impact have come from domestic companies in Africa, Asia and Latin America. An interactive breakfast panel discussion will explore the role of domestic inclusive businesses in delivering on the SDGs.

This session is organized in collaboration with the Business Fights Poverty and The Partnering Initiative.


Speakers:

Juan Sebastian Pardo Lanzetta, CEO, Credifamilia

David Croft, Global Sustainable Development Director, Diageo

Piyush Jaju, CEO and Co-Founder, ONergy

Tafsir Awal

, Director, Multomode Group & Lal Teer Seed Ltd.

Vimal Shah, CEO, Bidco Africa Ltd.

Moderator: Bhaskar Chakravorti, Executive Director of Fletcher's Institute for Business in the Global Context (IBGC) and Council on Emerging Market Enterprises (CEME)

9:45 – 10:00AM | BREAK

 

10:00 – 10:15AM|OPENING PRESENTATION:

Sahba Sobhani, Officer in Charge, Business Call to Action and Global Programme Advisor, Private Sector, Bureau for Policy and Programme Support (BPPS), UN Development Programme (UNDP)

 

10:15 – 11:30AM | PLENARY SESSION: INCLUSIVE BUSINESS AS KEY CONTRIBUTOR TO NEW DEVELOPMENT AGENDA

This session will introduce new Business Call to Action member initiatives, showcase their innovative work and share evidence and knowledge of how these businesses are contributing to achieving the SDGs. It will serve as a platform for sharing both best practices on embedding inclusive business practices into company value chains and lessons learned on working with low-income communities. The session will also feature public-sector leaders who have made support for inclusive business central to their private-sector engagement strategies – creating opportunities to harness the potential of inclusive business in the new global development agenda.

 

Keynote Welcome Remarks:

Lise Kingo, Executive Director of the United Nations Global Compact

Speakers:

Lena Ingelstam, Director of Partnerships and Innovations, Swedish International Development Cooperation Agency (Sida)

Luiz Ros, Manager for the Opportunities for the Majority (OM) Sector Office, Inter-American Development Bank (IDB)

Nicolas

Chevrollier,

Senior Programme Manager, BoPInc

Nicole Voillat, Sustainability Director, Bata

Stefan Maard, Head of Sustainable Business Development, Novozymes

Terri Bresenham, CEO and VP, Sustainable Healthcare Solutions, GE Healthcare

Moderator: Nik Sekhran, Director for Sustainable Development,

Bureau for Policy and Programme Support (BPPS)

, UN Development Programme (UNDP)

11:30 – 11:45AM | BREAK

 

 

 

 

 

 

 

 

 

 

(Concurrent Sessions)

 

 

 

 

11:45AM – 1:00PM | THEMATIC SESSION: TOWARD A HEALTHIER FUTURE: CATALYZING PARTNERSHIPS TO DRIVE BETTER HEALTH

Addressing the burden of disease in low- and middle-income countries requires innovative cross-sector partnerships that drive improvements in health. Both the private sector and policymakers have a role in determining how to address the newly established Sustainable Development Goal of 'ensuring healthy lives and promoting well-being for all at all ages'. This session seeks to highlight successes, challenges and lessons learned from cross-sector partnerships aimed at achieving health impact, from the perspectives of the private, public and non-profit sectors.

This session is organized in collaboration with the Accenture Development Partnerships. 


Speakers:

Soraya Ramoul, Director, Access to Health, Novo Nordisk

Daniel Grossman, Senior Director, Global Health Innovation, Medtronic, Inc.

Camilo Gonzalez Ruiz, Director of Access, Diabetes, Sanofi Colombia

Takeo Hojo, General Manager, BOP Business Unit, Global Operations Division, Saraya

Moderator: Natasha Sunderji, Global Health Lead, Accenture Development Partnerships

 

Closing Remarks:

Dr. Joseph Kibachio, Head of NCD Department, Ministry of Health, Kenya

 

11:45AM – 1:00PM |THEMATIC SESSION: MAKING SDGs YOUR BUSINESS THROUGH REVOLUTIONIZING DATA COLLECTION

This year marks the beginning of a new and much more ambitious global development agenda – the SDGs – in which measuring and reporting progress will be critical. Capturing operational performance and social impact can help companies to fuel product and service innovation, maintain their operating licenses, strengthen their value chains and improve their business environments. Understanding how these data are effectively measured is crucial for aligning corporate reporting frameworks with the SDGs. This session will share examples of 'lean' data collection initiatives undertaken by inclusive businesses to demonstrate how companies can actively contribute to achieving the SDGs.

 

Speakers:

Jeremy Hockenstein, CEO, Digital Divide Data (DDD)

Eriko Ishikawa, Global Head, Inclusive Business, International Finance Corporation (IFC) – World Bank Group

Serge Kapto, Policy Specialist, Data for Development, UN Development Programme (UNDP)

Mitesh Thakkar, Founder, Arthify Inc.

Moderator:

Marcos Neto, Director, Istanbul International Center for Private Sector in Development, UN Development Programme (UNDP)

 

 

1:00 – 2:30PM | NETWORKING LUNCH AND MEMBER EXPO

 

By delivering innovative, technology-based solutions to low-income communities, innovative enterprises enhance the quality of life at the base of the economic pyramid. Often, this means bringing low-cost, life-saving, environmentally-friendly technologies and practices to the developing world. BCtA Expo offers a space for interaction and promotion of how these innovations align with the core business activities of member companies while making a difference in the lives of the poor. Participating companies includes innovators such as AACE Foods, aWhere, Basic Water Needs, Centurion Systems, Contigo, Envirofit, Iluméxico, MUrgency, Pronaca, Sevamob, Sanergy, Shubham Housing, and Techpharm.




Facilitator:

Priya Dasgupta, Director of Strategic Initiatives, Enterprise for a Sustainable World (ESW)

 
When & Where

New York
Convene at 730 Third Ave.
New York, NY 10178


Thursday, September 24, 2015 from 8:30 AM to 2:30 PM (EDT)
Add to my calendar
Organizer
The Business Call to Action challenges companies to develop innovative business models that achieve commercial success and development outcomes.