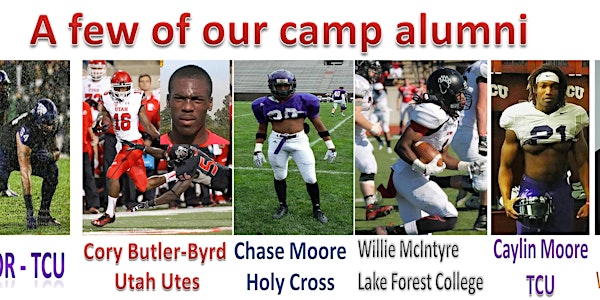 Annual "Final Call" College Prospect Football Camp 2017. Seniors Play Univ...
Location
Rancho Cienega Sports Complex (Stadium )
5001 Rodeo Rd
Los Angeles, CA 90016
Sales Have Ended
Ticket sales have ended
Please email us to get on the on-site registration list at : reginaldreggiegrant@gmail.com
Description
Coach Mimis will be flying in from Detroit to work with Coach Ricks and Coach Grant to evaulate talent for colleges nationwide.
Our Annual Football Recruiting Camp (Athlete Evualation Event)
Where we evaluate talent and connect student-athletes with universities and colleges nationwide. Student athletes must come to the event prepared to compete and showcase your talents.

At our event in Detroit December 7th, 2016 - 200 student athletes preformed for 50 plus colleges and universities. We send the results to over 800 college coaches nationwide.
All-Star games will be evaluating talent for nomination for the up coming games. Last year 16 student athletes from the event played in January All-Star Games.
Some of the participants went on to play at Utah, TCU, Virginia Union, Lake Forest College, George Fox University and more.....
e SportsInstruction.com In cooperation with our national partners Muscles in Motion Systems based in Detroic, Sports Training Los Angeles, Coach Mark Ricks- Marks Mentoring ,program are hosting our 7rd Annual "Final Call" to connect Los Angeles region student athletes with colleges and universities from across the nation. Our national partners Muscles in Motion Systems based in Detroit and Total Student Athlete, Inc. based in Michigan will be on site the evaluate the players and recommend them to colleges nationwide. Every year we connect players with schools that fit their football skill and academic level. College coaches are already contacting us for players as they look ahead to next year. We place players where there is a real opportunity for them to play and thrive. Join us
ALL POSITIONS WELCOME !
This event will focus on football drills, individual skill development, skill assessment and college entry / recruiting.
Bring cleats, workout gear, footballs, water for hydration, copies of transcripts, complete the online form and include links to highlight videos.
When: Saturdsyday, February 11h, 2017
Time: Registration starts at 8:00 a.m. Camp Times – 8:30 – 11:00 * Be On Time !
Cost:
Jr College Early bird Special $ 20.00 Limited Number
Jr College &Bounce Back Player Prospects: $30.00 dollars
High School Prospects 20.00 dollars Pre Paid Online - $ 25.00 On site
High School Early bird Special $ 20.00 Limited Number
Information: 323 – 503-5675 , reginaldreggieGrant@gmail.com
PRE-REGISTRATION SUGGESTED, LIMITED SPACE
About Us and Our Partners:
eSportsInstruction.com owned and operated by Retired NFL Players, Coaches and Sports Experts since 1998.
eSportsInstruction Football Institute "Taking Student Athletes to the Next Level"
Football Skill Development

Life Skill Instruction

Combine and Testing Skill Training - High School Senior ShowCases, Jr. College Show Cases and UnderClassmen Combines

Football IQ Development "How to Think Football"

Football Position Instruction ( on site and ongoing )

1 on 1's, 5 on 5's and 7 on 7's

College Scholarships WorkShops "How To's & Reality Check" – Parent session's as well
Our Instructors and Partners
Sports Traning Los Angeles and FootballConsultant.net, Sports Specific Training and A online resource for football, focused on the promotion of high school and youth student athletes . ( www.SportsTrainingLosAngeles.com , ( www.sportstraininglosangeles.com )
Marks Mentoring - A non-profit based in Los Angeles which works with some of the best student-athletes in the nation by Coach Mark Ricks founder and trainer to numerous top NFL players.
Muscles in Motion Systems, Garnett Mims has helped hundreds of high school and JR college athletes get into four year colleges and universalities though his extensive network of uniiversity and college coaches. (www.MusclesinMotionSystems.com &www.LineMenOnly.com )
Total Student Athletes, Inc. has helped hundreds of high school and JR college athletes get into four year colleges and universalities with it academic workbook "Win All Four" a guide to ensuring eglibality for college scholarships.
Sports Scholarship USA , working with high school athletes to showcase their talents through exposure to potential colleges and universities in multiple sports via All Star Games, Tournaments and events. (www.sportsscholarshipsusa.com)
NAAAA "Watkins Award", the premiere award in the nation for African American Male High School Scholar athletes. Presented by the National Alliance of African American Athletes since 1992. (www.NAAAA.com )
Coaching For Champions LLC - Dana Nellen
Take your preformance from great to outstanding. The mental side of the game.
www.coachingforchampionsllc.com
More Information :
323 503 5675 - reginaldreggiegrant@gmail.com