Indiana County NAACP #2309B Annual MLK Celebration and Community Lunch 2021 (Virtual)
About this event
The Indiana County NAACP #2309B presents this annual program to honor the life and legacy of Dr. Martin Luther King, Jr. for the annual MLK Holiday. Under the theme, "Engagement, Action, Acceptance, and Progress," this year's program is furthering attempts to engage community members, provide mutual enhancement opportunities for businesses affected by the the Covid-19 pandemic, and help meet various community needs , including but not limited to using the MLK Holiday as "a Day of Service," or as a "Day on and not a Day off." It's message of engagement plus action leads to acceptance and progress in social justice that benefits all will be presented in as cultural, educational, entertaining, and engaging way as possible. A Spoken Word Contest will be held where the finalists will perform and the audience will assist in selecting contest recipient of several categories. Besides a children choir, lunch gift certificates, and other selected activities, the program will include special guest Tieshay Cheryl, writer, poet, performing artist, author of NINA.'s Song, and a person known for "spreading peace, fun-loving vibes, emotional and mental healing through words and music." The entire program will be virtual via Zoom Platform. A zoom link for sign-on will be announced and provided to all who registers by January 14, 2021. Free Admissions! All are welcome! Donations appreciated.
Participation in the Spoken Word Contest is free and opened to all as well. To participate, contestants must submit a 90-second video via email at Indiana.county.naacp@gmail.com by January 6, 2021 along with a completed Contest Announcement and Registration Form (see below). Submissions must reflect upon the event's theme (stated above); the life and legacy of Dr. King; and an action to implement to help move racial/social justice forward in society that equitably benefits all. The Top prize is $500. Four finalists will be named on January 8. Each will perform virtually at the annual MLK program on January 16, 2021.
A limited number of Lunch Gift Certificates will be distributed to those who register for them ASAP but no later than January 13, 2021, First Come, First Serve. Register for the event for free tickets and the Spoken Word Contest via this site. You can also email Indiana.county.naacp@gmail.com. A lunch gift certificate is available by emailing Indiana.county.naacp@gmail.com.
Additional information can be obtained by emailing Indiana.county.naacp@gmail.com or by calling 724-464-9162/724-463-6436. Donations can made through this site or by cash app at $naacppa. The event is sponsored by Indiana County NAACP #2309B with support from First Commonwealth Bank.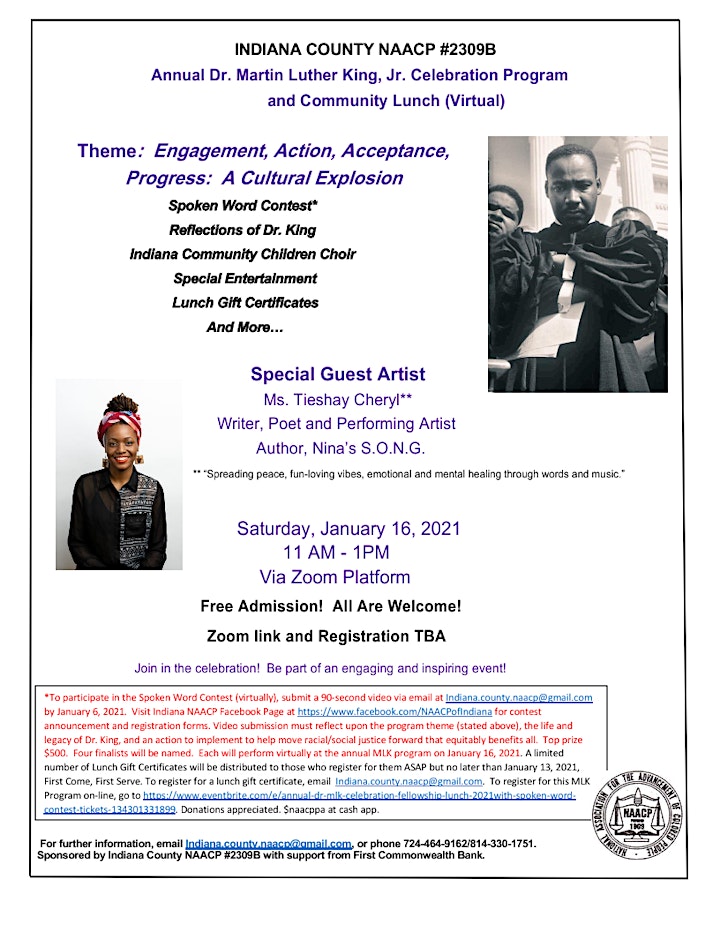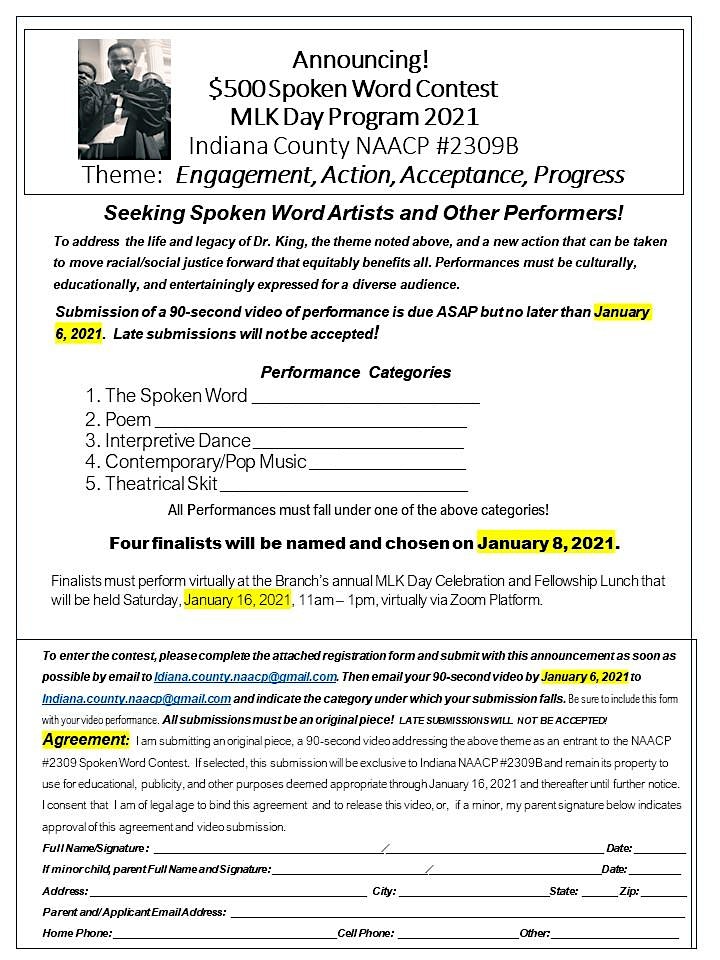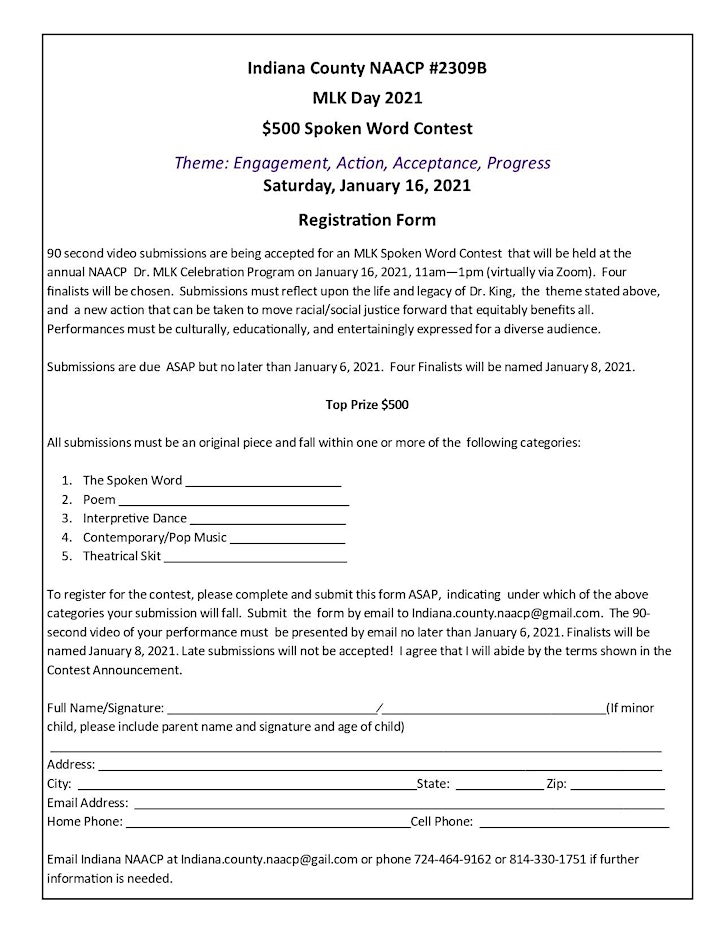 Organizer of Annual Dr. MLK Celebration & Community Lunch 2021 (Virtual)