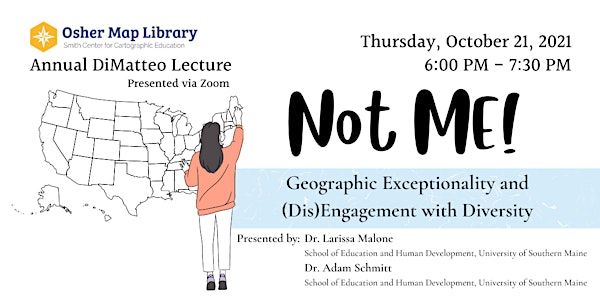 Annual DiMatteo Lecture with Dr. Larissa Malone and Dr. Adam Schmitt
Not ME!: Geographic Exceptionality and (Dis)Engagement with Diversity by Dr. Larissa Malone and Dr. Adam Schmitt
About this event
Please join us for the second Annual DiMatteo Lecture, "Not ME!: Exceptionality and (Dis)Engagement with Diversity" presented by Dr. Larissa Malone and Dr. Adam Schmitt of the USM School of Education and Human Development. This lecture uses critical race spatial analysis in order to problematize Maine's status as one of the whitest states in the country amidst its changing racial demographics. Within the context of K-12 education, we will explore (dis)engagement with issues of diversity, particularly through the erasure of race and racism, the construction and maintenance of white racial identity, and the ideology of liberalism.
This event will be presented on Zoom and tickets are limited to the first 480 registrants. This event is free and open to the public.
Larissa Malone, PhD, is an Assistant Professor with the School of Education and Human Development at the University of Southern Maine. Prior to teaching in higher education, Dr. Malone taught early childhood and early elementary grades and served as an administrator in a bilingual community-based school. Dr. Malone's research centers on the minoritized experience in American schooling with a particular interest in how minority students and their families, as well as minoritized teachers, navigate educational institutions.
Adam Schmitt, PhD, is an Assistant Professor in Teacher Education at the University of Southern Maine. His research focuses on the field of social studies education, with particular attention to the connections between teacher identity and history curriculum, and the relationship between collective memory and history.