Description

Join us to celebrate and promote the power of facilitation, and to connect, network and learn with other IAF facilitators & friends from across England & Wales and beyond!
For International Facilitation Week 2019 we extend our annual all-day all England & Wales networking & learning meetup to two full days of annual conference on the theme "The Power and Practice of Facilitation".
What you can expect
You can expect a diverse range of highly interactive, peer-led parallel sessions to choose from - common to previous years' annual all-day meetups, and our regular afternoon networking & learning meetups #IAFMeetup around the country.
Parallel sessions already offered for this year include:
In addition, this year, you can expect:
Details of this year's programme will be confirmed here as they are finalised over the summer. See the June draft programme below, and also the programme, photos & comments on last year's "All England & Wales International Facilitation Week networking & learning day".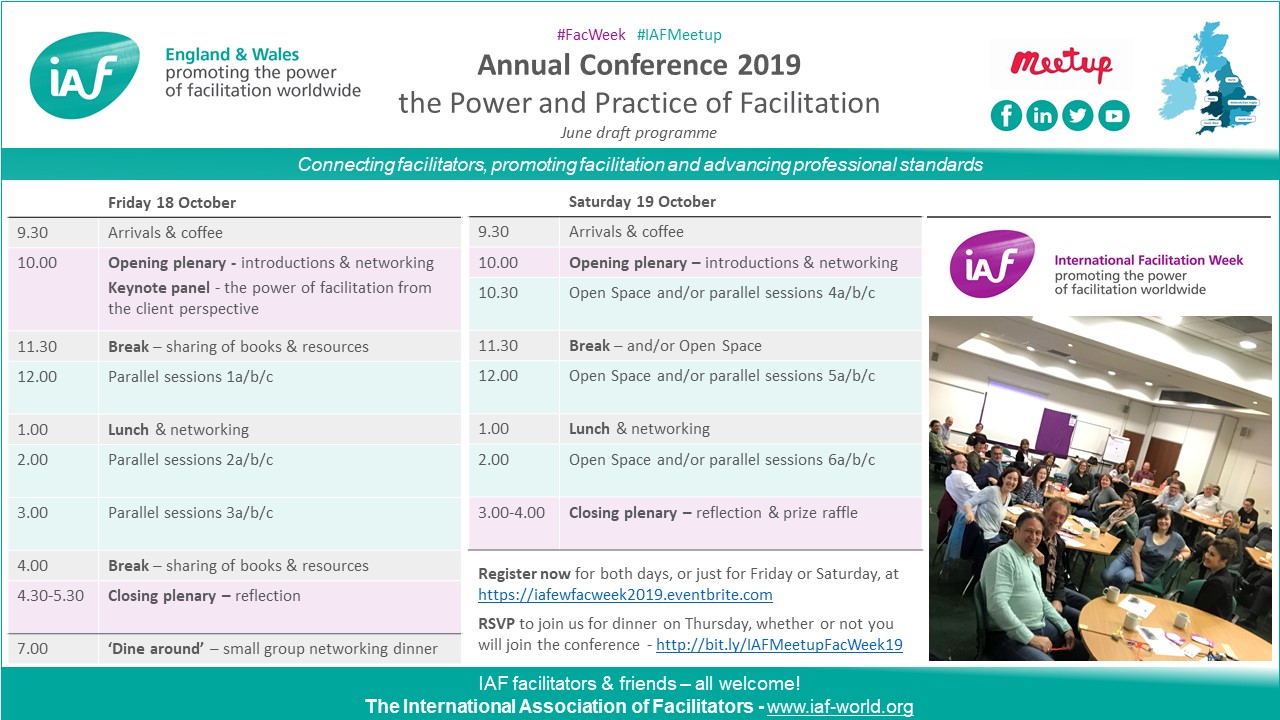 To share any questions, further offers, suggestions or requests for the programme, including speakers, sessions or raffle prizes, please add a comment to the Annual Conference event page on one of our regional meetup groups - London & SE, South West, Midlands & East, North of England & Wales, and now our new sister groups in Ireland & Scotland as well.
Registrations, fees & discounts
Register now for both days, or just for Friday or Saturday. Our low, break-even registration fees include lunches and morning & afternoon refreshments but not evening meals or accommodation.
Discounts are available for early registrations until 14 July (extended from 30 June), and an additional 25% off all rates is available to IAF members - please ask for the promotional code if you have not received it. If you are not yet an IAF member and would like to join, you can save a whopping 25% on your first year's membership if you buy it when you register for both days. Learn more about IAF membership.
IAF England & Wales
We are around 85 members of the International Association of Facilitators, including 16 IAF Certified Professional Facilitators (CPFs), spread throughout England & Wales and beyond. We convene regular, open face-to-face facilitation meetups for "IAF facilitators & friends" through 5 regional meetup groups around the country - London & SE, South West, Midlands & East, North of England & Wales. Join us online as well in our Facebook and LinkedIn groups, and by following on Twitter and Instagram, and see also our new sister groups in Ireland & Scotland.
International Facilitation Week
The purpose of International Facilitation Week #FacWeek is to showcase the power of facilitation to both new and existing audiences and to create a sense of community among facilitators and their groups worldwide.
International Facilitation Week is 7-13 October in 2019 - however we have scheduled our annual #FacWeek event in the 3rd week of October as usual.