Description

Join us to celebrate and promote the power of facilitation, and to connect, network and learn with other IAF facilitators & friends from across England & Wales and beyond!
For International Facilitation Week 2019 we extend our annual all-day all England & Wales networking & learning meetup to two full days of annual conference on the theme "The Power and Practice of Facilitation".
The programme!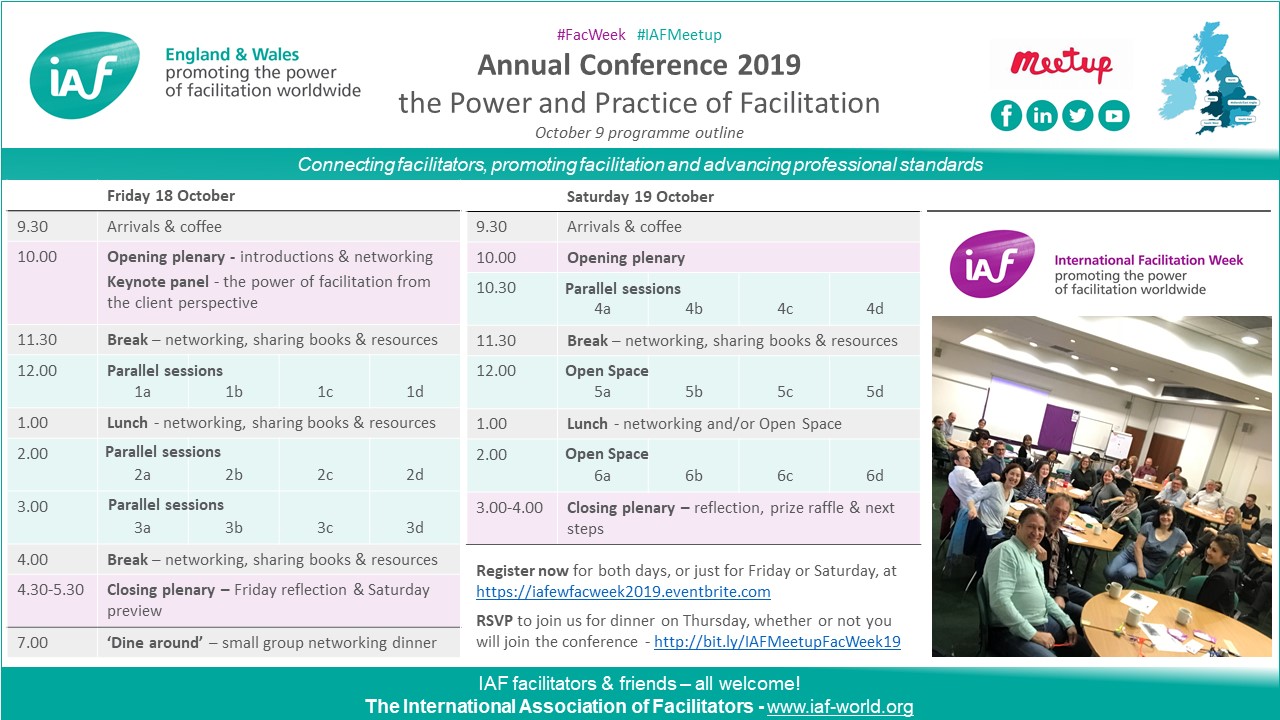 We are excited to offer a diverse range of highly interactive, peer-led parallel sessions for you to choose from - common to previous years' annual all-day meetups, and our regular afternoon networking & learning meetups #IAFMeetup around the country.
Click on the schedule images (or click here) for full details of parallel sessions, now complete: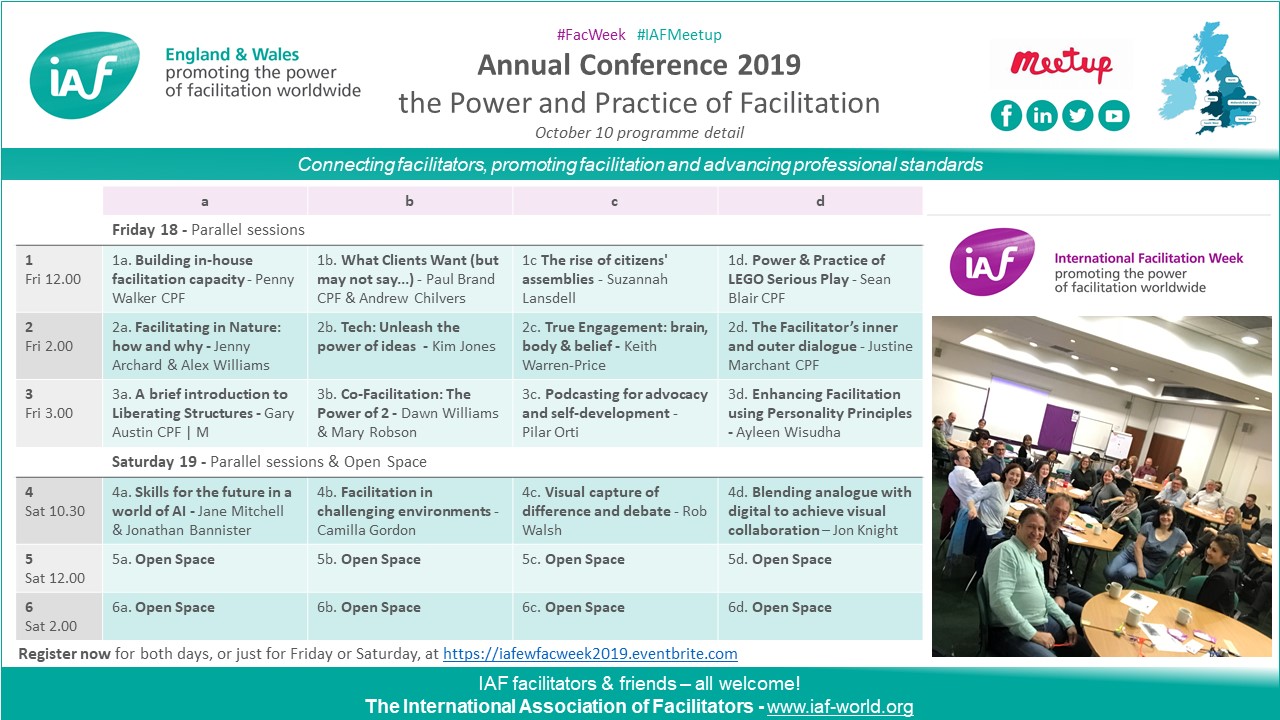 In addition, this year, you can expect:

Please bring your own smartphone or tablet in order to participate fully when we use iDeeter in the Digital Brainstorming session and in plenary.
To connect and share with each other online please add a comment to the Annual Conference event page on one of our regional meetup groups - London & SE, South West, Midlands & East, North of England & Wales, or our new sister groups in Ireland& Scotland
We are grateful to Pinpoint Facilitation for providing conference equipment and stationery, as well as a raffle prize.

Registrations, fees & discounts and accommodation
Register now for both days, or just for Friday or Saturday. Our low, break-even registration fees include lunches and morning & afternoon refreshments but not evening meals or accommodation.
There are many hotels and short-stay apartments within a few mintes walk of the venue, including for example the Travelodge Birmingham Central Bull Ring and Ibis Birmingham New Street Station Hotel.
Discounts for early registrations closed in early August, however 25% off all rates is still available to IAF members - please ask for the promotional code if you have not received it. If you are not yet an IAF member and would like to join, you can save a whopping 25% on your first year's membership if you buy it when you register for both days. Learn more about IAF membership.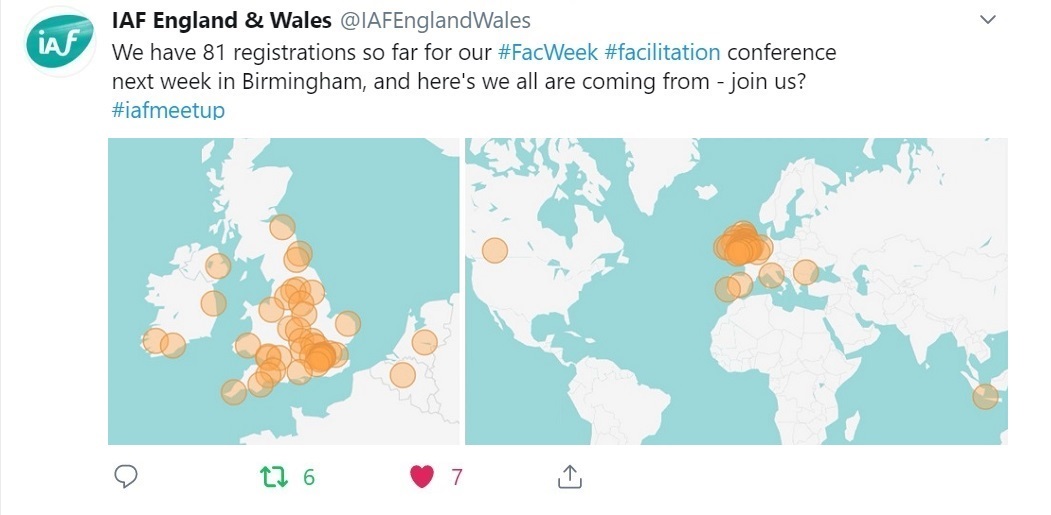 IAF England & Wales
We are around 95 members of the International Association of Facilitators, including 21 IAF Certified Professional Facilitators (CPFs), spread throughout England & Wales and beyond. We convene regular, open face-to-face facilitation meetups for "IAF facilitators & friends" through 5 regional meetup groups around the country - London & SE, South West, Midlands & East, North of England & Wales. Join us online as well in our Facebook and LinkedIn groups, and by following on Twitter and Instagram, and see also our new sister groups in Ireland & Scotland.
International Facilitation Week
The purpose of International Facilitation Week #FacWeek is to showcase the power of facilitation to both new and existing audiences and to create a sense of community among facilitators and their groups worldwide.
International Facilitation Week is 7-13 October in 2019 - however we have scheduled our annual #FacWeek event in the 3rd week of October as usual.

Organiser of Annual Conference - the Power and Practice of Facilitation