Description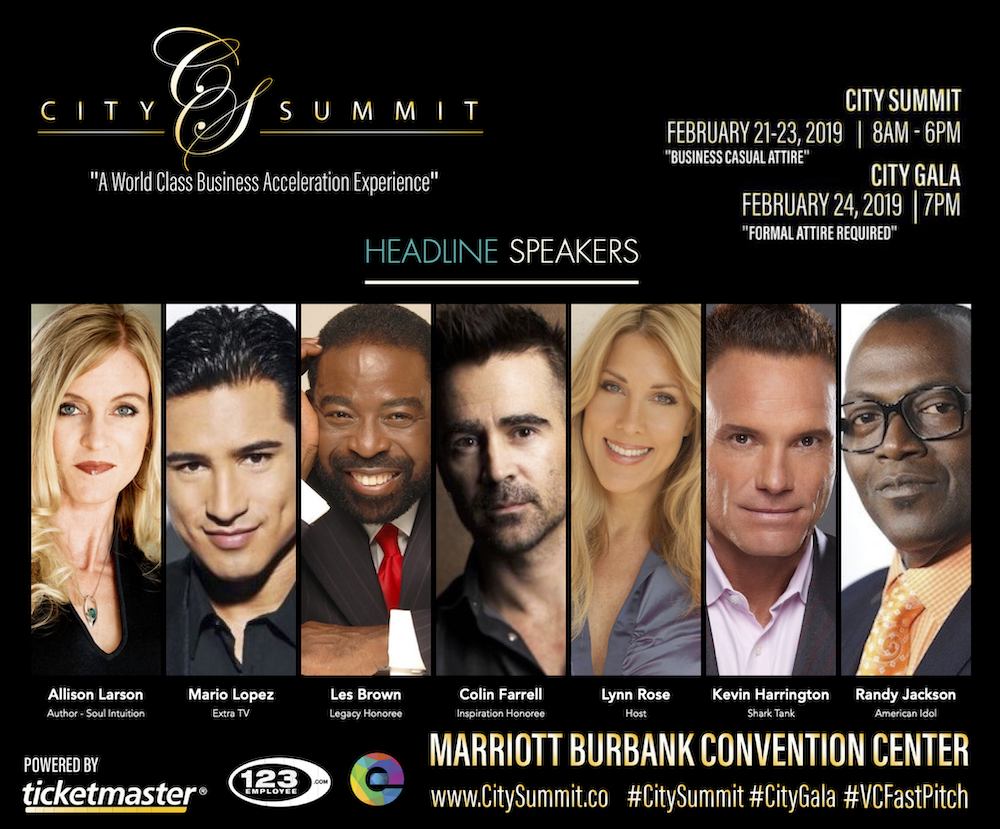 "I believe that we grow so that we can give" - Tony Robbins
Past speakers and honored guests have included: Sir Richard Branson, Halle Berry, John Travolta, James Cameron, Charlize Theron, Quincy Jones, Sean 'Diddy' Combs, Buzz Aldrin, John Paul DeJoria, Anthony Mackie (The Avengers), Noel Lee (Founder,/CEO, Monster), and Frank Shankwitz (Founder, Make A Wish Foundation), among others.​
Last year's City Summit & Gala featured Academy Award winner Matthew McConaughey, Ashton Kutcher (A-Grade Investments), Jack Canfield (Chicken Soup for the Soul, Success Principles), Jeff Hoffman (Founder, Priceline.com), Brian Smith (Founder, UGG), and Tai Lopez. >>> SEE LAST YEAR'S RECAP VIDEO
ABOUT 2019's CITY SUMMIT:
The City Summit takes place February 21-23, 2019 from 8am - 6pm, and is a world-class socially conscious business acceleration experience. Our Summit's mission and outcome is to elevate each of our attendee's business acumen by giving them tools, techniques, knowledge, insights, motivation, and top-level networking relationships. We want our City Summit attendees to learn, grow, and thrive... so they are better positioned to make a meaningful impact in their communities.
The City Summit invites proven business leaders, strategists, and business owners to teach our community how to increase revenue, generate leads, diversify revenue, establish authority, raise the value of business, elevate brand awareness and concentrate on hyper-growth. The topics of the City Summit range from leadership, innovation, marketing, business fundamentals, operations, and inspiration.
Here is our 2019 line-up of featured speakers, with our Marquee Speaker to be announced soon!

HEADLINE SPEAKERS
Live Performance
Founders | Billion Dollar Brands
Hosts & Moderators
Humanitarians
Experts
Spotlight Speakers
Do not miss your opportunity to grow, share, contribute, and learn!

ABOUT 2019's CITY GALA:
The ultimate goal of the Summit is to fund the City Gala on February 24, 2019 which takes place on the evening of the Academy Awards from 7pm - midnight. City Gala is a fundraiser for non-profit organizations that have a mission to solve global challenges. Each year, the Gala raises funds for organizations that are feeding the hungry, sheltering homeless, liberating and rehabilitating young people that have suffered from human trafficking, providing education and mentorship programs, and promoting health and wellness initiatives.
2019's City Gala will support Global Unity Foundation's year-round programming: Co-beneficiaries include: Selah Freedom, Journey's Dream, United Intentions, Giving Hart, Rock Against Trafficking, and Tucker Teens & Tots.

You can also support our beneficiaries through Charity Stars' online auction. BID NOW on once-in-a-lifetime VIP experiences!!
For more about City Summit, please visit: www.CitySummit.co
For more about City Gala, please visit: www.CityGala.org
STAY WHERE WE PLAY: Click to purchase your hotel room at the Marriott Burbank Aiport at our City Group Rate.