Description
You don't want to miss this year's Annual CETI —Continuing Education Training Institute, June 7-9, 2020 in Savannah, GA featuring the nation's top continuing education leaders.
Welcome Reception on June 7 at 5 p.m. with entertainment — Conference held June 8-9, 2020, Savannah, GA.

CETI 2020 will welcome continuing education leaders from over 20 different states. This high powered conference offers specialized training to improve your department's profitability. Sessions offer real-time applications from education and business leaders representing community colleges, state colleges, adult education, universities, and national training partners.
CETI attendees say...
"The conference was excellent. All of the speakers were articulate and spoke in the CE vernacular. Acronyms were kept to a minimal. The focus was on the 'client,' the 'business' and 'ROI.' Thank you very much."
"Great conference and I always look forward to attending. It's so nice to hear from leading industries and work with colleagues with the same vision and goals. I always leave refreshed and renewed!"
"Excellent session. I really enjoyed meeting and learning from so many professionals."
Mention the CETI conference to the Hyatt Regency Savannah when you call 1 (912) 238-1234 to enjoy a discounted rate of $199 +tax when you book your room before May 18, 2020. View the beautiful Hyatt Regency Savannah. This hotel is located in the Savannah Historic District, with direct access to cobblestoned River Street. You will be steps away from monuments, shops, local restaurants, and live music.
Begin making plans now for you and your team to join us for CETI 2020 in Savannah — June 7-9, 2020.
Download the CETI 2020 Save the Date Flyer.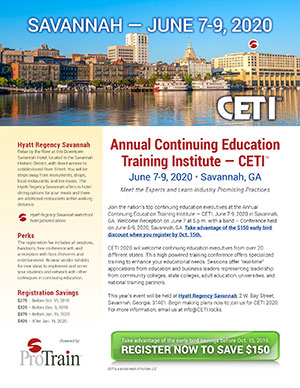 CETI is a service mark of ProTrain, LLC.