Annual Awards Night and AGM of the Geological Society of Australia (W.A. Di...
Description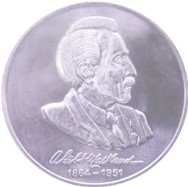 On the evening of 29th May, 2019, the W.A. Division of the Geological Society of Australia will hold its Annual Awards Night, and Annual General Meeting, at the IOMRC, UWA campus. Come along and join us to celebrate the achievements of our Members and partake of food, drink and good company. Members and non-members are invited to come with their partners or spouses. The Society will award the following Medals and Prizes:
1. The Gibb-Maitland Medal, awarded to Professor Simon Wilde (Curtin University)
2. The Robert Etheridge Jr Lifetime Achievement Award, awarded to Kath Grey by the AAP (Australian Palaeontologists specialist subgroup of GSA)
3. The Ross Medal, awarded to John Grigson (UWA)
4. The Geological Society of Australia (W.A. Division) Medal, awarded to Diana Carmona Hoyos (Curtin)
5. The WACE Prize, awarded to Jacqueline Le (Ashdale Secondary College)
Additionally, certificates will be presented to long-standing Members of the Society; those who have remained Members for 15, 30 and 40 years.
A general interest talk will be delivered prior to the award ceremony. This year, Jim Ross will speak about "Geoscience illuminating archaeology: how mines, metals and money led to Alexander the Great".
Note: Each ticket purchaser is welcome to bring a guest (or more) but at the same price as inviter. For example, a Member can invite a guest/partner at Members cost. A non-Member can invite guests at non-Member's cost (unless the guest is a Member). Students can only invite other students at the Student Rate.