Annual Awards and Team Building Luncheon

Friday, December 8, 2017 from 10:30 AM to 3:30 PM
Event Details
About the Program
Join us for our Annual Awards Luncheon, which has become a tradition in the Washington DC area. IT Service and Support Managers bring their teams to celebrate their hard work and success throughout the year. You supply your team and we will supply an inspirational speaker, great atmosphere and a three-course meal. There will be time to network with area professionals and meet our Help Desk Analyst and Desktop Support of the Year nominees.
Our keynote speaker is Shawn Doyle, who is a book author, speaker, and coach. We will recognize our HDI Analyst of the Year and Desktop Support Technician Nominees and announce the winner of the Capital Area Analyst and Desktop Support Technician award. The winners will go on to the regional competition, with the Regional Winner being sponsored by Robert Half Technology to attend the HDI Annual conference in Las Vegas.
Registration Cost
Seating is limited, so be sure to register EARLY to reserve your seats! Registration is only $49.00 per person (over a $60.00 value) and includes a three course meal, coffee, hot tea, iced tea and soda. Registration closes, Wednesday, December 6th at 3:00 PM.
Team Discounts
Register 5 team members and receive the 6th registration free by entering the promo code: sixthfree
About the Keynote

MO!  Everyday Heroes Who Live with MOmentum, MOtivation, and MOxie! 
What is MO? MO is about people who have MOmentum, MOtivation and MOxie! In this energetic engaging and entertaining program- professional speaker Shawn Doyle CSP will talk about the stories of very special real people, what he calls the "everyday heroes" who have a quality he calls MO.
Based on his book, Shawn will talk about how you can get MO, do MO, and have MO in your life every day. Shawn will provide tools, tips, and technique for being an everyday hero at work, and how you can be more MOtivated! Learn how to turn ordinary circumstances into an extraordinary life.
Attendees will:
1. Learn how to get and stay motivated.
2. Why being motivated matters

3. How to develop a higher level of motivation
About the Speaker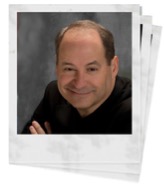 Shawn Doyle CSP, is a book author, speaker, and coach. For the last 28 years, he has developed and implemented training programs on diversity, sales, negotiation, creativity, communication, employee engagement, and leadership. He is the former Vice President of Learning and Development at Comcast, where he co-founded the company's highly successful Corporate University. Among his clients are organizations such as NASA, Microsoft, Comcast, Kraft, Wells Fargo, Zippo, the United States Marine Corps, Lockheed Martin, BP, IBM, the Richard Nixon Library, Air France, Hilton Hotels, L'Oréal, and the United States Navy.
Time and again, participants in Shawn's programs have found that the information learned has helped them both at work and home. His evaluations always mention his energy, engaging stories, and practical message.
He is the author of 19 books including Jumpstart Your Motivation, Jumpstart Your Creativity, The Manager's Pocket Guide to Employee Motivation, Cartoon Magic, and Jumpstart Your Leadership. Two of his books have been Amazon bestsellers.
Shawn is certified by DDI, Miller- Heiman, and is a Registered Corporate Coach (RCC). He has also earned the distinction of ATM-B (Advanced Toastmaster- Bronze) from Toastmasters. He belongs to the National Speakers Association and holds the Certified Speaking Professional (CSP) designation.

Agenda
10:30 am to 11:00 am: Registration, Networking, Hors d'Oeuvres
11:00 am to 12:00 pm: Welcome, Lunch Served
12:00 pm to 12:45 pm Candidate Introductions
12:45 pm pm to 1:00 pm: Break
1:00 pm to 2:00 pm: Keynote - Shawn Doyle
2:00 pm to 2:15 pm: Break, Dessert and Coffee served
2:15 pm to 3:00 pm: Candidate Introductions
3:00 pm to 3:15 pm: Analyst & Desktop Technician of the Year Winners Announced
3:15 pm to 3:30 pm: Closing Remarks and Prize Drawing **MUST BE PRESENT TO WIN**
About the Location
Martin's Crosswinds
7400 Greenway Center Drive
Greenbelt, MD 20770-3053
phone: (301) 474-8500
Click here for driving directions
Parking: There is free parking at the Martin's Crosswinds
Metro and Public Transportation
Click here to access WMATA Trip Planner
Register today for this great event!
When & Where

Martins Crosswinds
7400 Greenway Center Drive
Greenbelt, MD 20770


Friday, December 8, 2017 from 10:30 AM to 3:30 PM
Add to my calendar
Organizer
HDI's Capital Area local chapter is a group of IT professionals that come together to network, educate, learn, and form lifelong relationships. Our chapter consistently earns the HDI President's Circle Award. This prestigious award recognizes the outstanding programs and value we deliver to our membership.
The Capital Area chapter hosts nine (9) meetings per year, with several major events occurring throughout the year. Read about them in our blog!
Please come out and join us at a meeting. You'll learn, laugh, network and build lasting relationships that will help you succeed both personally and professionally. We also prize raffles at each meeting so don't miss out! Visit www.hdicapitalarea.com to learn more.