Annual Awards and Team Building Luncheon

Friday, December 9, 2016 from 10:30 AM to 4:00 PM
Event Details
About the Program
Join us for our Annual Awards Luncheon, which has become a tradition in the Washington DC area. IT Service and Support Managers bring their teams to celebrate their hard work and success throughout the year. You supply your team and we will supply an inspirational speaker, great atmosphere and a three-course meal. There will be time to network with area professionals and meet our Help Desk Analyst and Desktop Support of the Year nominees.
Our keynote speaker is Phil Gerbyshak, who is a speaker, trainer and author. We will recognize our HDI Analyst of the Year and Desktop Support Technician Nominees and announce the winner of the Capital Area Analyst and Desktop Support Technician award. The winners will go on to the regional competition, with the Regional Winner being sponsored by Robert Half Technology to attend the HDI Annual conference in Washington DC.
Registration Cost
Seating is limited, so be sure to register EARLY to reserve your seats! Registration is only $49.00 per person (over a $60.00 value) and includes a three course meal, coffee, hot tea, iced tea and soda. Registration closes, Wednesday, December 7th at 3:00 PM.
Team Discounts
Register 5 team members and receive the 6th registration free by entering the promo code: sixthfree
About the Keynote - Leadership Gone Social
Work, leadership, and communication has changed a lot in the last 10 years, and it's going to change 150 times in the next 10 years -- and then 350 times in the 10 years after that. Are you ready for VR at work? It's coming. So how do you set yourself up to stop screeching about how it "won't affect you" and actually get work done?
Attendees will Learn:
What the heck is social - and how can you use it to connect with your team (and your prospective team)?
How can social help you with your own brand? 
Evolve or Die: Leaders need to stay ahead of the learning curve, and stay one step (or more) ahead of their team - or you'll die on the vine.
Former IT executive and now leadership and social media expert Phil Gerbyshak can teach your team all of this and more!
 " target="_blank">Click Here for Phil's Video Preview!
About the Speaker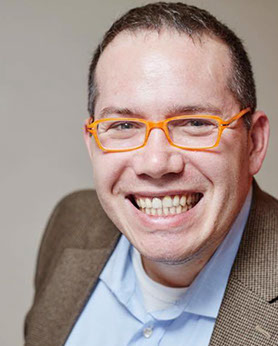 Former IT executive and now leadership and social media expert Phil Gerbyshak can teach your team all of this and more!
Phil Gerbyshak is a former Vice President of Information Technology and Help Desk Manager at Robert W. Baird & Co. Inc. For more than eight years, Phil led award-winning internal and external customer support teams, and was himself awarded for outstanding customer service - twice.
Phil has been a featured speaker at numerous HDI conferences, and has been affiliated with HDI in many capacities: as a member of the Advisory Board for four years, local chapter president for Brew City HDI for five years, and local chapter officer for Brew City HDI for 12 years.
A respected expert, Phil Gerbyshak is the author of Service Desk Manager's Crash Course, and the co-author of Help Desk Manager's Crash Course (with Jeffrey M. Brooks). In addition, Phil has collaborated with Cherwell on several eBooks, including the upcoming 5 Habits of Highly Effective Service Desk Leaders.
Phil is a dynamic, high-energy speaker. He engages and inspires audiences with his insider's knowledge of the help desk industry, and proven tactics for keeping internal teams engaged and exceeding customer expectations, boosting retention rates and overall profitability.
When he's not traveling, speaking, or making new connections, Phil writes. He's published 5 books, including 10 Ways to Make It Great and #TwitterWorks, more than 2,500 articles, and has been interviewed by the Wall Street Journal, USA Today, Financial Times, and more.
Agenda
10:30 to 11:00am: Registration, Networking, Cocktails
11:00 to 12:00pm: Welcome, Lunch Served (2 Courses)
12:00 to 1:00pm Candidate Introductions
1:00 to 1:15pm: Break
1:15 to 2:15pm: Keynote – Phil Gerbyshak
2:15 to 2:30pm: Break, Dessert and Coffee served
2:30 to 3:30pm: Candidate Introductions
3:30 to 3:45pm: Analyst & Desktop Technician of the Year Winners Announced
3:45 to 4:00pm: Closing Remarks and Prize Drawing
* *MUST BE PRESENT TO WIN!
About the Location
Maggiano's is located in Tysons Corner Galleria, 2001 International Drive, McLean Virginia
Metro: Silver Line to Tysons Corner Station
Parking: There is free parking at the Tysons Galleria mall (tip: park toward the ends of the mall and walk to the center). There is also valet parking in front of Maggiano's.
Register today for this great event!
When & Where

Maggiano's Little Italy Tysons Galleria
2001 International Drive
Mclean, VA 22102


Friday, December 9, 2016 from 10:30 AM to 4:00 PM
Add to my calendar
Organizer
HDI's Capital Area local chapter is a group of IT professionals that come together to network, educate, learn, and form lifelong relationships. Our chapter consistently earns the HDI President's Circle Award. This prestigious award recognizes the outstanding programs and value we deliver to our membership.
The Capital Area chapter hosts nine (9) meetings per year, with several major events occurring throughout the year. Read about them in our blog!
Please come out and join us at a meeting. You'll learn, laugh, network and build lasting relationships that will help you succeed both personally and professionally. We also prize raffles at each meeting so don't miss out! Visit www.hdicapitalarea.com to learn more.