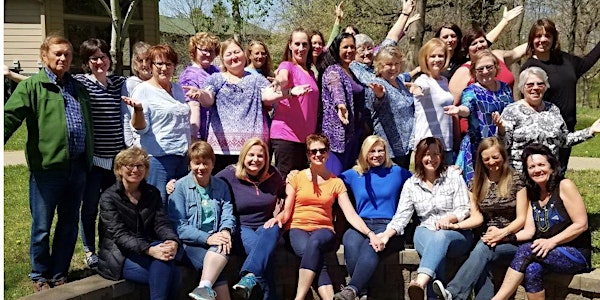 Annual Angel Retreat with Maria Peth - IOWA!
When and where
Location
Prairiewoods Franciscan Spirituality Center 120 Boyson Road Hiawatha, IA 52233
Refund Policy
Refunds up to 30 days before event
Description
Annual Angel Retreat w/ Maria Peth PhD.
"Soul Life" experience, through Hypnotherapy -exclusive information for this event only.
Maria Peth is the author of: Angel Decoding, Secret Keys to Communicating with Your Angels.
Thank you for your interest in this year's Angel Retreat! Life Purpose & Soul Lessons, is the divine topic for this retreat. Here you will discover how to unlock the potential in YOU to change and create the results you would truly love in your life. Most people will never access these super charged luminary truths which are hidden right within you.
Here is what to expect: For participants whom are able to get away early...Our Angel retreat will open casually at 2:00 PM on Friday, April 20th. We can trickle in and gather on the cozy porch and chat a while. Here is your chance to make new friends and ease into the weekend. Perhaps you want to sit in the mediation room and decompress a while, or enjoy a walk on the trails around the retreat house, or simply check into your room and nap. Newly trained angel readers will be offering their services at a reduced fee to any attendee whom is guided to sign-up for a session that first afternoon. Then we will head over to the sacred labryrinth for an empowering experience, followed by dinner.
The retreat will offically begin In the evening at 6:00 pm when we plan to enjoy: music, song and connection. So it is fine if you can not get off work early, we will save you a spot on Friday night for Messages from our Angels, with Maria offering audience angel readings for those in attendence.
Commuters are more than welcome on Saturday the 21st beginning at 9:00 am! Saturday offers a day filled with soulful lessons to support, de-stress, and improve your soul, health and wellness. Speaking at 10:00 am is Dr. Valorie Prahl, chiroprator and holistic specialist. She will be sharing a wealth of knowledge to support wellness in your life. Mid morning we will enjoy a drum circle, later a meditation and in the afternoon after a healthy lunch, we will dive into the topic of Life Purpose. Be ready to do a bit of self exploration. On Saturday evening, after dinner we will open the doors and explore Soul Reflections and Lessons where Maria will present and then intends to WOW you with her new skills in Hypnotherapy.

Sunday morning after breakfast we will enjoy a traditional circle of support, prayer, a bit of music/drums and meditation before wrapping up and heading home by noon.
I invite you to attend and enjoy a peaceful and empowering weekend with spiritual teacher and Life/soul coach- Maria Peth PhD. Join us for a warm vibrational dose of spiritual growth and angelic connection. Prairiewoods is a fabulous retreat center in central Iowa, located on 70 aces of woods and prairie land; prime territory for nature meditations. Just north of Cedar Rapids, Iowa.
Maria is passionate about Angels and the mission and purpose they serve in our lives. We have such a fun experience waiting for you. Enjoy the transformational magic of a drum circle, revive with prayers to heal your heart and soul, experience a tranquil walk in nature through the sacred labyrinth. Vibe to music, connect with your angels, and invite spiritual lessons to expand your soul's potential.
If you are a spiritual seeker, or simply open to the love of the angels, this is your tribe. Maria has been hosting this retreat for the past twelve years, it is well attended and sure to please - while supporting your inner light and personal soul mission.
Focus topics: LIfe Purpose, Soul Lessons, Angelic Messages, Health and Wellness.
Options are available for commuters as well as those interested in overnight accommodations, while supplies last. The center has accommodations for overnight guests, three organic meals, including vegan and gluten free options.
This popular Angel Retreat always fills up quickly. Please register early.
$50. is non-refundable, remaining balance is refundable if cancelled 30 days in advance of start date.