SUPPORTING AFFORDABLE HOUSING THROUGH EDUCATION, ECONOMIC DEVELOPMENT, HEALTHCARE, TRANSPORTATION, LAND USE AND ZONING PROGRAMS
About this event
The Affordable Housing Conference of Montgomery County (AHCMC)—a nonpartisan, nonprofit organization—believes that affordable, decent, and safe housing is an inalienable right, and not a privilege, for every American.
Registration is free for all attendees! This conference is free but registration is required.
Instructions to access this virtual event will be emailed to all registered attendees on Thursday, May 20th.
If you have any questions regarding the registration process, please contact Natalie Wolpert at nwolpert@scottcircle.com.
If you are interested in becoming a sponsor for this event, please contact Diana Eisenstat at dianae@affordablehousingconference.org.
Join us starting at 9:30 AM ET for the Opening Plenary!
Hear from AHCMC Founder Barbara Goldberg Goldman, and listen to conversations between Former Secretary of Labor Tom Perez with Congressmen Raskin, Sarbanes and Trone, as well as Governor O'Malley in conversation with Senator Chris Van Hollen and Senator Ben Cardin. And so much more!
Make sure to stay for the Breakout Sessions at 12:00 PM ET and 1:15 PM ET!
Realtors may receive 4 Hours of CEU credits with attendance of the opening plenary and two breakouts sessions.
This event has been AIA accredited and will offer LU credits for all sessions.
HSW credits are available for the opening plenary and several breakout sessions, indicated below.
12:00 PM - 1:00 PM ET
Racial Equity in Housing and Home Ownership: An Unfulfilled Promise*
*This session is eligible for HSW credit
Moderated by Ron Hantz, President, Network for Developing Conscious Communities
David Bowers, VP and Mid-Atlantic Market Leader, Enterprise Community Partners
Charmaine Brown, Director of Diversity and Inclusion, Mortgage Bankers Association
Bryan Greene, Vice President, Policy Advocacy, National Association of Realtors
Housing, Budgetary and Economic Strain of COVID 19: Renters, Property Owners and Local Government*
*This session is eligible for HSW credit
Moderated by Frank Demarais, DHCA Deputy Director
Andrew Friedson, Montgomery County Councilmember
Rob Goldman, CEO, Montgomery Housing Partnership
William Roberts, Board Chair, Renters Alliance
Stacy Spann, Executive Director, Housing Opportunities Commission
Legislating Fair Housing*
*This session is eligible for HSW credit
Moderated by Nani Coloretti, Former Deputy Secretary, Department Housing and Urban Development; and current SVP, Financial and Business Strategy and Treasurer, The Urban Institute
Jeanine Worden, Acting Assistant Secretary of Fair Housing and Equal Opportunity, Department of Housing and Urban Development
Senator Cory McCray, Maryland State Senator
Financing Affordable Housing: Meeting the Need
Moderated by Hans Riemer, County Councilmember and Chair of PHED Committee
Ed Delany, Senior Director, SVP and Senior Capital Officer, Capital One Bank
Bryan Lopez, Executive Vice President, Osprey Property Companies
Zachary Marks, Chief Real Estate Officer, Housing Opportunities Commission of Montgomery County
Brian Valle, Vice President, Finance, The Bozzuto Group
1:15 PM to 2:15 PM ET
Essential Cross - Sector Housing Partners: Healthcare, Transportation, Education and Employment*
*This session is eligible for HSW credit
Moderated by Carmen Larsen, CEO, Aquas Inc. and Treasurer, Montgomery County Economic Development Corporation
Gloria Aparicio Blackwell, Director of Community Engagement, University of Maryland, and Member Board of Trustees, Montgomery College
Melissa Bondi, Mid-Atlantic State and Local Policy Director, Enterprise Community Partners
Rolando Santiago, Chief Behavioral Health, Crisis Services, HHS Montgomery County
Ben Wu, President and CEO, Montgomery County Economic Development Corporation
Thrive 2050: Housing and Community in Montgomery County
Moderated by Casey Anderson, Chair, Montgomery County Planning Board
Will Jawando, Montgomery County Councilmember
Sarah Reddinger, VP Community Development, Habitat Metro Maryland
Michelle Winters, Executive Director, Alliance for Housing Solutions
Accelerating Green Energy and Renewable Technology in Affordable Housing*
*This session is eligible for HSW credit
Moderated by Dana Bourland, Vice-President, Environment Program, the JPB Foundation and author of Gray to Green Communities
Gabe Albornoz, Montgomery County Councilmember
Natasha Campbell, National Director HCBU Clean Energy Initiative at HCBU - Community Development Action Coalition
Tom Deyo, CEO, Montgomery County Green Bank
Jack Lester, EVP Acquisition and Development, EYA
Ryan Moya, Managing Director, Sustainability, National Housing Trust
Community Land Trusts: Preserving Affordable Housing
Moderated by Tony Pickett, Executive Director, Grounded Solutions
Garrick Good, Director, North East Housing Initiative
Ed Nusser, Executive Director, City of Bridges Community Land Trust
Ginger Rumph, Executive Director, Douglas Community Land Trust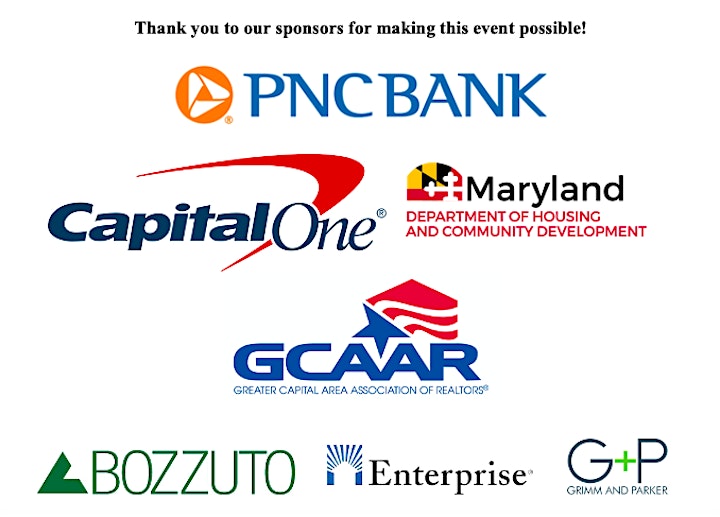 Organizer of Annual Affordable Housing Summit