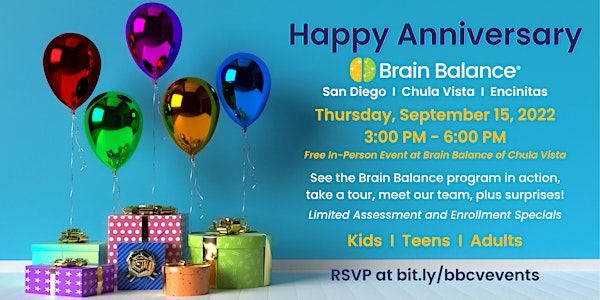 Anniversary Party - Brain Balance Chula Vista
Brain Balance: Making breakthroughs possible for kids, teens, & adults. See the program in action & meet the team plus program specials!
When and where
Location
Brain Balance of Chula Vista 310 3rd Avenue Suite C-7 Chula Vista, CA 91910
About this event
Celebrate Brain Balance of Chula Vista's Anniversary!
Learn more about our research-based, drug-free, brain training program and see the program in action for kids, teens, and adults.
The Brain Balance Program is designed to help improve:
Focus
Learning
Behavior
Regulation
Sensory Processing
Memory
Motivation
And More!
What to expect?
Get to know the Brain Balance Program, team, and other Brain Balance families
Learn more about our Community Partnerships
Free center tours, BILINGUAL available
Plus a surprise!
Program Specials: Limited time assessment and enrollment specials offered to attendees.
¡Celebra el Aniversario de Brain Balance of Chula Vista!
Obtenga más información sobre nuestro programa de entrenamiento cerebral basado en investigaciones y libre de drogas y vea el programa en acción para niños, adolescentes y adultos.
El programa Brain Balance está diseñado para ayudar a mejorar:
Enfoque
Aprendizaje
Comportamiento
Regulación
Procesamiento sensorial
Memoria
Motivación
¡Y más!
¿Que esperar?
Conozca el Programa Brain Balance, el equipo y otras familias de Brain Balance
Obtenga más información sobre nuestras asociaciones comunitarias
Visitas gratuitas al centro, BILINGUAL disponible
¡Además de una sorpresa!
Especiales del programa: Evaluación por tiempo limitado y especiales de inscripción ofrecidos a los asistentes.
By participating in the event, you agree to the Assessment Release Form and Brain Balance Media Waiver & Release. We are committed to your privacy. By participating in this event, you give Brain Balance of San Diego consent to contact you about the event and our program by email, phone, or text message. For more information, check out Brain Balance's privacy policy.
The Brain Balance Program® is a research-based, drug-free, brain training program that addresses the root causes behind behavioral, social, and cognitive challenges (i.e. ADHD, anxiety, autism, dyslexia, regulation, sensory processing, memory, performance, etc.). Our personalized, holistic program incorporates proven cognitive, behavioral, and nutrition methods—an integrated approach that is literally redefining what's possible for kids, teens, adults.
Over the past decade, we have helped over 55,000 individuals nationwide to improve critical life skills and create a brighter path for their future. Learn more about the current and ongoing research studies of the Brain Balance Program with Harvard University's McLean Hospital, Cambridge Brain Sciences, University of California San Francisco, and Journal of Mental Health & Clinical Psychology by visiting brainbalancecenters.com/research.
Visit BrainBalanceChulaVista.com to learn more or call (858) 324-5545 for a free consultation.