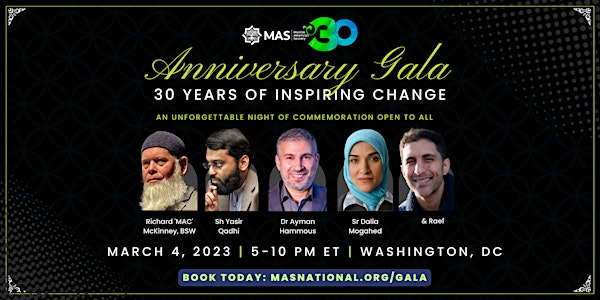 Anniversary Gala: 30 Years of Inspiring Change
Join us in commemorating three decades of inspirational individual and community development with a special black-tie gala.
When and where
Location
Crystal Gateway Marriott 1700 Richmond Highway Arlington, VA 22202
Refund Policy
Contact the organizer to request a refund.
Eventbrite's fee is nonrefundable.
About this event
We are thrilled to announce that the Muslim American Society will be celebrating its 30th year anniversary in 2023.
MAS has been the leader in tarbiya since 1993, nurturing a generation of Muslim Americans who are leaving a legacy of Islamic revival. For thirty years, we have focused on developing individuals who serve Allah by continuously striving to be the best versions of themselves.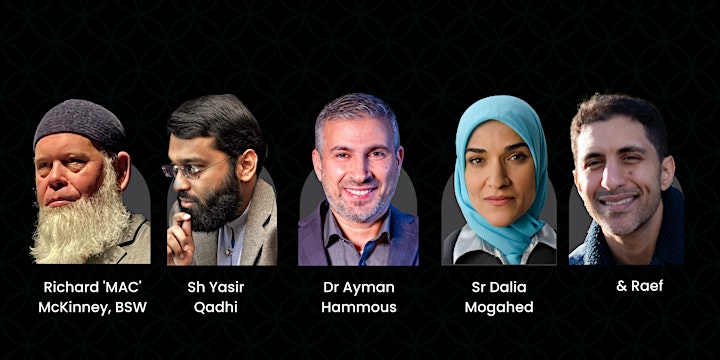 Keynote Speakers include:
Sh Yasir Qadhi
Sr Dalia Mogahed
Richard MAC McKinney, BSW
Dr Ayman Hammous
And Raef for Entertainment
more information will be shared on entertainment and motivational speakers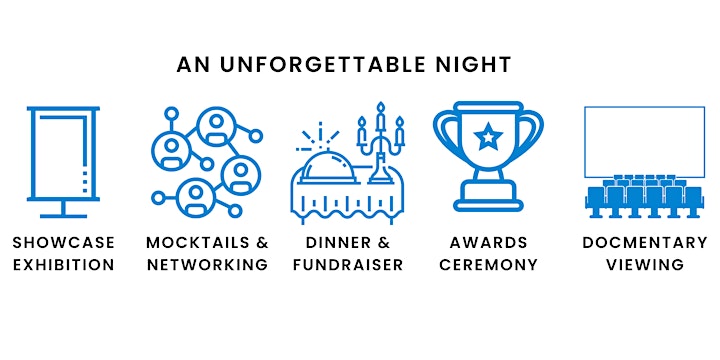 This Event will Feature:
A beautiful exhibition that showcases MAS' rich history with representation from over 30 chapters.
A gala featuring renowned speakers like Imam Siraj Wahaj, Imam Suhaib Webb, Sr Dalia Mogahed, Andre Carson, and more
An awards ceremony to honor the giants in our communities who've legacies inspired many in following their foot steps.
FAQs:
Nearest airport is Ronald Reagan Washington National Airport (DCA)
To book hotel arrangements, visit: MASnational.org/GalaHotel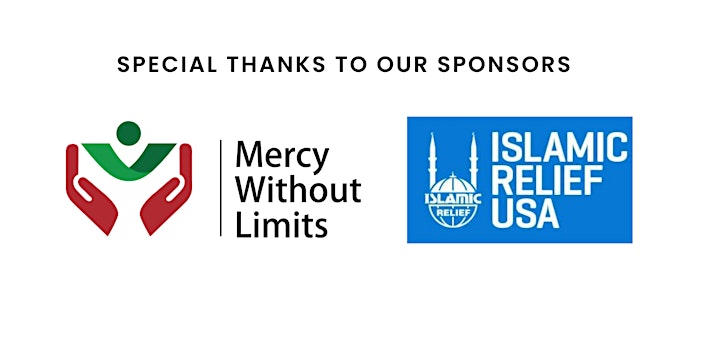 About Our Speakers:
Sheikh Yasir Qadhi has authored several books, published academic articles, and appeared on numerous satellite and TV stations around the globe. His online videos are some of the most popular and highly-watched Islamic videos in English. He is currently the Dean of Academic Affairs at the Islamic Seminary of America, and the Resident Scholar of the East Plano Islamic Center. He has a BSc. in Chemical Engineering from Houston University and a bachelor's in Hadith Science from Medina University. He received his PhD in Religious Studies from Yale.
Richard McKinney: After 25 years in the armed services, and several tours in the Middle East, a Marine named Richard McKinney came back to the U.S. filled with rage toward Muslims. In what he viewed as a final mission for his country, McKinney planned to blow up the mosque in his Indiana hometown. Then a fateful trip to that mosque -- where he was welcomed by the local Muslim community -- changed the course of his life. Soon, McKinney became a Muslim himself and the leader of the mosque. The New Yorker magazine made a documentary on his transformation in 2022.
Sr Dalia Mogahed is the Director of Research at the Institute for Social Policy and Understanding, where she leads the organization's pioneering research and thought leadership programs on American Muslims. Mogahed is former Executive Director of the Gallup Center for Muslim Studies, where she led the analysis of surveys of Muslim communities worldwide. With John L. Esposito, she co-authored the book Who Speaks for Islam? What a Billion Muslims Really Think. President Barack Obama appointed Mogahed to the President's Advisory Council on Faith-Based and Neighborhood Partnerships in 2009. She was invited to testify before the U.S. Senate Committee on Foreign Relations about U.S. engagement with Muslim communities. Her 2016 TED talk was named one of the top TED talks that year. She is a frequent expert commentator in global media outlets and international forums. She is also the CEO of Mogahed Consulting."
Raef: American singer/songwriter Raef first ventured into music while studying Computer Science at the University of Maryland, singing tenor in a comedic A Cappella group on campus. He went on to pursue a career in teaching, and continued songwriting and busking at metro stations in his spare time. Raef was introduced to the national stage after his trio rock-band, 'Great Seneca', toured the USA as part of the 'Voices for Change' initiative. Shortly afterwards, Raef joined the 'Poetic Vision Tour' – a band of traveling musicians and poets dedicated to inspiring a cultural renewal in the American Muslim community. During his performances, Raef visited dozens of Islamic schools, community centers, and audiences at interfaith events across the country. After a decade of writing and sharing his music with faith-based communities around the world, Raef was signed with Awakening Records and released his debut album – The Path – in 2014. In the same year, Raef performed for the cause of rebuilding Gaza in the 'Sound of Light' event in the UK and in Australia, where the four concerts became the largest Australian Islamic concert to date. Raef also performed with Maher Zain in 'Songs for the Orphans' in Canada. Since being signed with Awakening Records, Raef has performed in 100 concerts. He has completed five tours in four different countries.