Event Information
Location
7 Sopley Farm Buildings
Sopley
BH23 7AZ
United Kingdom
Description
An Advanced Workshop
This workshop, held in our workshop in Sopley, has been designed to build on your existing skills by exploring decorative techniques, the use of colour and how they relate to style. It will allow you to take your creativity to the next step by introducing you to new skills of image transfer, gilding, stencils and crackled paint finishes. These methods can be used to produce very professional results whether you are doing it for your own pleasure or as a business.
During the workshop we will teach you about:
The Ombre Effect
Gilding
Stencilling
Craqueleur
Image Transfer
Frottage/Wet Wax Distressing
Workshop Details
The workshop will last between 3 and 3 ½ hours. It costs £65 per person and includes step by step instruction by tutors taught by Annie herself, all materials and equipment you will need, tea, coffee and cake.
During the workshop you produce two different style boards – one a Modern Retro or Boho style the other a more Scandinavian or Country style. Both of which you will take home for future reference.
We are Here to Support You
But it doesn't stop there. We, at Thomas & Lucia, are here to support and help you while you take on projects of your own, so if you ever need a reminder or just some advice you can ring us, email us or just pop into the shop and we will happily provide additional help. Matthew, Sue and Maxine are all trained personally by Annie Sloan.
Click for the full printable workshop flyer
Location Map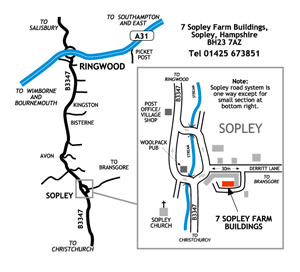 Cancellation & Refund policy
Cancellation by Thomas & Lucia
Workshops will be run subject to numbers and may also be cancelled for any reason by Thomas & Lucia. In the event of cancellation by us alternative dates or a refund will be offered.
Cancellation by You
Your rights to cancel and available refunds are as follows.
If you cancel:
14 days or more before the event – Full refund;
between 14 and 7 days before the event - 50% refund;
less than 7 days before the event – no refund.
Date and Time
Location
7 Sopley Farm Buildings
Sopley
BH23 7AZ
United Kingdom