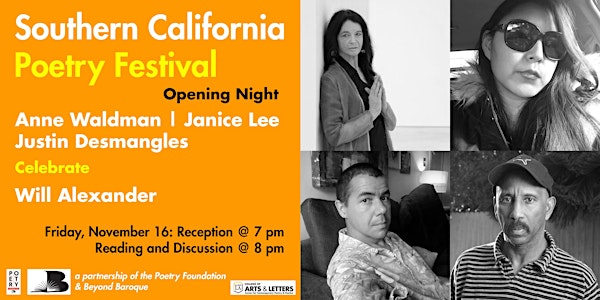 Anne Waldman, Janice Lee, & Justin Desmangles celebrate Will Alexander
Location
Beyond Baroque
681 Venice Boulevard
Los Angeles, CA 90291
Description
Southern California Poetry Festival Opening Night Reception, Reading, & Discussion!
The Southern California Poetry Festival opens with a reading and discussion that celebrates the work and influence of one of the region's singular poets, Will Alexander. Legendary experimental poet Anne Waldman joins Alexander and interdisciplinary author, curator, and editor Janice Lee for a reading. A wide-ranging discussion focused on Alexander's work and the avant-garde in language will follow, moderated by radio host and Before Columbus Foundation chair Justin Desmangles.
Reception at 7pm.
Reading and Discussion at 8 pm.
Organized in partnership with the Poetry Foundation. All events are free. For information about the festival, including the complete schedule, visit scpoetryfest.com.

Reservation Policy for Southern California Poetry Festival
Since the festival is free of charge it is our policy to overbook for all readings and conversations. In the case of a full program your free ticket may not guarantee admission. We recommend arriving early. Standby tickets will be released fifteen minutes prior to each program.