Annapolis Valley Health Annual General Meeting

Monday, September 12, 2011 from 6:30 PM to 8:30 PM (ADT)
Event Details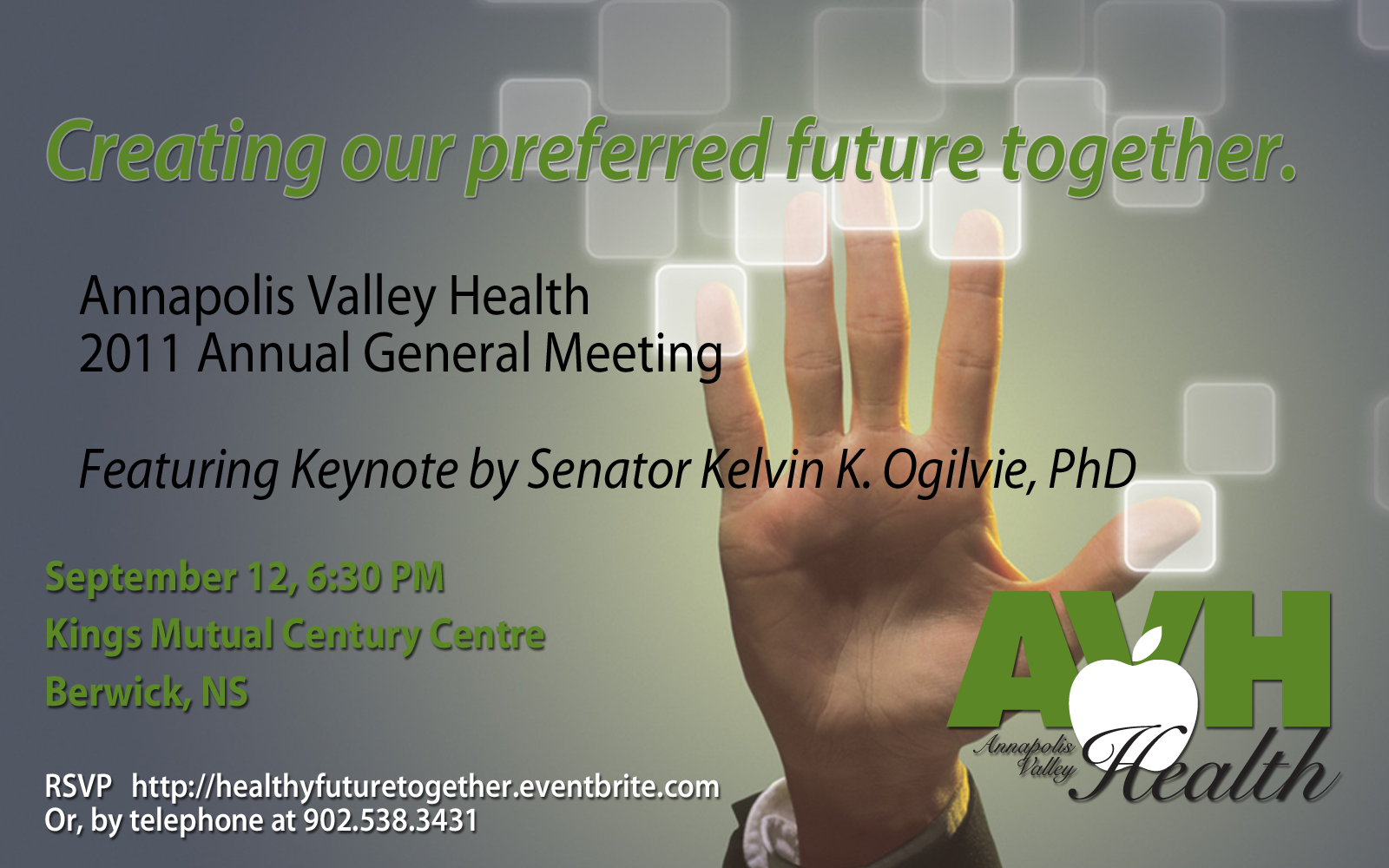 Join Annapolis Valley Health's Board of Directors for our Annual General Meeting featuring a keynote address by guest speaker, Senator Kelvin K. Ogilvie (PhD).
We are excited to hear Senator Ogilvie's wisdom around working together to create our preferred health care system, sustainable to support our community into the future. Following Senator Ogilvie's address, AVH will consult the audience for ideas on how we might create the preferred future for health care...add your voice!
---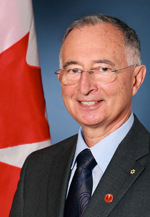 "I think we all can be certain that personal health is one of the challenges facing everyone--from local communities throughout the national system. I look forward to talking about this from the National standpoint and sharing my work with the provinces to develop objectives," Senator Ogilvie.
Senator Kelvin K. Ogilvie, C.M., Ph.D., D.Sc., H.Col., F.C.I.C was, from 1993-2003, President and Vice-Chancellor of Acadia University in Wolfville, Nova Scotia where he led the development and implementation of the acclaimed Acadia Advantage Program.
He is a leading expert on biotechnology, bioorganic chemistry and genetic engineering. His scientific accomplishments include the development of the "Gene Machine", an automated process for the manufacture of DNA. He is the inventor of Ganciclovir, a drug used worldwide to fight infections that occur when one's immune system is weakened. Both of these achievements were recognized in 2000 as "Milestones of Canadian Chemistry in the 20th Century" by the Canadian Society of Chemistry. He also developed a general method for the chemical synthesis of large RNA molecules, demonstrated by the first total chemical synthesis or a functional Transfer RNA (tRNA) molecule, which is still the basis for RNA synthesis worldwide.
He has written and spoken extensively on the challenges facing Canada as a nation, the role of the "knowledge" economy, postsecondary education and entrepreneurship.
Senator Ogilvie became a faculty member in the Department of Chemistry at the University of Manitoba in 1968. He moved to McGill University in 1974 and in 1984 was appointed founding Director, Office of Biotechnology, and Canadian Pacific Professor of Biotechnology at McGill. In 1987 he moved to Acadia University to serve as Vice-President (Academic) and Professor of Chemistry.
Senator Ogilvie has served on numerous national and international organizations, including the Atomic Energy Control Board, the National Biotechnology Advisory Committee, the National Advisory Board for Science and Technology, and the Canadian eBusiness Initiative. He has served as scientific advisor to numerous technology companies and as a consultant and expert witness for international pharmaceutical and biotechnology companies. He is a widely sought after speaker, has a number of patents, and his 150 scientific publications have received more than 5500 citations. He recently completed a three-year term as the initial Chair of the Premier's Council for Innovation (Nova Scotia), membership on the Board of Genome Canada, was a member of the Expert Panel on Federal Laboratories (Treasury Board), chaired the Scientific Advisory Board of NRC's Institute of Marine Bioscience, and chaired the Advisory Board for the Atlantic Innovation Fund. Senator Ogilvie is currently the Chair of the Health Research Caucus and also a member of the Industry Caucus Advisory Committee and Health Caucus Advisory Committee.
Senator Ogilvie was named a Steacie Fellow in 1992, was admitted to the Order of Canada in 1991, and in 1992 received the Manning Principal Award as Canada's outstanding contributor to innovation. He was identified as a Canadian Who Made a Difference in the 1988 Maclean's Honour Roll, has received three honourary degrees, the Queen Elizabeth Golden Jubilee Medal, the Commemorative Medal of the 125th Anniversary of the Confederation of Canada, and appeared as a mystery guest on "Front Page Challenge" (1988). He has also received the Buck-Whitney Medal of the ACS (1983). Senator Ogilvie was named an Honourary Colonel in the Canadian Air Force and was an inaugural inductee into the Nova Scotia Discovery Centre Science and Technology Hall of Fame in 2002. He was recently inducted (2009) as one of four inaugural inductees into the Girindus "Wall of Fame" for oligonucleotide synthesis. On August 27, 2009 he was appointed to the Canadian Senate by Prime Minister Stephen Harper.
This will be the Annapolis Valley's health event of the year!
Healthy snacks and beverages will be served at a reception to follow.
Register now! Tickets are free, but will be tracked to provide us with enough details to prepare for your attendance.
When & Where

Kings Mutual Century Centre
250 Veterans Drive
Berwick, Nova Scotia B0P 1E0
Canada

Monday, September 12, 2011 from 6:30 PM to 8:30 PM (ADT)
Add to my calendar