About this event
Please join the Annapolis (MD) Alumni Chapter of Kappa Alpha Psi Fraternity, Inc. and the Annapolis Kappas Scholarship Foundation for our annual crab feast!  This event supports the scholarships that we distribute to deserving minority high school males. 
Saturday, September 25, 2021
2:00 PM - 6:00 PM
St. Philip's Episcopal Church
730 Bestgate Road
Annapolis, MD 21401
See flyer below for additional details. For any questions, feel free to contract us at kappasonthebay2@gmail.com.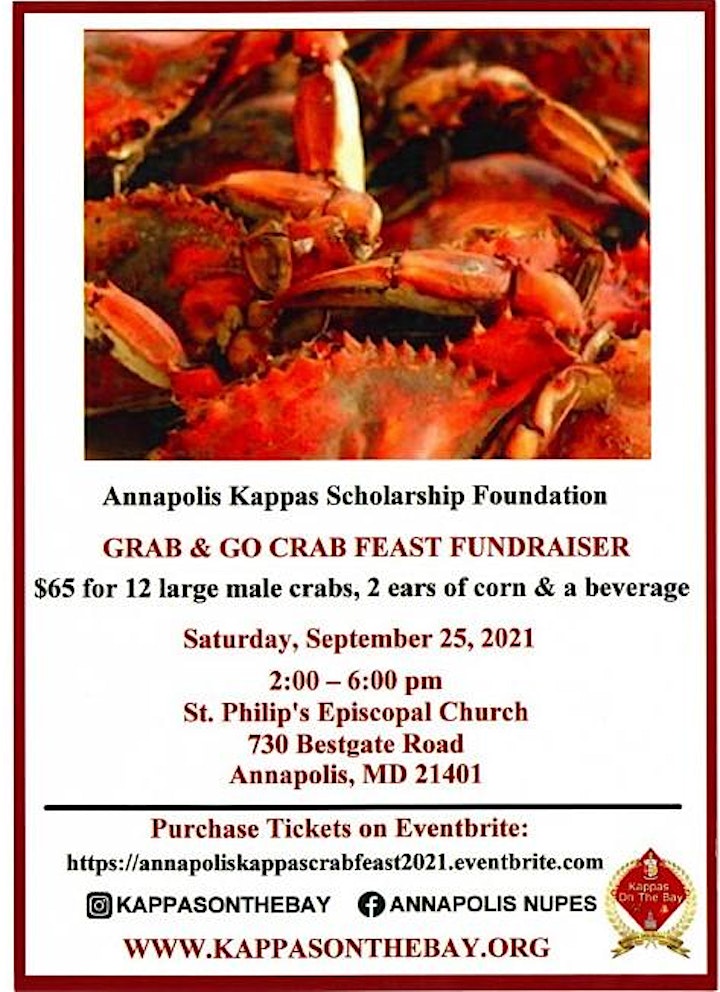 Organizer of ANNAPOLIS KAPPAS GRAB & GO CRAB FEAST FUNDRAISER
The Annapolis Kappa Scholarship Foundation, Inc. is a 501 (c) (3) Organization founded in 2001 as a Fundraising engine for the Annapolis Alumni Chapter of Kappa Alpha Psi Fraternity, Inc.  The funds raised by the foundation through its different fundraising activities are used to award scholarships to deserving African American male High school graduates, who are pursuing an undergraduate degree and have enrolled in a 4-year college or University; and to provide funds to deserving organizations.  Since its inception, the Annapolis Kappa Scholarship Foundation has Awarded over $65,000 in scholarship monies to young African American Males. 
The Foundation also provides backpacks and school supplies to local middle school students, Christmas gifts to children and, works with Annapolis area Pan-Hellenic BGLO Chapters in support of community initiatives.  Contact us at Kappasonthebay2@gmail.com for more information.
If you are unable to attend our event and would like to make a donation to the AKSF please visit http://kappasonthebay.org/foundation/#donate   Donations may be tax deductible.