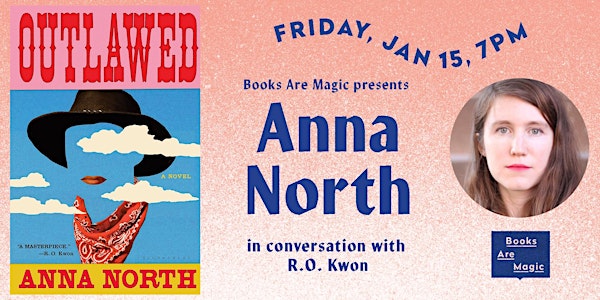 Anna North: Outlawed w/ R.O. Kwon
Anna North discusses her latest novel, OUTLAWED, in conversation with THE INCENDIARIES author R.O. Kwon!
Refund Policy
Contact the organizer to request a refund.
About this event
Community Guidelines:
By registering for this event, you agree to be respectful towards authors and other audience members and to refrain from inappropriate or disruptive behavior and/or harassment of any kind including, but not limited to: hate speech, spam comments, slurs, obscenities, etc. Any attendees who violate these community guidelines will be immediately ejected from this event and barred from attending all future Books Are Magic events.
To request accessibility accommodations, please contact assistant@booksaremagic.net.
The Crucible meets True Grit in this riveting adventure story of a fugitive girl, a mysterious gang of robbers, and their dangerous mission to transform the Wild West.
In the year of our Lord 1894, I became an outlaw.
The day of her wedding, 17-year-old Ada's life looks good; she loves her husband, and she loves working as an apprentice to her mother, a respected midwife. But after a year of marriage and no pregnancy, in a town where barren women are routinely hanged as witches, her survival depends on leaving behind everything she knows.
She joins up with the notorious Hole in the Wall Gang, a band of outlaws led by a preacher-turned-robber known to all as the Kid. Charismatic, grandiose, and mercurial, the Kid is determined to create a safe haven for outcast women. But to make this dream a reality, the Gang hatches a treacherous plan that may get them all killed. And Ada must decide whether she's willing to risk her life for the possibility of a new kind of future for them all.
Featuring an irresistibly no-nonsense, courageous, and determined heroine, Outlawed dusts off the myth of the old West and reignites the glimmering promise of the frontier with an entirely new set of feminist stakes. Anna North has crafted a pulse-racing, page-turning saga about the search for hope in the wake of death, and for truth in a climate of small-mindedness and fear.
Anna North is a graduate of the Iowa Writers' Workshop and the author of two previous novels, America Pacifica and The Life and Death of Sophie Stark, which received a Lambda Literary Award in 2016. She has been a writer and editor at Jezebel, BuzzFeed, Salon, and the New York Times, and she is now a senior reporter at Vox. She grew up in Los Angeles and lives in Brooklyn.
R.O. Kwon's nationally bestselling first novel, The Incendiaries, is published by Riverhead, and it is being translated into seven languages. Named a best book of the year by over forty publications, The Incendiaries received the Housatonic Book Award and was a finalist or nominated for seven other prizes, including the National Book Critics Circle John Leonard Award. Kwon was named one of four "writers to watch" by The New York Times, and she has received awards from the National Endowment for the Arts, Yaddo, and MacDowell. Kwon and Garth Greenwell co-edited an anthology, Kink, which is forthcoming from S&S.