Anna H. Wang Presidential Concert Series @ WAU presents: Charles Castleman
Description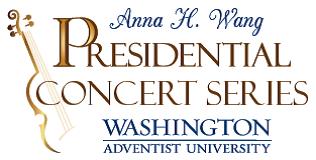 World renowned violinist Charles Castleman will present a guest artist recital, featuring works of Mozart, Brahms, Ives and Grieg, on the campus of Washington Adventist University (in the Leroy and Lois Peters Music Building). He will be accompanied by pianist Magdalena Adamek, Assistant Professor in Collaborative Piano at Virginia Commonwealth University.
Charles Castleman, perhaps the world's most active performer/pedagogue on the violin, has been soloist with the orchestras of Philadelphia, Boston, Brisbane, Chicago, Hong Kong, Moscow, Mexico City, New York, San Francisco, Seoul, and Shanghai. Medalist at Tchaikovsky and Brussels, his self-learned Jongen Concerto is included in the CD set of the 17 best prize-winning performances of the Brussels competition's 50-year history.
Professor of Violin at the Eastman School of Music and the University of Miami, Charles Castleman has conducted master-classes in Kiev, London, Montreux, Salzburg, Vienna, Shanghai, Seoul, Tokyo, Auckland, Brisbane, Melbourne, Sydney, Toronto, Vancouver, and over 50 U.S. Universities. He is founder and director of THE CASTLEMAN QUARTET PROGRAM, in its 46th season, now at S.U.N.Y. Fredonia and Linfield College, an intensive and extensive workshop in solo and chamber performance. Itzhak Perlman and Yo-Yo Ma have donated master-classes there, Mr. Ma praising it as "the best program of its kind..atraining ground in lifemanship."
"The best program of its kind … a training ground in lifemanship." -Yo-Yo Ma
Additional masterclass: Charles Castleman will lead a masterclass with WAU students on Sunday (Feb 4) following the concert. The masterclass will begin at 12:00 pm in the James T. Bingham Rehearsal Hall of the Peters Music Center. This masterclass is free.
----------------------------------
*To commemorate the life of Anna H. Wang, her family has formed the Anna H. Wang Presidential Concert Series on WAU's campus. Proceeds from these concerts will contribute to the building of the new concert hall - completing Phase II of the Leroy and Lois Peters Music Building.