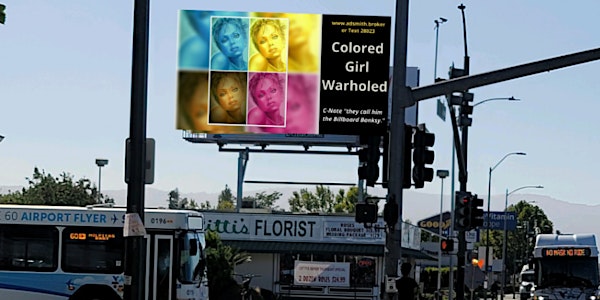 Anna D. Smith's "Look Up! 2" Hope & Beauty Art Exhibition
Anna D. Smith's "Look Up! 2" Hope & Beauty Art Exhibition Dec 27-Jan 26, 2022, 3100 Stevens Creek, San Jose, featuring prison artist C-Note.
When and where
Location
3100 Stevens Creek Blvd 3100 Stevens Creek Boulevard San Jose, CA 95117
About this event
About this event
Anna D. Smith's "Look Up! 2" Hope & Beauty Art Exhibition and Art Sale December 27, 2021 – Jan 31, 2022, at Stevens Creek Blvd and Winchester Blvd, by Santana Row, San Jose, CA, features Colored Girl Warholed, a work by the world's most prolific prison-artist Donald "C-Note" Hooker.
I correspond with Donald "C-Note" Hooker and I started to admire his intellect and Art as we continued to write to one another.
I thought that his Art would make a unique contribution to my vision of Hope and Beauty in Silicon Valley and the Bay Area.
I wanted to have the Art of a powerful and soulful man to exhibit my theme therefore I am advocating for prison artist Donald "C-Note" Hooker.
It seems to me that the culture of discontent is claiming our innocence and more likely to be exploited rather than elevated.
I just want people to feel that they don't need to be contaminated by all the pessimism and cynicism that's choking the air around them.
I hope that his Art and voice will find you looking up and improvising a jam, smile and not stress, be blessed and have a wonderful day.
It would be a shame not to interplay with the sleepers of today.
Art tells us the plain truths about life and sometimes it just kills me not to see the beautiful things or hear a simple melody, and to know that not all of us are so lucky to have this in our life's.
Donald C-Note Hooker's Art reminds us we are all grandmothers, mothers, other mothers, daughters, sisters, aunts, nieces and have beauty and dignity.
With great pride I am putting up the Billboard "Colored Girl Warholed" on Stevens Creek and Winchester Blvd. from January 1 – January 30th 2022.
Art prints for sale on line and originals of C-Note's work by appointment only.
Anna D. Smith's "Look Up! 2" Hope & Beauty Art Exhibition is the second in a series of four seasonal outdoor art exhibitions where participants are to Look Up to see the work. Forbes and other publications call them Look Up, and is a way for predominantly social justice artists to exhibit their works by using Billboards.
For the past Six-years his works have changed lives, saved lives, made history in the Fashion World, and raised millions of dollars.
Colored Girl Warholed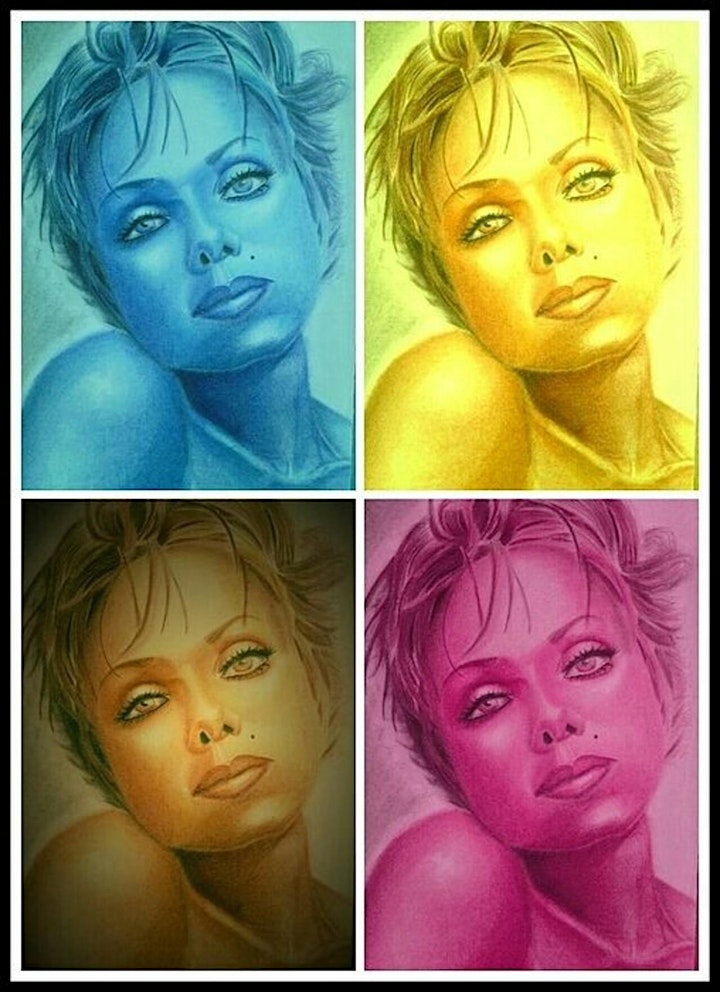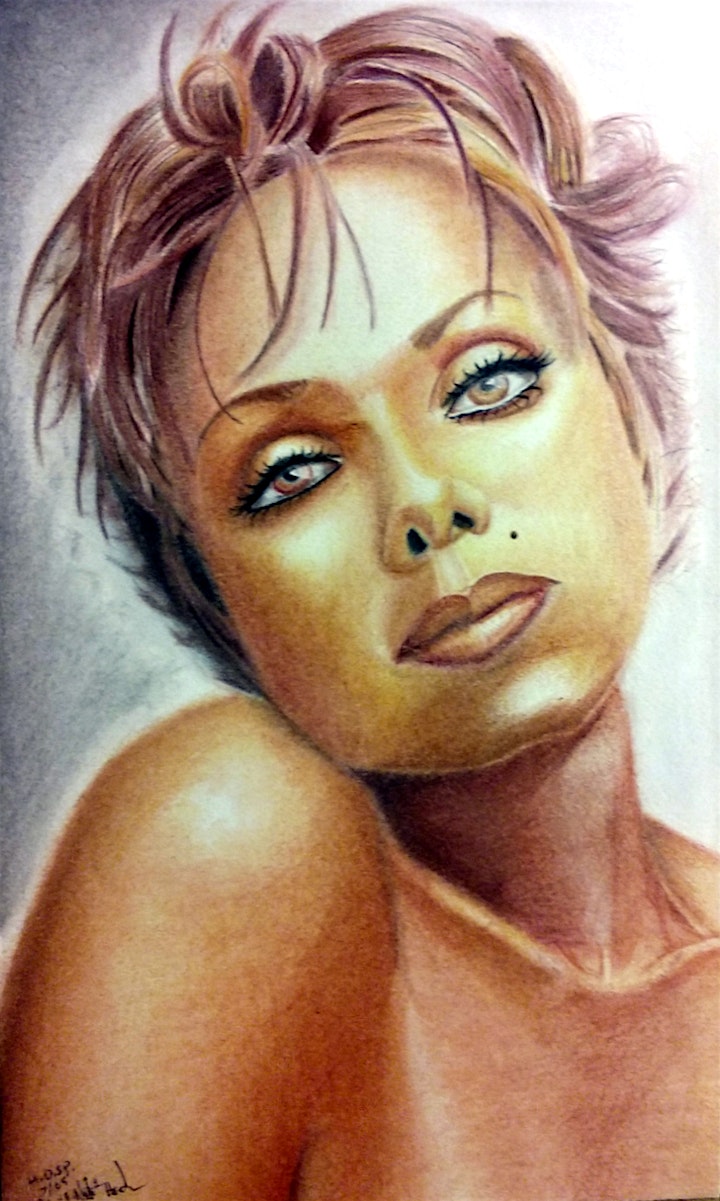 Colored Girl Warholed is a work that was inspired by Andy Warhol's 1962 work, Four Marylins.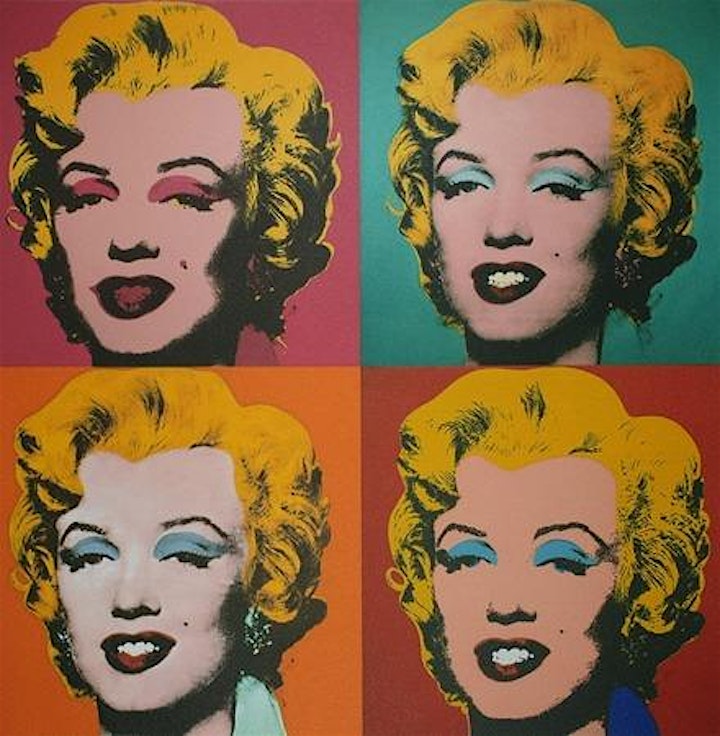 "I have long criticized this culture and that inspiration is overrated," says C-Note. "Whoever talks about the great art that is created out of frustration? Marilyn Monroe was last seen alive on the night of August 4th, 1962, and was found dead in the early hours of August 5th. It took even longer for the news to spread around the country. August 5th was a Sunday, and although radio stations put out bulletins, the newspapers didn't report her death until the following Monday, August 6th.
August 6th was Andy Warhol's 34th birthday. The tragic death of a larger-than-life woman driven to Suicide was not a moment of celebration for an artist who had feelings, like Warhol. She would not be remembered like that, and so Warhol immortalized her at age 26, not 36, the age of her death. He used a single publicity photo from her 1953 film Niagara. Warhol's portrayal of Monroe serves as the Mona Lisa of our Era," articulates C-Note.
Six months after C-Note made prints available of this work, Warhol's Four Marilyns sold at Christie's for $36 million.
Physical Attractiveness
Diana (2016) Wax on paper is based on a 2016 conversation between CBS This Morning co-hosts Norah O'Donnell and Gayle King. O'Donnell was complaining about being dog whistled, or cat whistled at by men. King, who was 62, and is 20-years-older than O'Donnell, had a different perspective. She did not find that behavior offensive at all, in fact, wished guys would cat whistle her. This set off an epiphany within C-Note, "Who's cat whistling the grandmothers?"
Diana was created for the white, mature, woman, who may patronize the galleries and museums that his work may be in. It is his conversation with this audience that he sees them. That he sees they're beauty, and pays homage to their beauty. Originally to be called "Diana A Roman Goddess," but a fellow prisoner who married a wiccan, knew Diana to be a goddess. "I had added the Roman Goddess part because I was fearful that if I just used the name Diana it would be construed with "Princess Diana," Lady Diana Spencer Princess of Wales (1961-1997)," says C-Note. "But since Wiccans know Diana to be a goddess, simply Diana is my preferred title."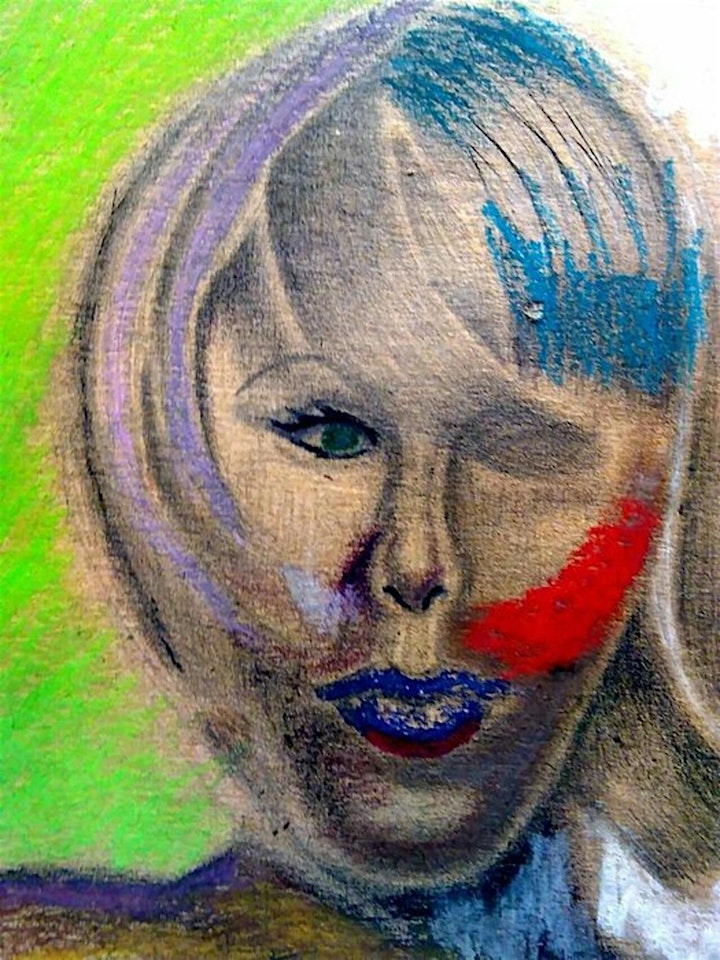 Modern Girl (2016) Wax and graphite on cardboard. Modern Girl owes its origins to a study. While working with the piece, C-Note made a mistake. Recalling PBS painting instructor Bob Ross, "There are no mistakes only happy accidents," and knowing about art, he intentionally made the piece grotesque and named it Modern Girl.
The inspiration for Modern Girl is based on the 1999 song Unpretty. Tionne "T-Boz" Watkins of the R&B girl group TLC was in the hospital when she wrote the poem Unpretty. The poem was inspired by a Ricki Lake episode where the men on the show were calling the women "Fat pigs." Recorded as a song in 1998, it was the second single released from TLC's fourth album FanMail. Unpretty marked the group's fourth and final number-one single on the US Billboard Hot 100.
Unpretty as a social movement was recently highlighted from leaked internal documents showing Instagram knew how its app can damage the mental health and body image, especially among girls. Modern Girl is the prison-artist's conversation with the Modern woman that he understood, contrary to popular belief, she does not always feel pretty.
Women in Politics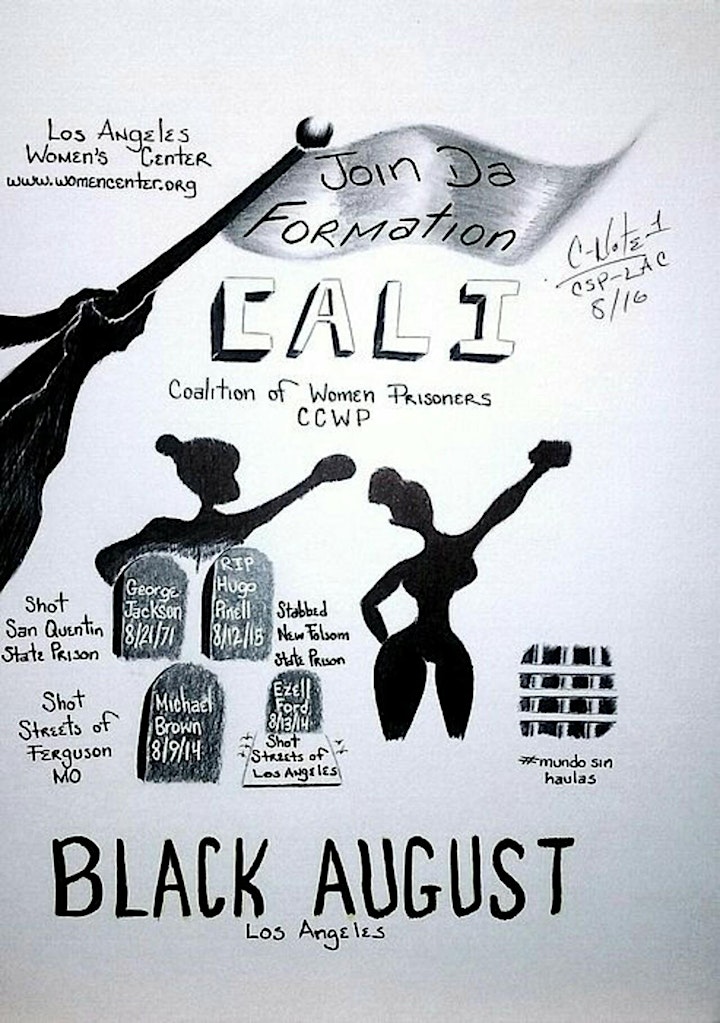 Black August - Los Angeles (2016), Ink on paper is C-Note's first political work. It was inspired by the month-long Black August celebrations that were taking place in Los Angeles. Black August is a month long in memorial to fallen prison reformists and prison abolitionists.
The voice of the Shero speaks prominently in this Work. At the top is a waving flag that invites "Join Da Formation." It is a reference to Beyonce's 2016 song Formation and controversial Super Bowl L Halftime performance. Also represented in the piece is the California Coalition for Women Prisoners (CCWP), so that the public doesn't forget we imprison women too. The Los Angeles Women's Center, to bring public consciousness, and hopefully funding, to a place that provides services and refuge to women, most likely from the same environmental milieu as those who have been, or will become imprisoned. The Raised Fist, a symbol of Black Power during the Civil Rights Movement of the 1960's. Now a symbol of empowerment during any struggle.
Paula Picassa (2021) Ink on paper was created as a donation to Art for Redemption. Art for Redemption is a network of individuals seeking to connect friends, families, Prison Administrators, and other interested parties to create pathways of success from the "inside out" through art production. Founded by ex-prisoner Buck Adams who believes there is a way to celebrate the artistic talent "inside" and to encourage financial accountability from the art producing inmates through the potential sale of their works towards paying restitution, child support, commissary, phone calls, J-Pay fees (institutional email), and even potentially be savings to support reintegration once released.
Women in Prison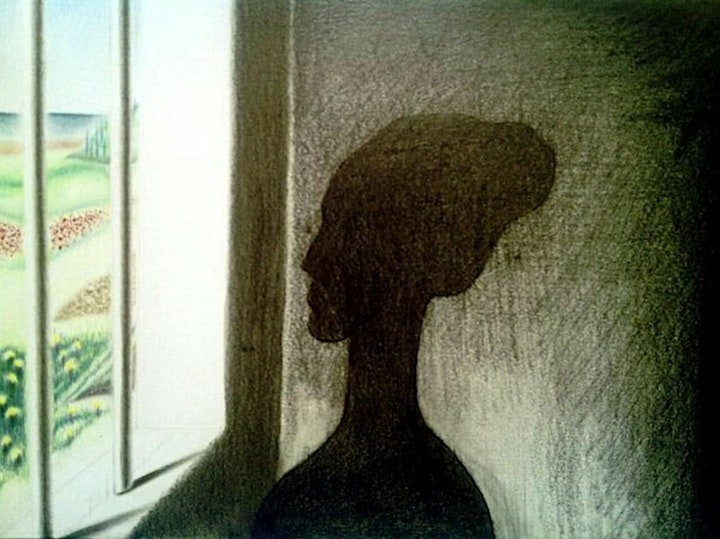 Mprisond (2014) Wax and graphite on paper is Part II to C-Note's 2009 Ink and wax on paper My Dilemma. My Dilemma is C-Note's First painting and was not created from inspiration, but out of frustration from the lack of beauty inside of a maximum-security prison. My Dilemma is a marriage between traditional Prison Art, inkwork, and Leonardo Da Vinci's Sufmato Renaissance technique. C-Note's favorite art is European religious Renaissance art.
Mprisond uses another one of the Renaissance revolutionary art techniques, three dimensionality. It is a technique that uses a single-window to give the viewer both an indoor and outdoor view in order to create the perception of depth. This technique is found in Filippo Lippi's Madonna and Child with Two Angels (1458); Leonardo da Vinci's Mona Lisa (1503); and Titian's Venus of Urbino (1538).
Mprisond was donated for an exhibition curated by California State University at San Bernardino (CSUSB). Through the Wall: Prison Arts Collective, was held at the CB1-Guest gallery in Downtown Los Angeles, May 14th - 29th, 2016. The exhibition consisted of artists from two men's prisons, and one women's prison. These prisons were the California Institution for Men (CIM), the California State Prison, Los Angeles County (CSP-LAC), and the California Institution for Women (CIW). To see Mprisond and the other Works that were exhibited, read: Through the Wall: Prison Arts Collective. Prison Arts Collective, California State University, San Bernardino (2016) ISBN 9781367213241.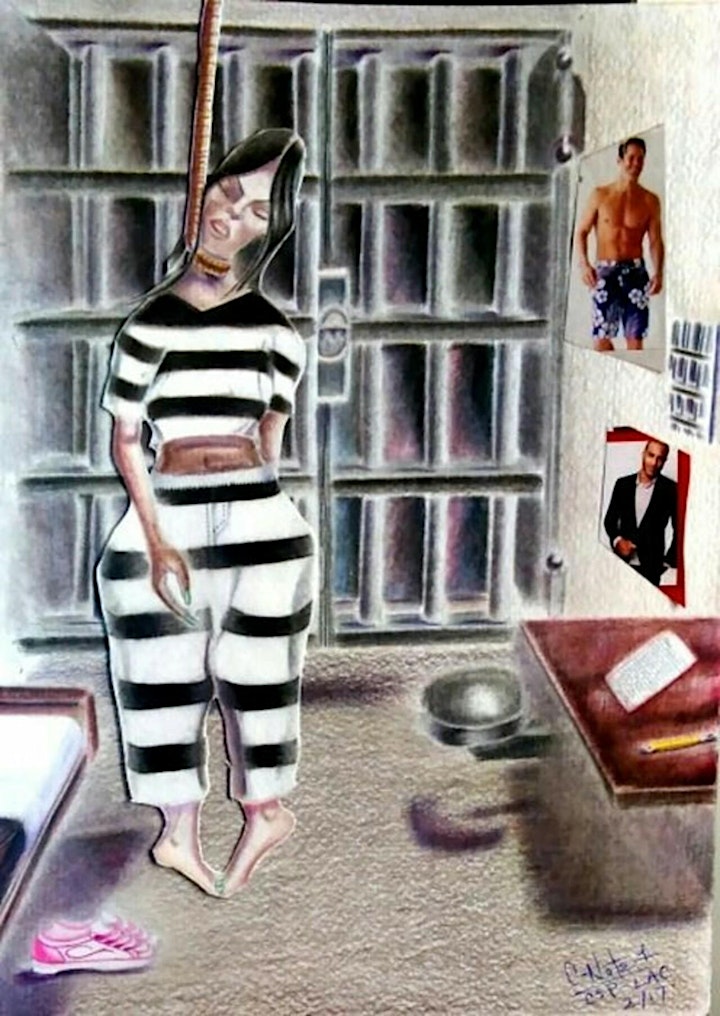 Strange Fruit (2017), Collage and wax on paper is part of C-Note's repertoire of Works involved in mental health awareness. Two of those works are named after the exhibitions in which they were exhibited, Capitalizing on Justice (2018) Wax on paper was a prisoner art exhibition in October of 2018 at the Urban Justice Center, in Manhattan, New York City, and Between Here and There (2017) Wax on paper was a prisoner art exhibition in 2018 at the Liechtenstein National Museum in Vaduz, Liechtenstein, Germany, and across Europe.
Strange Fruit as a visual work of art was created to support a poem of the same title. The poem is based on an 18-month period in 2014-15, that the suicide rate at the California Institution for Women (CIW), was eight times the national average for women prisoners and five times the rate for the entire California prison system.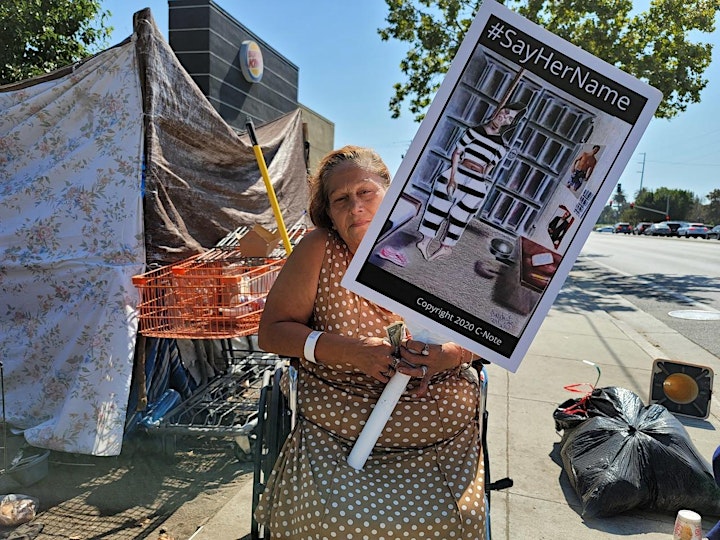 In 2020, C-Note began to take a select few of his works and recreate them as protest posters. The photo above is of a 60 year old, disabled and homeless parolee named Nancy. She is holding C-Note's 2020 protest poster #SayHerName. Strange Fruit is the artwork used for this piece.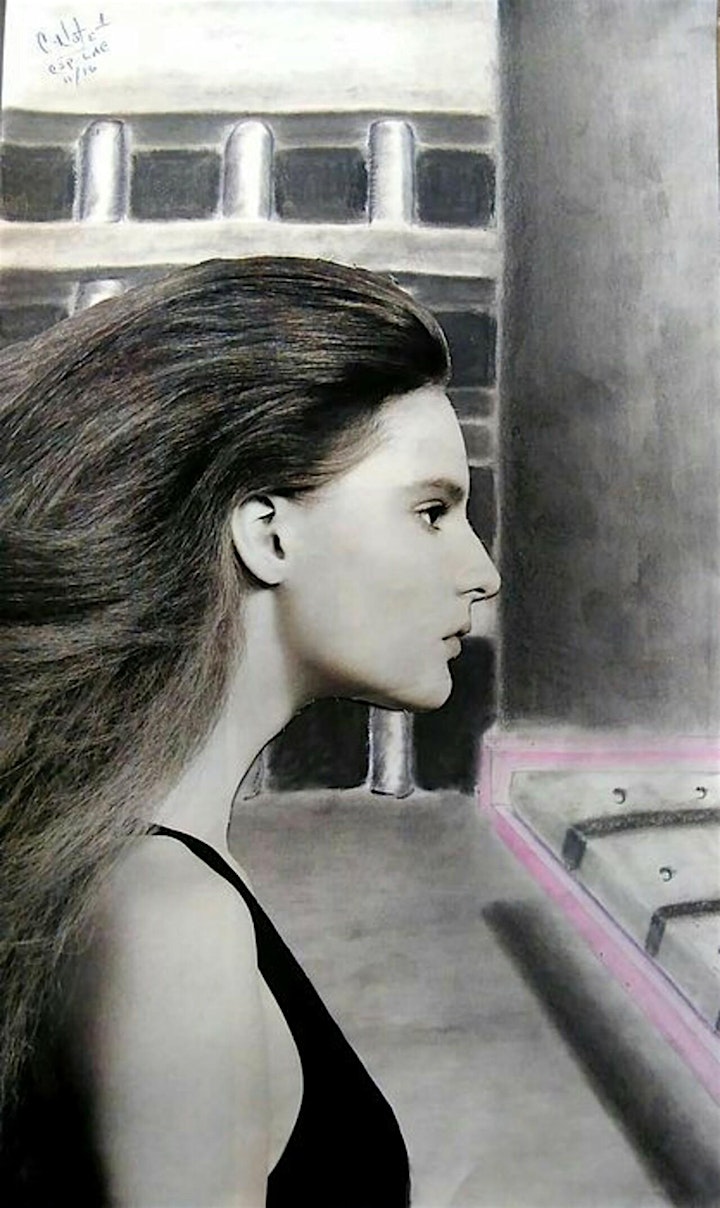 Life Without the Possibility of Parole (2016) Collage and graphite on paper is a work that was created for a poem, under the same title. The purpose of these works is to draw attention to the 175+ women imprisoned at the Central California Women's Facility (CCWF), who are serving a sentence of LWOP. These women are deemed unworthy of any State spending regarding rehabilitation. Even though it is not uncommon that for some, this sentence will be commuted to life with the possibility of parole.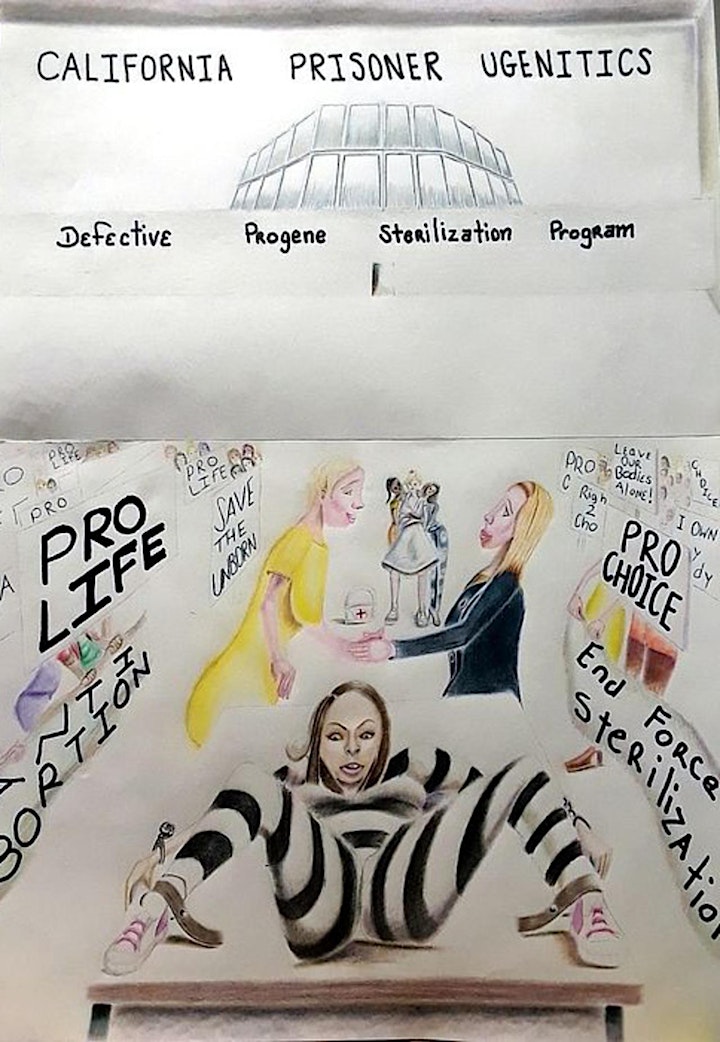 Today We Are Sisters (2018), Wax on paper is a work that was created for a poem of the same title.These Works were created to raise awareness of the 150 forced sterilizations in California's women prisons from 2006 – 2010, and the lack of reparations to the prisoner victims. The poem tells of a needed truce between women who are Pro-Life, with women who are Pro-Choice, to lend their combined strengths to end forced sterilizations of California women prisoners, and that they receive reparations.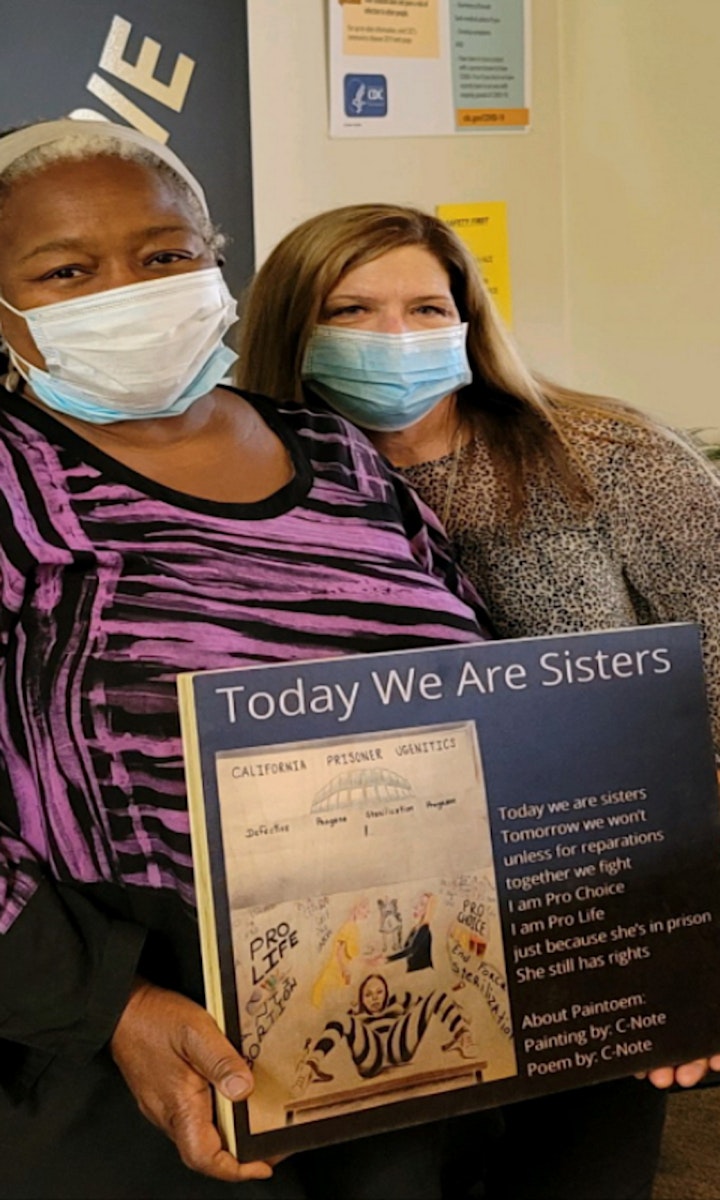 Since 2018, the CCWP has been lobbying California lawmakers to include women prisoners in a forced sterilization reparations budget. From 1909 - 1979, California law permitted forced sterilizations. In 2020, filmmaker Erika Cohn released the documentary Belly of the Beast, and lobbied for reparations to California women prisoners as a result of her documentary.
In 2021, shortly after the release of C-Note's Free Virtual Art Exhibition (1-Artist; 1-Subject; 21-Works), which closed with Today We Are Sisters, the California legislation finally passed legislation giving reparations to the California women prisoners who were forcibly sterilized. It was signed into law by California Governor Gavin Newsom in July of 2021.
Conclusion
Anna D. Smith's "Look Up! 2" Hope & Beauty Art Exhibition and Art Sale Dec 27, 2021– Jan 31, 2022*
Stevens Creek Blvd & Winchester Blvd, Santana Row, San Jose, CA
anna@adsmith.broker
+1 (408) 502-0102