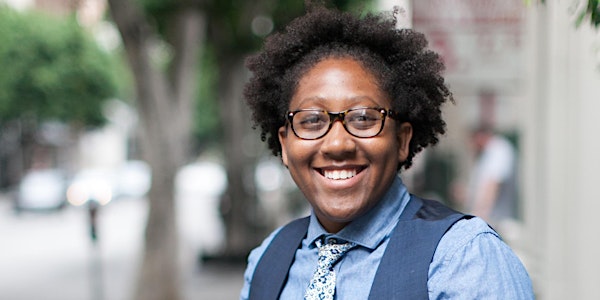 Ann Niles Active Transportation Lecture 2017: Tamika Butler
When and where
Location
Lincoln Recital Hall (Room 75) at Portland State University 1620 Southwest Park Avenue Portland, OR 97201
Description
THIS EVENT IS CURRENTLY SOLD OUT. PLEASE DO REGISTER FOR THE SHORT WAITLIST AS WE ARE ACTIVELY RELEASING SEATS DAILY AS WE RECEIVE CANCELLATIONS.
---
WHEN: November 8th (5:30 p.m. - 7:00 p.m.)
The lecture will begin at 5:30 p.m., please be sure to check in prior to the start time.
WHERE: Portland State University's Lincoln Recital Hall (Room 75, Ground Fl, 1620 SW Park Ave, Portland, OR 97201)
ADMISSION: The event is free and open to the public.
Tamika Butler (@TamikaButler), executive director of the Los Angeles Neighborhod Land Trust, will deliver the Ann Niles Active Transportation Lecture this year. She is an advocate and activist who works in support of LGBTQA rights, as well as fighting for social justice and healthy communities. She moved to Los Angeles from Omaha, Nebraska, and became interested in active transportation when she met her wife. It was on bike rides that she fell in love with the city. Uniquely positioned as a queer black woman to understand what marginalized people experience every day, she brought passion, energy and intersectionality to the quest for better bicycle access as the executive director of the Los Angeles Bicycle Coalition. In her new role with the L.A. Neighborhood Land Trust, she continues to help address social and racial equity through building parks and gardens in park-poor communities across Greater Los Angeles.
Butler is a featured speaker at the 2017 National Walking Summit in St. Paul this September, and gave the keynote at the 2016 NACTO Designing Cities conference in Seattle. Prior to leading the L.A. Bicycle Coalition, she was the director of social change strategies at Liberty Hill Foundation, and worked at Young Invincibles as the California director. She received her J.D. from Stanford Law School and her B.A. in Psychology and B.S. in Sociology in her hometown of Omaha, Nebraska.
READ MORE about Tamika's new role here on StreetsBlog LA "Tamika Butler to Step Down as Head of LACBC; Leaves Behind Strong Legacy of Inclusion in Transportation"
WATCH MORE of Tamika and view her 2016 NACTO Designing Cities keynote address
Requests for reasonable accommodations may be made to Conference & Events Office, (503) 725-CONF, email: conferences@pdx.edu or the Disability Resource Center, (503) 725-4150, e-mail: drc@pdx.edu. In order to ensure that reasonable accommodations can be provided in time for this event, please make your requests as soon as possible.
---
INITIATIVE FOR BICYCLE AND PEDESTRIAN INNOVATION (IBPI)
Each year, the Ann Niles Active Transportation Lecture Endowment brings a guest speaker to Portland, Oregon. We seek people from all over the world who have made great strides in advocating for health, safety, and bicycle and pedestrian access, and bring them together with the Portland transportation community to share methods and inspiration. The annual forum furthers IBPI's mission to facilitate the exchange of knowledge among scholars, practitioners and community advocates focused on walking and biking.