Sales Have Ended
Registrations are closed
Etkinliğe kaydınız tamamlanmıştır. Etkinlikle ilgili güncel bilgileri almak için etkinlik web sitesini ve ACM Hacettepe sosyal medya hesaplarını takip edebilirsiniz. Etkinlik zamanında görüşmek üzere, sağlıcakla kalın! Soru ve görüşleriniz için: iletisim@acmhacettepe.com
Sales Have Ended
Registrations are closed
Etkinliğe kaydınız tamamlanmıştır. Etkinlikle ilgili güncel bilgileri almak için etkinlik web sitesini ve ACM Hacettepe sosyal medya hesaplarını takip edebilirsiniz. Etkinlik zamanında görüşmek üzere, sağlıcakla kalın! Soru ve görüşleriniz için: iletisim@acmhacettepe.com
Description
ACSD (Ankara Computer Science Days), ulusal çapta, bilgisayar bilimleri üzerine düzenlenen konferanslar etkinliğidir. İki gün boyunca süren etkinlikte, bilgisayar bilimlerinin farklı konuları ile ilgili eş zamanlı konferanslar yer almaktadır. Ülkemizde nadir düzenlenen bilgisayar bilimleri etkinliklerinden biri olan ACSD'nin en büyük hedefleri, ülkemizde bilgisayar bilimleri bölümlerinde okuyan veya bilgisayar bilimlerine ilgi duyan bireylerin, kendilerini teknik alanda geliştirebileceği ve network kazanabileceği bir ortam yaratmak ve bunun yanında da bilgisayar bilimleri alanındaki büyük etkinlik açığını kapatmaktır.
Detaylı bilgi ve etkinlik programı için web sitemizi ziyaret edebilirsiniz: acsdays.acmhacettepe.com
Konuşmacılar :

Selim Temizer – Assistant Professor at Middle East Technical University
Şefik İlkin Serengil – Software Developer at SoftTec
Caner Canak - Artificial intelligence and Data Analytics Manager at Turkcell
Orçun Dayıbaş – Engineering Manager at Havelsan
Ömer Özer – Bussiness Development – Legal Expert at CRYPTTECH
Eyüp Çelik – Founder at Privia Security
Doruk Fişek – Özgür Yazılım A.Ş
Mücahit Karadağ - Cyber Security Consultant at INVICTUS Europe / PRODAFT
Mahir Yüksel – Co-Founder at Cyberthink – Senior Cyber Security Specialist at STM
Emir İlhan – Security Analys at JotForm
Taha Kırca – Mobile Application Developer ar Atlassian
Şeref Akyüz - Android Mobile Application Developer at Arvento Mobile Systems
Ayhan Karaman – Founder at Site Destek
Engin Demiroğ - Top Rated Udemy Instructor
Mert Şimşek - Co-Founder at Apps | BARAKATECH
Sinan Onur Altınuç – Machine Learning Engineer at OBSS
Mustafa Keskin - Machine Learning Engineer at OBSS
Kaan Can Yılmaz – Aselsan Algoritma Lideri
Mehmet Burak Sayıcı - Makine Öğrenmesi Kanalı
Besim Altınok - security test specialist at Barikat
Mehmet Caner Köroğlu – CEO and Co-Founder at PRISMA CSI
Kağan Işıldak – CERT Team Leader at GAİS
Chris Stephenson - Owner of Collaborative Solutions Limited
Oğuz Yayla - Associate Professor at Hacettepe University - Mathematics Dept.
Adnan Özsoy - Assistant Professor at Hacettepe University – Department of Computer Engineering
Erkin Şahinöz - ABD Merkez Bankası FED Eski Araştırma Direktörü
Talha Arıkan – Research Assistant at Hacettepe University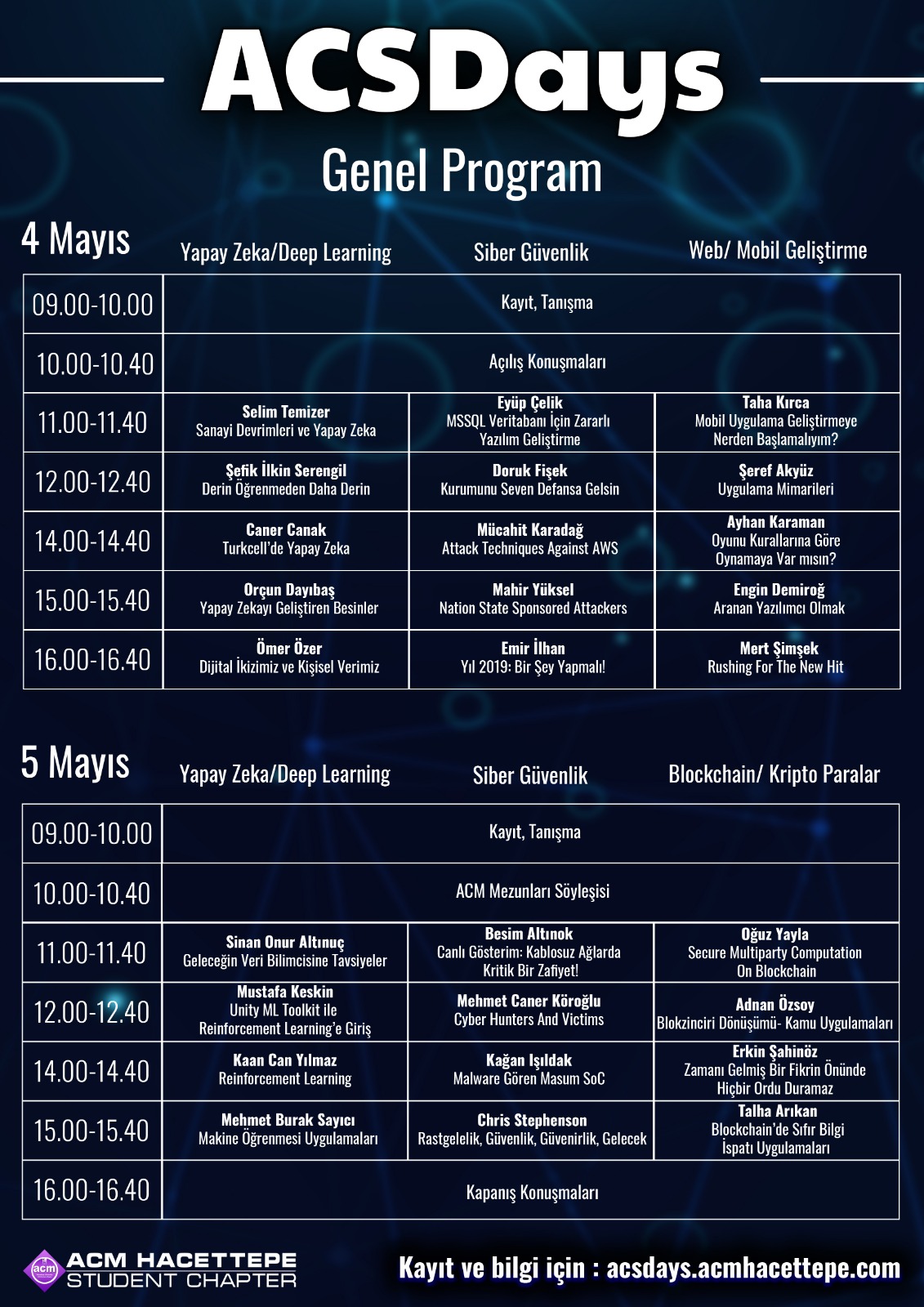 Sık Sorulan Sorular
Etkinlik ücretsiz mi?
Etkinliğe katılım tamamen ücretsizdir sadece Eventbrite üzerinden kayıt olmanız yeterlidir.
Katılımcıların yol ve konaklaması karşılanıyor mu?
Malesef katılımcılar yol ve konaklamalarını kendileri karşılamak zorunda.
Etkinliğe katılmak için ACM Hacettepe üyesi olmak veya bilgisayar mühendisliği okumak gerekiyor mu?
Hayır, kim olursanız olun yine de gelin.
Etkinlik sırasında istediğim konuşmaya katılabilir miyim?
Evet istediğiniz konuşmaya katılabilirsiniz.
Etkinlik alanına nasıl gelebilirim?
Kızılaydan Koru istikametine giden metroya bindikten sonra Beytepe durağında inip, 550 numaralı Ring Otobüsüyle kongre merkezine ulaşım sağlayabilirsiniz
Sık sorular sorular arasında bulunmayan bir sorum var ne yapmalıyım?
iletisim@acmhacettepe.com adresine veya web sitesinin en altında bulunan sosyal medya hesaplarımıza mesaj atarak sorabilirsiniz.
ACM Hacettepe üyesiyim yine de etkinliğe kaydolmam gerekiyor mu?
Katılımcı sayısını kestirip ona göre hazırlık yapabilmemiz adına kayıt yaptırmanız iyi olur :)