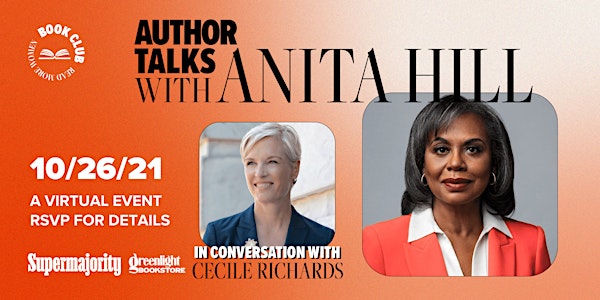 Anita Hill in conversation with Cecile Richards
Join Supermajority and Greenlight Bookstore for a conversation with Anita Hill and Cecile Richards in celebration of "Believing."
About this event
Supermajority is thrilled to be joining with Greenlight Bookstore for our first book club member event with Anita Hill in celebration of her new book, Believing: Our Thirty-Year Journey to End Gender Violence. She'll be joined in conversation with organizer, activist, and Supermajority co-founder Cecile Richards. They'll discuss Anita Hill's decades of brave and committed activism combating gender-based violence, and how we can together build a future where our bodies are respected and our lives are safe.
The event is FREE and will take place virtually on October 26 at 7:30 p.m. ET. Following the conversation, we'll have a member book club discussion facilitated by Emma Redick at Supermajority. Reserve your spot today and we'll follow up by email with details for how to join the virtual conversation. Be sure to double check your information at check out and use an email that you regularly check.
Supermajority is a member-based organization with a clear goal: build women's political power and make gender equality a reality. Supermajority Book Club events are exclusive for members. By submitting your Eventbrite registration, you consent to joining Supermajority as a member and/or affirming your membership, and receiving our Supermajority Book Club email newsletter. Membership is FREE and gives you access to events, actions, resources, and a community working for the same future you are. You can opt out at any time.
ABOUT BELIEVING:
In 1991, Anita Hill began something that's still unfinished work. The issues of gender violence, touching on sex, race, age, and power, are as urgent today as they were when she first testified. Believing is a story of America's three decades long reckoning with gender violence, one that offers insights into its roots, and paths to creating dialogue and substantive change. It is a call to action that offers guidance based on what this brave, committed fighter has learned from a lifetime of advocacy and her search for solutions to a problem that is still tearing America apart.
We once thought gender-based violence--from casual harassment to rape and murder--was an individual problem that affected a few; we now know it's cultural and endemic, and happens to our acquaintances, colleagues, friends and family members, and it can be physical, emotional and verbal. Women of color experience sexual harassment at higher rates than White women. Street harassment is ubiquitous and can escalate to violence. Transgender and nonbinary people are particularly vulnerable.
Anita Hill draws on her years as a teacher, legal scholar, and advocate, and on the experiences of the thousands of individuals who have told her their stories, to trace the pipeline of behavior that follows individuals from place to place: from home to school to work and back home. In measured, clear, blunt terms, she demonstrates the impact it has on every aspect of our lives, including our physical and mental wellbeing, housing stability, political participation, economy and community safety, and how our descriptive language undermines progress toward solutions. And she is uncompromising in her demands that our laws and our leaders must address the issue concretely and immediately.
Anita Hill is University Professor of Social Policy, Law, and Women's and Gender Studies at Brandeis University. After the 1991 Senate confirmation hearings for U.S. Supreme Court nominee Clarence Thomas, Hill became a leading figure in the fight for women's rights and against gender-based violence. She has written for The New York Times and Newsweek, and is a sought-after speaker.
ABOUT GREENLIGHT BOOKSTORE:
Greenlight Bookstore is a general independent bookstore in Brooklyn, New York founded in October 2009 by Rebecca Fitting and Jessica Stockton Bagnulo. Through knowledgeable staff, curated book selection, community partnerships, and a robust e-commerce website, Greenlight combines the best traditions of the neighborhood bookstore with a forward-looking sensibility. Learn more here: https://www.greenlightbookstore.com.