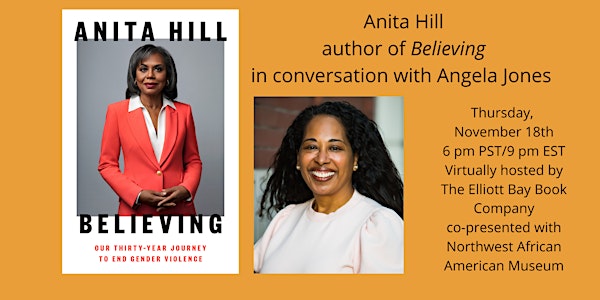 Anita Hill discusses her new book, "Believing" with Angela Jones
Anita Hill discusses her new book, "Believing: Our Thirty-Year Journey to End Gender Violence" with Angela Jones of Black Future Co-op Fund
Refund Policy
Contact the organizer to request a refund.
About this event
This program is presented by the Elliott Bay Book Company and Northwest African American Museum, and will be (virtually) hosted by Elliott Bay as a Zoom webinar. Registration is required and you will have the option to register for the event ($5) OR register for the event and buy a copy of the book ($35 including tax, shipping and event admission). Books will be shipped via Media Mail within the Continental U.S. ONLY. International orders may be placed on the Elliott Bay website. Zoom links will be sent out via Eventbrite two days before the event.
In 1991, Anita Hill began something that's still unfinished work. The issues of gender violence, touching on sex, race, age, and power, are as urgent today as they were when she first testified. Believing is a story of America's three decades long reckoning with gender violence, one that offers insights into its roots, and paths to creating dialogue and substantive change. It is a call to action that offers guidance based on what this brave, committed fighter has learned from a lifetime of advocacy and her search for solutions to a problem that is still tearing America apart. Tonight she will discuss her book with Angela Jones, co-founder and managing partner of the Black Future Co-op Fund.
Anita Hill draws on her years as a teacher, legal scholar, and advocate, and on the experiences of the thousands of individuals who have told her their stories, to trace the pipeline of behavior that follows individuals from place to place: from home to school to work and back home. In measured, clear, blunt terms, she demonstrates the impact it has on every aspect of our lives, including our physical and mental wellbeing, housing stability, political participation, economy and community safety, and how our descriptive language undermines progress toward solutions. And she is uncompromising in her demands that our laws and our leaders must address the issue concretely and immediately.
"An elegant, impassioned demand that America see gender-based violence as a cultural and structural problem that hurts everyone, not just victims and survivors… It's at times downright virtuosic in the threads it weaves together."—NPR, on Believing.
Anita Hill is University Professor of Social Policy, Law, and Women's and Gender Studies at Brandeis University. After the 1991 Senate confirmation hearings for U.S. Supreme Court nominee Clarence Thomas, Hill became a leading figure in the fight for women's rights and against gender-based violence. She has written for The New York Times and Newsweek.
Angela Jones is co-founder and managing partner of the Black Future Co-op Fund, Washington's first cooperative philanthropy created by and for Black people to ignite Black generational wealth, health, and well-being. She is an experienced leader in systemic change that leads to positive and sustainable impact for students, families, and communities. Her passion, service, and leadership in Washington's public education systems spans more than 25 years. Angela currently serves as the director of the Washington State Initiative at the Bill & Melinda Gates Foundation, leading the foundation's strategy to support students where they live, learn, and play. Previously, Angela was the CEO of Washington STEM, working to promote equitable access and opportunities in STEM education
Special thanks to our friends at Seattle Theatre Group for promotional support.