Event Information
Refund Policy
Contact the organizer to request a refund.
Eventbrite's fee is nonrefundable.
Anita Diamant and Dr. Jen Gunter discuss their work on menstrual justice.
About this Event
Anita Diamant and Dr. Jen Gunter converse about their new work, concerned with menstrual justice and education.
Copies of Period. End of Sentence. purchased on this page will be signed and personalized by the author!
Copies ofThe Menopause Manifesto purchased on this page will be signed by the author!
How to Register
Register on this page to receive a Zoom link
Register free, pay what you like, or buy the book to enter the event
If you don't receive a confirmation email after registering, contact us right away
Get Your Books
****IMPORTANT SHIPPING INFORMATION: Books ordered on this page will be held at the store for pickup. If you would like your book shipped, select the shipping add-on at checkout!****
Books are held for pickup or shipped after ticket sales have closed.
STORE PICKUP- Pick up your book in person at Brookline Booksmith (Click here for directions). You will receive an email alert when your book is ready.
SHIPPING - Have your book shipped via USPS priority mail. Shipping is only available in the United States.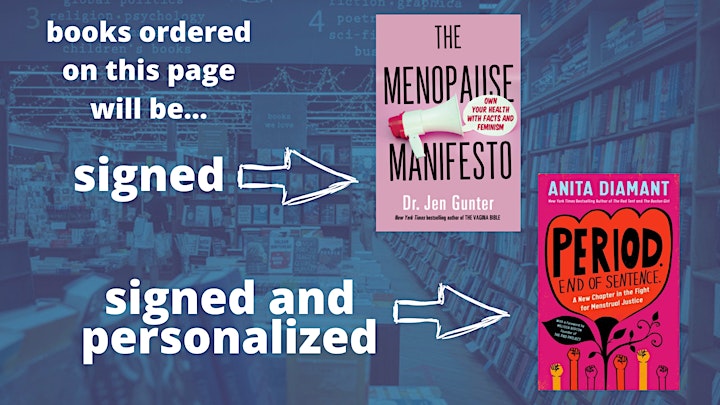 Period. End Of Sentence.
Including interviews from people on the frontlines—parents, teachers, medical professionals, and social-justice warriors —Period. End of Sentence. illuminates the many ways that menstrual injustice can limit opportunities, erode self-esteem, and even threaten lives. This powerful examination of the far-ranging and quickly evolving movement for menstrual justice introduces today's leaders and shows us how we can be part of the change.
Anita Diamant is the bestselling author of the novels The Boston Girl, The Red Tent, Good Harbor, The Last Days of Dogtown, and Day After Night, and the collection of essays, Pitching My Tent. An award-winning journalist whose work appeared in The Boston Globe Magazine, Parenting, and many others, she is the author of six nonfiction guides to contemporary Jewish life. She lives in Massachusetts. Visit her website at AnitaDiamant.com.
The Menopause Manifesto
Menopause is not a disease--it's a planned change, like puberty. And just like puberty, we should be educated on what's to come years in advance, rather than the current practice of leaving people on their own with bothersome symptoms and too much conflicting information. Knowing what is happening, why, and what to do about it is both empowering and reassuring.Frank and funny, Dr. Jen debunks misogynistic attitudes and challenges the over-mystification of menopause to reveal everything you really need to know.
Regularly referred to as "Twitter's resident OB/GYN," Dr. Jen Gunter is an internationally bestselling author, obstetrician, and gynecologist with more than three decades of experience as a vulvar and vaginal diseases expert. Her New York Times and USA Today bestselling book, The Vagina Bible, has been translated into nineteen languages and The Guardian calls her "the world's most famous—and outspoken—gynecologist." The recipient of the 2020 NAMS Media Award from The North American Menopause Society, she is a columnist for The New York Times and the star of the CBC/Amazon Prime series Jensplaining, a video series that highlights the impact of medical misinformation on women. Dr. Jen's TED Talk was one of 2020's Top Ten.
About Brookline Booksmith
Brookline Booksmith, est. 1961, is a family owned bookstore located in the heart of Brookline, Massachusetts. Through our thoughtful curation, eager and voracious booksellers, and award-winning events series, we strive to be a haven for those who find comfort, enrichment, and joy in books.
Our general event series is all about one thing: bringing people and the stories they value closer together. The series covers an eclectic blend of genres and topics for all ages, serving as a platform for seasoned authors, promising debuts, local launches, large scale national events, and all the places where they intersect. Find more at brooklinebooksmith.com!
Date and Time
Location
Refund Policy
Contact the organizer to request a refund.
Eventbrite's fee is nonrefundable.